RIM reports earnings, lowers forecast and shares plunge more than 10% after-hours
3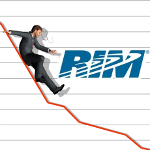 Despite a 32% increase in profits in its latest quarter, shares of BlackBerry manufacturer RIM dropped more than 10% in after-hours trading after the Canadian based company lowered its forecast of future earnings. With the company expecting to spend heavily to promote the BlackBerry PlayBook tablet, RIM said to expect lower profit margins ahead which translates into lower profits. As
Matthew Thornton, an analyst at Avian Securities said Thursday, "
The February quarter was fine. The May quarter guidance -- shocking might be too strong a word -- but it was very weak."



RIM's co-CEO Jim Balsillie said that the short-term hit to earnings is a necessary little bump required to get the company back on the fast track. During a conference call, Balsillie said, "
We believe the launch of new handsets beginning in Q2 and into the second half of the year, as well as the positive halo from the PlayBook launch, (will provide) an opportunity for improved growth in North America." The executive also said that early in 2012, most of the BlackBerry smartphone line would be powered by the same QNX platform that drives the PlayBook tablets.
Analyst Ed Snyder from Charter Equity thinks that RIM is biting off more than it can chew. He said, "
What people are worried here is you've got one company, albeit a really good company, but they're trying to take on all the OS development, all the ecosystem development, work with the developers on apps, build the hardware, work with the carriers. ... Any one company that tries to do this by themselves will probably lose."
BlackBerry has been losing marketshare in the U.S. smartphone business to the Apple iPhone and the Android OS. Despite a new OS that includes a WebKit based browser and the launch of the BlackBerry Torch which combined a touchscreen display with the usual highly thought of 'Berry QWERTY keyboard, RIM's phones have been seen as stodgy, boring and behind the curve (no pun intended). The BlackBerry PlayBook tablet, with the QNX platform and a dual-core processor, has been winning over those who have had the chance to test it out. The device will launch in the U.S. on April 19th.
For its fiscal fourth quarter, RIM reported net profit of $934 million, or $1.78 per share on revenue of $5.56 billion. That beat analyst's estimates of $1.76 per share and revenue of $5.64 billion, according to Thomson Reuters I/B/E/S. The problem is in the current three month period. RIM sliced it's forecast of earnings for the period to $1.47-$1.55, well below what analysts had forecast. The company shipped 14.9 million handsets in Q4 and that is expected to slip to 13.5-14.5 million in the current three month period.
source:
Reuters