New features found with the latest update for the Verizon FiOS DVR app for the iPhone
4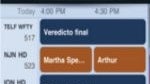 Surprisingly enough, Verizon customer can now say that they're using the
FiOS DVR Manager app for the iPhone
now that the device is readily available for purchase with the carrier. For those who aren't aware, a new update for the app was released today bringing along some new features.
From the looks of it, users can expect to find support for being able to control multiple DVR units, a revamped user interface which looks similar to what's used on set-top boxes running version 1.9, enabled access for non-DVR users, and a "What's Hot" feature that presents you with programs that are being watched heavily by the subscribers in your area.
Now that you have that Verizon iPhone at hand, you can safely say that you're representing Big Red in every way possible – so no longer must you rely on that iPod Touch or AT&T iPhone 4.
source:
iTunes
via
Engadget