Moto 360 makes a comeback on November 12th, T-Mobile will also carry it
2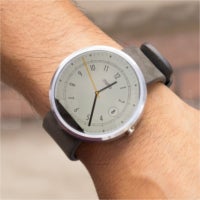 Motorola's
Moto 360
– the first circular Android Wear timepiece, and probably the most anticipated one up until September – was
very quickly sold-out
when it first hit Verizon's stores. Its availability has been pretty limited ever since, though, that time is about to end, since not only did
Verizon confirm
that it will stock up on the smartwatch, come the 11th of November (the website now says Nov. 12th), but so did
AT&T
and, today – T-Mobile.
OK, T-Mo's announcement isn't "official" per se, as it comes in the form of a Twitter post, answering a fan's question on whether the carrier intends to sell the circular timepiece. However, that twitter post is written by Des Smith, T-Mobile's Senior Product Manager, so we'd wager it's believable info.
There are no details about available colors, nor price, though, we'd guess that the latter will still be around $250 for the leather band model. Now why did we say the "leather band model"? Well, for one, we know that Verizon will be carrying
models with metal straps
, for which it has been accepting pre-orders, and will cost $299. However, we've also spotted a couple of interesting renders, which were obviously not meant to be seen by the public yet, and were quickly taken down; one of the leaks showed a
golden
(or at least – gold-plated) Moto 360 body and was a blunder by Motorola themselves; the other one was Amazon's mishap – the retailer
"accidentally" listed a Moto 360
in Champagne Gold, with a matching gold strap, and a silver Moto 360, with a brown ("cognac") leather strap.
So, it seems that, following September's interest, Motorola may be bringing more (and sexier) options for its round wearable. The question is – with watches like the round
LG G Watch R
and the semi-autonomous
Samsung Gear S
just behind the corner – could Moto be a bit late to reap the rewards of being the first round smartwatch on the market?
.@BigRickz10#Moto360 will be available at @TMobile on the 12th of November!

— Des (@askdes) November 4, 2014


Moto 360


source: Des Smith (Twitter) via Digital Trends