Gold Moto 360 appears and quickly vanishes
9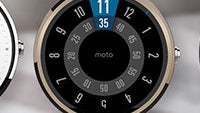 Right now, the Moto 360 is available in silver and black, but there may be another option on the way. Motorola may have just accidentally shown off an unannounced model of the Moto 360, one that appeared to be either made of gold or at least is gold-plated. The image was accidentally posted to Motorola's website.
As you can see below, there are five Moto 360 watch faces shown - two silver, two black, and then there's the one in the middle of the top row, which is clearly gold.
Android Police
contacted Motorola for a comment on the matter, which led to the second image, where the gold Moto 360 disappeared from the image, but the layout was retained for a few minutes before being redone into the last image below. Motorola didn't directly confirm that there will be a gold 360 on the way, but did say:
Although we can't comment on gold specifically, we're always exploring new materials and we intend to provide Moto 360 in a selection of styles in the future.
That sounds to us like a pretty standard "you caught us, but we're not going to officially confirm anything" response from Motorola. We'll have to wait and see if the gold is true solid gold, or just plated, and whether the material will bring a premium price.