Microsoft acquires Nokia: read all about it here
91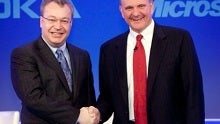 Credit where credit's due
Quite possibly, the following statement will sound somewhat dramatic to some people, but it feels appropriate nevertheless: Microsoft's $7.2 billion acquisition of Nokia's mobile phone business, in its near entirety, marks an end of an era. And it doesn't really matter whether you count yourself among those faithful to either one of the above – the landscape of the smart devices market is about to be irrevocably changed in what history will look at as the beginning of the end of a company who's hands have largely shaped the industry during its infancy
A whole lot more can and will be said about Nokia, and different opinions will, naturally, carry a different connotation – some will be judgmental, while others may feel they're honor-bound to give credit where credit's due. More still can and will be said in the weeks to come on what changes, exactly, the acquisition of the Finnish manufacturer spells for the mobile space.
Ultimately, for those of us who hold technology dear, beyond the practical, business buzz, the news carry an emotional, nostalgia-inducing charge, and we can only hope that Nokia will retain its voice in the years to come.
So what's going on?
Coverage of the deal in its entirety, along with any subsequent scoops that we're bound to go through as we go forward with the high-profile acquisition will, undoubtedly, accumulate. That is precisely why you should refer back to this round-up, while we'll make sure that you don't miss a thing. Here are the basics that you need to acquaint yourself with:
Mostly factual
Looking to know more? Don't worry, we're like that, too. Find below all our coverage on all things related to the deal.
Our take
A deal of this caliber is naturally exciting, to say the least. If you're looking to gain some perspective as you take a step away from news regurgitation, then the below should prove a most appropriate read.