Did Stephen Elop just become the presumptive next CEO of Microsoft?
20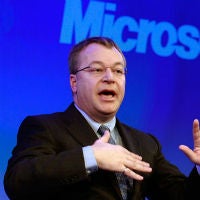 If you could find a prop bet line on who would be the next Microsoft CEO, Stephen Elop was already the Vegas favorite (not to mention the favorite of our
totally scientific poll
on the subject). But with Microsoft just announcing plans to
purchase Nokia
, and bring Elop back into the fold, did Elop just move up from being the favorite to being the presumptive next-in-line for Steve Ballmer's job?
We aren't the first to ask the question, and we certainly won't be the last, but it is a very important question. As the deal was announced, Elop stepped down as CEO of Nokia to take the position of executive vice president of Devices and Services (aka the unit that Microsoft purchased). From the way current Microsoft CEO Steve Ballmer explained the transition, Elop will be heading up the Devices and Services group at Microsoft, and potentially unseating current head of that group Julie Larson-Green. Ballmer says that the two will work together, with Larson-Green heading the Xbox and Surface teams, while Elop runs the imported Nokia teams. That said, Ballmer also used the questionable phrasing that Larson-Green would be "joining Stephen's team", which seems to put Elop above Larson-Green.
That seems like a relatively small thing, but Larson-Green had been considered by many to be the front-runner for the CEO position if Microsoft decided to hire from within the company. Now that Elop will be returning to Microsoft, he seems like the man to beat as Ballmer's replacement; and, if the rumors are true that Microsoft will be choosing said replacement sooner rather than later, Elop's time as an executive VP at Microsoft may be quite short.
What do you all think? Can anyone beat Elop for the Microsoft CEO position?