Bill Gates may be the "kingmaker" at Microsoft, but confidence is low that the board will shake things up
14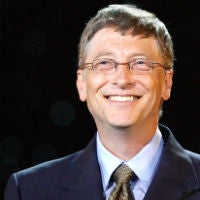 There had been some people hoping that Bill Gates might make a comeback and take over the Microsoft CEO position with current CEO Steve Ballmer announcing plans to retire. That seems to have been nothing more than blind optimism, but that's not to say that Bill Gates won't be playing a major role in choosing the next Microsoft CEO, and word has it that the selection could happen sooner rather than later.
Of course, Gates was essentially in charge of choosing Ballmer, who was Gates' own replacement as CEO in January of 2000. Inside sources are saying that Gates has been spending a lot more time in Redmond, and is expected to be the "kingmaker" in this process. Not everyone is all that optimistic about Gates' ability to choose since, as we mentioned, he was responsible for appointing Ballmer who has been the CEO as Microsoft's market cap went from $616.3 billion in December 1999 to $278.22 billion today; and, the company fell well behind in the mobile race.
One high-ranking Microsoft executive has said of the state of the company:
The problems have gotten so deep and intractable that whatever happens has to be pretty significant. We have lost a lot of time in some critical areas, and it's not clear if we can catch up.
Microsoft has hired Heidrick & Struggles to vet potential candidates; and, in addition to
the names
that we have heard before, a new contender is Ford CEO Alan Mulally, who advised Ballmer on the recent
restructuring plan
. But, there may be even more big moves in the company's future beyond choosing Ballmer's replacement. Investors have been calling for Microsoft to spin-off its games and entertainment division, or possibly purchase Nokia, which has been rumored plenty of times.
Unfortunately, confidence is very low that the Microsoft board will choose a CEO who will have a bold plan of action for the company.
AllThingsD
is calling for new "fresh" eyes to be put on the Microsoft board of directors, and
The Wall Street Journal
says that the board is "heavier on management expertise than experience with new-wave technologies like mobile devices, online software and social networking." Which is to say that the board may not really know what kind of leader is necessary to put the company in position to capitalize on its
steady mobile growth
.
So, this means that the Microsoft board is faced with the job of choosing a new CEO, but no one is sure that the board, or the supposed "kingmaker" Bill Gates are really the right ones to be in charge of this choice. The general consensus is that the board would lean towards someone who will simply steer the ship, rather than plot a new course. Although Bill Gates might have been able to find a better choice than Ballmer, he wasn't a disaster.
Rather, Ballmer was more of a "stay-the-course" type of leader. He did oversee extremely important moves for the company, including the success of the Xbox and Xbox 360. Ballmer was responsible for the Windows Vista debacle, but that was his only misstep with desktop Windows, since he was in charge for XP, 7, and 8, all of which were received well. He has been in charge for the Office 360 move, and the launch of Bing, both of which have done well, although obviously doing "well" is relative when you're up against Google Search.
Ballmer's biggest misstep, and the one that causes the most concern with investors hearing that the board may choose someone similar, was in how long it took Microsoft to bring a viable mobile competitor against Apple and Google (and Samsung). Windows Phone was very late to the party, not being released until November of 2010, over three years after the iPhone hit the market, and about one year after the Android train got up to speed and began taking over the market.
Another leader like Ballmer is looking like the most likely choice, but Microsoft definitely needs a leader who is a bit more visionary, and more willing to make big moves.Unfortunately, even if Microsoft got someone like that, it's unclear how long they would last. When Ballmer finally pulled off a move that was more visionary by attempting to unify mobile and desktop products with Windows Phone 8, Windows RT, and Windows 8, the weak link of that chain (RT) is said to be a
major reason
for Ballmer being pushed into retirement.