Microsoft Surface Pro 2 and Surface 2: all there is to know
1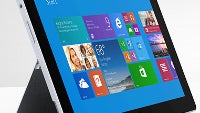 Microsoft has announced the next step in the evolution of its Surface line of tablets. In case you're wondering, both the regular and the Pro models are alive and well, and will live on in the
Surface 2
(running Windows RT) and
Surface Pro 2
(running Windows 8 Pro).
So, what has Microsoft come up with this time in order to make us want its new tablets? Well, to tell you the truth, there have been slight improvements made in most areas, although it's safe to say that Redmond hasn't unveiled anything groundbreaking. For example, the Surface Pro 2 sports the new Intel Haswell CPU architecture, bringing performance and battery life improvements. In addition, there's going to be more storage, USB 3.0, two kickstand angles, etc. Meanwhile, the RT-powered Surface 2 will be thinner and lighter, and will also come with a much better, 1080p screen, among other improvements.
Surface Pro 2 and Surface 2: specs, release date, price and features
Thankfully, we got all the data we need from Microsoft regarding the release date and the price of the new tablets. With pre-orders starting on September 24, the Surface Pro 2 and Surface 2 will be officially released on October 22. When it comes to pricing, the Surface duo has once again gotten some pretty impressive price-tags. The Surface Pro 2, for example, will be priced starting at $899, while the base model of the Surface 2 will cost $449. Rear more in the following posts!
Surface Pro 2 and Surface 2: Touch, Type and Power Covers and more

With the new Surface tablets, Microsoft has also debuted new QWERTY-enabled covers. Meet the Touch Cover 2.0, Type Cover 2.0 and the Power Cover!