Microsoft Surface Pro 2 specs review: better, faster, stronger
14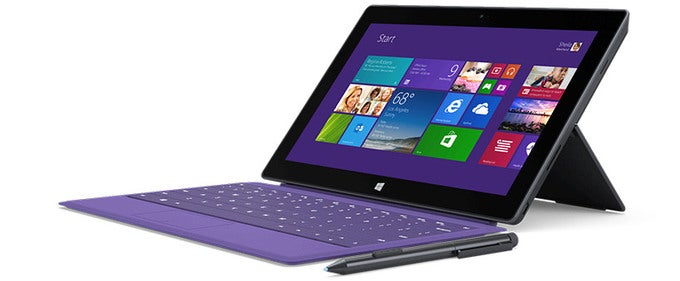 The
Microsoft Surface Pro 2
is a product that has been in development for 18 months, as the company's corporate VP, Panos Panay, stated during its unveiling. Therefore, it should bring quite a lot of innovation and improvements over the previous Surface Pro tablet, right? Well, we can't be so sure about that, and it will take about a month until we get to take it for a test-drive. We can, however, share with you our thoughts on its specifications and features.
Design
At a glance, not a whole lot seems to have changed. Microsoft hasn't altered its design formula, sticking to the edgy profile we remember from the first Surface Pro tablet. But the tablet's first version was build well, and we hope that its successor has followed suit. After all, it sports the same "VaporMg" magnesium casing, known for its durability. The built-in kickstand is definitely a stand-out feature, and on the Microsoft Surface Pro 2, it can be set at two degree levels, depending on whether the tablet is placed on a table, or on the user's lap.
All the necessary ports, knobs, and outputs are positioned on the tablet's left and right sides, the only exception being the power key located on top. Among them is a full-sized USB port, which, thankfully, is USB 3.0 capable. That means all your USB 3.0 external hard drives or USB drives will fly with this thing, reaching higher data transfer rates than what USB 2.0 allows.
Tablets based on Intel Core processors are usually thick and heavy, or at least much thicker and heavier than their Android or iOS counterparts. The Microsoft Surface Pro 2 is not an exception, tipping the scales at 2 lbs (907 grams). Its thickness of over half an inch isn't anything to write home about either, but that's the sacrifice one has to make if they are to have a Core chip's power at their disposal.
Display
pixel
count is still set at 1920 by 1080. That results in a decent level of detail and a very clear image as a whole, but we've seen better on competitor's products. On the bright side of things, Microsoft has gone with a screen panel that has 46% better color accuracy, and that's good to hear.
Interface
Windows
8.1
comes pre-loaded on the Microsoft Surface Pro 2, as expected. It brings a better on-screen keyboard, new alignment features, allowing one to have two or more windows opened side by side, Internet Explorer 11, UI scaling at up to 200%, and more minor and major improvements. The good old Start button has been brought back, for all who were bothered by its absence.
Skype will be one of the apps pre-installed onto the device. What's more is that anyone who chooses to purchase a Microsoft Surface Pro 2 tablet will receive a year of free international calls and access to Skype public Wi-Fi hotpsots. Neat!
Processor and Memory
The base Microsoft Surface Pro 2 model will ship with 64GB of on-board storage, and we're expecting about half of that to be available for apps and storing files. For a Windows 8 machine, that's hardly enough space, so it would be wise to go for at least a 128GB variant. Models with 256 and 512GB of SSD storage will be also available, but at a significantly higher cost. Thankfully, the tablet comes with a microSD card slot for storage expansion and 200GB of cloud space thanks to SkyDrive.
Camera and multimedia
What has been upgraded, on the other hand, is the set of stereo speakers found on the Microsoft Surface Pro 2 tablet. They now feature tech by Dolby, which will supposedly treat our ears to clearer, louder sound. We aren't expecting anything groundbreaking, of course.
Battery life
The first-gen Microsoft Surface Pro had a 5-hour battery life, which was a bummer. The new model, however, can last 75% longer, so it should get you through almost a full work day on a single charge. For those who need extra power, a keyboard dock – the Power Cover, sold separately – provides up to 150% extra juice with its built-in battery.
Expectations
And that's the Microsoft Surface Pro 2 in a nutshell. It is shaping up as a good device, but we wish its maker had more to impress us with. All, in all, the Surface Pro 2 a tablet that's in many ways better than last year's Surface Pro, but looking at it now, we can't help to think that Microsoft should have some more spice to the Surface Pro's successor. After all, Windows 8 tablets aren't exactly selling like there's no tomorrow, and a stand-out member of the species would have been great having in the game. Despite being developed by Microsoft itself, the Surface Pro 2 might not be that hero, but then again, we could be wrong. Guess we'll see in a few months once the Microsoft Surface Pro 2 is out. It will be available for pre-order from Microsoft's online store start tomorrow, September 24, starting at $899.