Microsoft Surface Pro 2 vs Apple iPad 4 vs Google Nexus 10: Silicon Valley MMA
47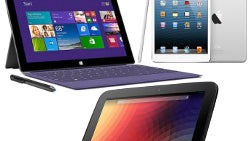 We are pitting the current "vertical integration" tablets of the Silicon Valley's big three household names - Microsoft, Apple and Google - to gauge the different paths they are taking into creating their own hardware to go with their renowned software.
Of course, both Google and Microsoft are new at this game, introducing their own tablets just last year, whereas Apple has been a vertically integrated maker for decades now. Still, the Windows and Android brains did very well, and now with the introduction of
Surface Pro 2
Microsoft has a chance to be commercially successful as well. Let's see who did what here.
Design
Google took a familiar for its company philosophy approach with the
Nexus 10
, stressing on top-notch specs yet moderate pricing at the time of introduction, rather than exterior design, which explains why it went with Samsung as an OEM at the first place. Apple's way with the
iPad 4
is also well-expected, as it created an elegant device with premium design and an app ecosystem to match, but somewhat limited expansion options.
Microsoft, as usual, threw the kitchen sink at the problem, creating the most powerful of the three devices, with the full Windows 8 might behind its back, with premium looks as well, and somewhat cruder, yet flexible design with expandability. The idea of a tablet is to be a thin and light take-anywhere device, though, so we'll see how Microsoft's 2-pound gorilla will fare in the market, despite the promise of Win 8, its device drivers and the legacy programs support behind its back.
Display
Nexus 10 sports the most resolute display of the three, with the record 2560x1600 pixels for its 10.1" display, and unsurpassed 300ppi pixel density. Next in line is the iPad 4 with the "Retina Display" and 264ppi, while the Surface Pro 2 keeps the "mere" Full HD screen of its predecessor, meaning the 10.6" panel sports 208ppi pixel density, but is the largest of the three.
All three screens, however, are of excellent quality in terms of colors, brightness, viewing angles and reflectivity, so you won't go wrong with any of them. Apple's iPad 4 display, and the ClearType panel of the new Surface Pro 2, are likely to be more suited for screen purists.
Horse power
We can easily give this round to the Surface Pro 2, as its 4th generation Intel Core i5 "Haswell" architecture will blow out of the water Apple's
A6X
and Samsung's
Exynos 5
chipsets in sheer power alone. With great power comes a small fan, though, and since Microsoft says the Pro 2 is much quieter than its predecessor, we'd wager to guess that there is still a fan inside to cool the scorching Core i5. The
ultra low-voltage Haswells that don't require a fan
are seemingly not ready for prime time in a retail device just yet. Microsoft bundles its tablet with 4/8 GB of RAM, whereas Apple's iOS makes do with 1 GB, and Google's Android flies with 2 GB of RAM, the exact amount on the Nexus 10, so all three are well-equipped to handle the multitasking demands of their respective operating systems.
Storage
Apple's notorious for being stingy on the internal memory amount, as it makes a bundle on iPad versions with more than 16 GB, and Google seems to have followed suit with just 16 GB as well, and no card slot for expansion. Microsoft, on the other hand, ships the basic Surface Pro 2 with 64 GB, plus a memory card slot, though
Win 8 is likely to end up occupying quite a bit of the internal storage amount
, so don't pop the champagne just yet.
Misc.
Microsoft's tablet comes with pressure-sensitive stylus, Dolby speakers, a full USB 3.0 and a mini DisplayPort, so you are all set without needing much of additional accessories, plus now it has similar 8-10 hours of battery life as the Android and iOS tablets. Pair that with Windows 8 that has support for more than a million device drivers that can be hooked directly to the tablet, and it is becoming a more serious productivity machine than both the iPad 4 and the Nexus 10.
The iOS and Android slates are thus more media and information consumption oriented, compared to the Surface Pro 2, and it shows in the price range, as the aluminum iPad 4 will start you off at $500, the plastic Nexus 10 begins at $400, while the magnesium-clad Surface Pro 2 tablet commands a veritable PC price of $899.
Whether the Surface Pro 2 WinTel prowess will be enough to entice buyers for paying as much for one as for an iPad 4 and Nexus 10 combined, remains to be seen. Let's not forget we might see new editions of the iPad and Nexus tablet franchises still by year-end, so the Surface Pro 2 might have an even steeper climb ahead of it. What do you think?

DESIGN
Device

Microsoft Surface Pro 2

Apple iPad 4

Google Nexus 10

OS
Windows (8.1 Pro)
iOS (7.01)
Android (4.3, 4.2.2, 4.2.1, 4.2)
Dimensions
10.81 x 6.81 x 0.53 inches (275 x 173 x 13 mm)
9.50 x 7.31 x 0.37 inches (241.2 x 185.7 x 9.4 mm)
10.39 x 6.99 x 0.35 inches (263.9 x 177.6 x 8.9 mm)
Weight
32.00 oz (907 g)
the average is 17.4 oz (496 g)

the

average

is 17.4 oz (496 g)
23.35 oz (662 g)

the

average

is 17.4 oz (496 g)
21.27 oz (603 g)
Design features
Stylus
| DISPLAY | | | |
| --- | --- | --- | --- |
| Physical size | | | |
| Resolution | | | |
| Pixel density | | | |
| HARDWARE | | | |
| --- | --- | --- | --- |
| System chip | Intel Core i5 | Apple A6X | Samsung Exynos 5 |
| Processor | | | |
| Graphics processor | Intel 4400 | PowerVR SGX 554 | ARM Mali-T604 |
| System memory | | | |
| Built-in storage | 64 GB | 16 GB | 16 GB |
| Storage expansion | microSD, microSDHC, microSDXC | | |
| CAMERA | | | |
| --- | --- | --- | --- |
| Camera | Yes | | |
| Flash | | | LED |
| Camcorder | 1280x720 (720p HD) | 1920x1080 (1080p HD) (30 fps) | 1920x1080 (1080p HD) (30 fps) |
| Front-facing camera | Yes | 1.2 megapixels | 1.9 megapixels |
| Video capture | 1280x720 (720p HD) | 1280x720 (720p HD) | |
| CONNECTIVITY | | | |
| --- | --- | --- | --- |
| Bluetooth | 4.0 | 4.0 | 3.0 |
| Wi-Fi | Yes | 802.11 a, b, g, n, n 5GHz | 802.11 a, b, g, n |
| | Dual antennas, MIMO | | MIMO |
| USB | USB 3.0 | Yes | USB 2.0 |
| Connector | Full-size USB | Proprietary | microUSB |
| HDMI | DisplayPort | Yes | Micro HDMI (Type D) |
| AVAILABILITY | | | |
| --- | --- | --- | --- |
| Officially announced | 23 Sep 2013 | 23 Oct 2012 | 29 Oct 2012 |
| Scheduled release | 22 Oct 2013 (Official) | | |
| SHOPPING INFORMATION | | | |
| --- | --- | --- | --- |
| MSRP price | | | |
| | $ 899 | $ 499 | $ 399 |