Microsoft Surface 2 event liveblog
11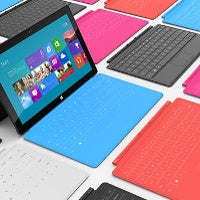 The Surface RT and Surface Pro were Microsoft's debut on the touch-friendly tablet scene and now, a year after, the company is ready to bring the second generation Surface tablets along with its improved Windows
8.1
. Microsoft is expected to unveil the Surface 2 RT and Surface 2 Pro, and some new accessories too like a new Power Cover and a Surface Docking Station.
We've been hearing whispers about Microsoft polishing a lot of the rough spec edges and introducing an even better, adjustable kickstand with the second-gen Surface tablets. Have we approached the times of fanless Core-based Windows 8 tablets? And is Windows RT now ready for prime time?
These are two of the questions we expect Microsoft's Surface team led by Panos Panay to answer today. We'll be covering the event live as it happens and rushing to the demonstration areas to bring you a more intimate look at the devices right away. There will be no Microsoft Surface 2 event livestream, but instead of a stream you can tune into out live blog right here.
07:30AM — Pacific
08:30AM — Mountain
09:30AM — Central
10:30AM — Eastern
03:30PM — London
10:30PM — Beijing