Microsoft Surface 2 event liveblog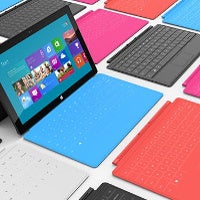 The Surface RT and Surface Pro were Microsoft's debut on the touch-friendly tablet scene and now, a year after, the company is ready to bring the second generation Surface tablets along with its improved Windows 8.1. Microsoft is expected to unveil the Surface 2 RT and Surface 2 Pro, and some new accessories too like a new Power Cover and a Surface Docking Station.
We've been hearing whispers about Microsoft polishing a lot of the rough spec edges and introducing an even better, adjustable kickstand with the second-gen Surface tablets. Have we approached the times of fanless Core-based Windows 8 tablets? And is Windows RT now ready for prime time?
These are two of the questions we expect Microsoft's Surface team led by Panos Panay to answer today. We'll be covering the event live as it happens and rushing to the demonstration areas to bring you a more intimate look at the devices right away. There will be no Microsoft Surface 2 event livestream, but instead of a stream you can tune into out live blog right here.
07:30AM — Pacific
08:30AM — Mountain
09:30AM — Central
10:30AM — Eastern
03:30PM — London
10:30PM — Beijing
Live event tracker
| | |
| --- | --- |
| 10:39 | Time for some sweet hands-on time with the new Surfaces and covers. |
| 10:39 | And that's a wrap, folks! Thanks for staying with us, and stay tuned for more coverage as we're heading in the demo areas. |
| 10:38 | "In Surface Pro 2, guys you have a full PC in a tablet form factor. It's workstation. You can do so much with this product." |
| 10:38 | "The team is proud of what they did here. We think these products make people's lives better." |
| 10:38 | |
| 10:36 | Just kidding! |
| 10:36 | Turns out there are some! |
| 10:36 | Microsoft will introduce us to people who actually use Surface. |
| 10:36 | "This team that designs this product, it's crazy. They're not gonna stop. You're only gonna see more and more from the Surface team." |
| 10:35 | It's a beast. |
| 10:35 | No typos. Surface Pro 2 configs are: 64GB storage/8GB RAM, 128/4, 256/8 and 512GB storage/8GB of RAM |
| 10:34 | Wow, Surface 2 Pro goes up to a version with 8GB of RAM and 512GB of storage. |
| 10:34 | Surface RT remains at $349. |
| 10:34 | Surface Pro 2 price starts at $899 |
| 10:33 | |
| 10:33 | The products will launch on October 22nd in 21 markets |
| 10:33 | Pre-orders open tomorrow at 8AM pacific time. |
| 10:32 | Panos is now wrapping up. |
| 10:31 | It looks fun, using the touch cover as a music deck. Great for musicians! |
| 10:31 | "We know you're putting pressure. If you were finger painting, you could smudge your ink harder. Think of the things beyond a simple product |
| 10:30 | It's all pressure sensitive so the harder he hits the note keys, the louder the sound |
| 10:29 | The cover now transforms into a music deck. |
| 10:29 | "When I told you we have a full resolution sensor on the product, it's that same pressure sensitivity you get on the first product." |
| 10:28 | |
| 10:28 | The Surface 2 release date is October 22nd. |
| 10:28 | The video wonders "what if" we could do more, Surface somehow is involved. |
| 10:26 | Gestures are also supported on the new Touch Cover. |
| 10:25 | We're watching another video promo right now. |
| 10:25 | "This sensor is to open your mind just a little bit." |
| 10:25 | Interesting. |
| 10:25 | "Everything the Surface team does right now is not only now, but the future. We started Surface 2 long before Surface RT launched." |
| 10:24 | Comes with predictive typing too. |
| 10:23 | "It feels like a book when you close it. Surface 2 got thinner, Touch Cover got thinner." |
| 10:23 | 1092 sensor versus only 80 sensors on original. |
| 10:23 | "It's thinner, it's lighter. It's like a piece of paper." |
| 10:23 | |
| 10:22 | New Touch Cover is 1mm thinner and backlit. |
| 10:22 | $450 is expensive, don't you think? |
| 10:22 | |
| 10:21 | "This is Touch Cover 2." |
| 10:21 | Let's see if we have a Steve Jobs' like surprise. |
| 10:21 | "Let me show you one more thing." |
| 10:21 | |
| 10:21 | "We're selling Surface 2 at $449." |
| 10:20 | 200GB of free SkyDrive for 2 years. |
| 10:20 | With SkyDrive you can simply restore a device if it's lost. |
| 10:20 | "That product is Bitlocker encrypted, by the time I get off this stage there's really no hope for Mary Jo to get it." |
| 10:20 | Panos is now joking around with journos about leaked information and secrets. |
| 10:18 | |
| 10:18 | "It's a really hard device to break, the build quality is unbelievalble." |