Power Cover, Type Cover 2 for the 2-gen Microsoft Surface announced
4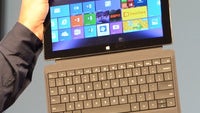 And just like that, the second-generation Surface Pro tablet by Microsoft is now official. It is better than the previous model in more than one ways, as it has a better processor, improved screen, and longer battery life. Speaking of battery life, Microsoft announced an accessory for its new Surface Pro tablet – the so-called Power Cover.
The Power Cover works a lot like last year's Type Cover, providing a physical keyboard for those who just can't stand the virtual one on the Surface tablet. However, there's a battery in side it, and a pretty large one, for that matter. It provides 30Wh of additional juice, adding 150% more battery life to the device. That ought to power the Microsoft Surface Pro 2 all day. The accessory clicks right in, attaching itself firmly to the Surface Pro 2 and sports a fabric finish for added premium feel.
In addition to the Power Cover, Microsoft demonstrated the Type Cover 2, which is an upgraded Type Cover attachment for the Sufrace Pro 2 tablet. It is thinner as a whole millimeter has been shaven off, but it isn't any less functional. In fact, the Type Cover 2 is silent and sports a backlight. It will be available in purple, pink, blue, and black.
Pricing for both covers is to be announced at a later date. As far as we can tell, the Type Cover 2 may not be available for purchase soon. Check out our announcement article to get
more info about the Microsoft Surface Pro 2
.
Images courtesy of The Verge