Microsoft Surface 2 release date, price and features
7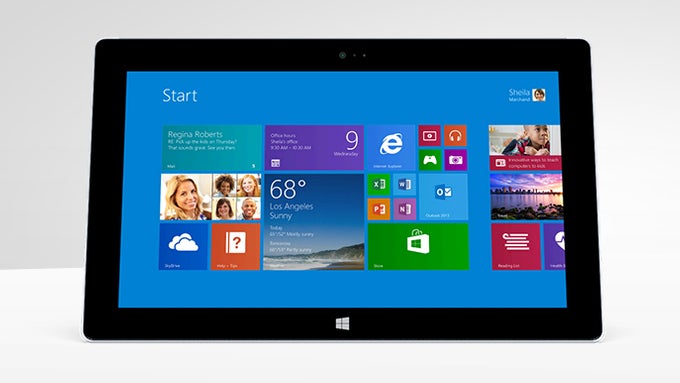 Specs and improvements
Microsoft has today unveiled the Surface 2 - a new tablet that comes to succeed last year's Surface RT. That's right, Microsoft is keeping Windows RT around, and so the Surface 2 will be powered by the updated Windows RT
8.1
OS.
Rather than treating us to some kind of a complete redesign, Microsoft is keeping all the good stuff about the Surface RT and has simply upgraded the device where necessary. With a slightly thinner and lighter design, the Surface 2 will also sport a much better 10.6" screen, upping the resolution from 1366 x 768 pixels to 1920 x 1080 pixels - a much-needed improvement. Under the hood, the Surface 2 will be powered by the new Tegra 4 chipset (the Surface RT had Tegra 3). Unfortunately, Tegra 4 hasn't seen much spotlight as far as smartphones are concerned, but it's slowly and steadily grabbing chunks of market share when it comes to tablets.
Bonus features and covers
A nice extra that Microsoft is going to bundle with the Surface 2 is called "Best of Skype". Basically, new Surface 2 owners will gain access to one year of free Skype Wi-Fi hotspots, as well as one year of free international Skype calls to landlines. What's more, users will also get 200 GB of free Skydrive storage.
Of course, if you'd like to supplement your Surface 2 experience with a keyboard, you'll be able to pick any of Microsoft's new keyboard-enabled covers - the Touch Cover 2, Type Cover 2 and the brand-new Power Cover. Touch Cover 2 is even lighter and thinner than its predecessor, Type Cover 2 is also thinner than before, and features an LED backlight, while the Power Cover's main feature is that it packs a battery of its own, which is said to greatly increase battery life. You can learn more about the new Surface covers
here
!
Price and release date
The Microsoft Surface 2 will be available in 32 GB and 64 GB flavors, with the price starting at $449 - not that bad of a cost, but then again, we wouldn't really say that it can rival the $500 iPad with its much bigger application catalog, or even the $200 Android tablets that also have access to tons of apps, unlike the Surface 2. The Windows Store currently houses around 100,000 apps, which is simply laughable compared to the storefronts of those other platforms.
Still, users willing to purchase the Surface 2 (or the Surface Pro 2), will be able to do so on October 22, with pre-orders starting as soon as tomorrow.
source: Microsoft