Microsoft Surface Pro 2 is here: longer battery life, better display, faster processor
20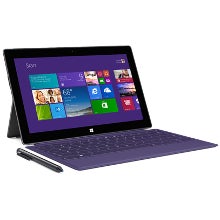 Microsoft's Surface team VP Panos Panay took the stage to announce the second generation of the Surface tablets that marked Redmond's serious entrance in the mobile device business last year.
Specs
The Surface Pro 2 has the same 10.6" 1920x1080 pixels ClearType display like its predecessor, but this time with 46% better color accuracy and record low reflectivity, nearly identical with the sRGB color gamut coverage. That is aimed at making it a device for professionals and screen purists alike, but also to make outdoor visibility better for the average user as well.
The new Surface Pro 2 is equipped with the Haswell architecture of Intel's Core i5 processor, meaning it marks strides in battery life compared to its predecessor - 75% improvement, or between 7-10 hours, depending on the usage. The unit has also been made much quieter, though that still means you are likely to see a fan inside.
New accessories
Microsoft didn't stop here, but added an additional battery in a Power Cover keyboard accessory, which prolongs battery life to the whopping 2.5x of Surface Pro, or north of 12 hours when you use them together.
A new docking station rounds up the offering that Microsoft straight out calls a workstation - the dock features 3 x USB 2.0 ports, 1 x USB 3.0, Mini DisplayPort, Ethernet, Audio in and out. A new Type Cover 2 is also added to the accessory range for the Surface Pro 2, shown on stage in purple, pink, blue, and black, but other colors seem to be in store, too - thinner than the predecessor, with backlit keys. A Touch Cover 2 is also arriving, with 1092 sensors this time, and pressure sensitivity, allowing you to mix your own tunes, for example, while adding very little bulk to the Surface tablet.
Other improvements
Amongst the smaller improvements of the Surface Pro 2 are the new Dolby surround speakers, and the improved kickstand, which can now open at more angles than the 22 degrees of the original, increasing the tablet's "lapability".
Microsoft also removed the Windows logo on the back, and we get only the Surface brand etched there: "
We've added the Surface logo. You're using a Surface, you want people to know you're using a Surface. Let them know,
" reasoned the Surface team VP. Microsoft is also throwing in free international calling and free Skype Wi-Fi hotspots with the tablet for a year, as well as 200 GB of SkyDrive cloud storage for two years.
Pricing and release date
Surface Pro 2 will be, of course, running
Windows 8.1 Pro
, and the 64 GB version with 4 GB of RAM will start you off at $899 on October 22 when the tablet goes on sale in 21 markets. There are three additional variations - 128 GB storage and 4GB RAM, 256 GB of storage with 8 GB of RAM and 512 GB of storage with 8 GB of RAM - the last one will run you $1799. The Surface Pro 2 preorders will begin tomorrow, September 24th, at 8am Eastern.