Google Nexus 10 specs review: $400 to push 4 million pixels
45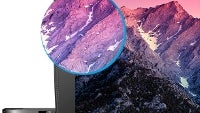 UPDATE:
Two separate reports say Google itself has called the screen "True RGB Real Stripe PLS", and Samsung also lists PLS in one of its official specs listings, thus the display part has been altered to reflect those specs.
If Google aimed to disturb
Microsoft's big Windows Phone 8 launch event
yesterday, the
hurricane Sandy-induced cancellation of its own Nexus fiesta
didn't prevent it from indeed doing so. It
dumped the revelations about Android 4.2, Nexus 4, 7 and 10
minutes before the WP8 launch, making us all ADD kids go nuts for a good while where to focus first.
One release stood out, though, and this is Google's
Nexus 10
tablet. While we knew everything about the Nexus 4, the mythical Samsung tablet with record resolution was more of a mystery. Apparently a direct reply to what Apple and Microsoft came up with in the tablet space going into the new holiday shopping season, Google saved its best for last - a 10" tablet built by Samsung with class-beating resolution and processor at a
25% discount to the competitors
. Let's take a tour of the specs to gauge what can we expect from this tiger.
While nobody expected a metal-clad tablet warrior out of Samsung, the materials and chassis design are certainly not aiming to grab any Red Dot design awards. In fact, Google's Matias Duarte said the design was targeted towards ergonomics and light weight from the get-go.
He touted the goofy rounded shape that is now a Nexus hallmark, and the plastic construction with brushed metal finish, as the culprits for an extremely comfortable grip regardless of your wrist position, and the 603 grams of weight, which is truly something for a tablet with such monstrous spec sheet. These design decisions made the Nexus 10
thinner and lighter
than the aluminum
4th generation iPad
, despite the slightly larger display.
One design decision users might not be so on board with, however, is the
lack of microSD card slot
. We know these new Nexus devices are supposed to rely more on Google's cloud solutions now, but a media-consumption darling like what the Nexus 10 is shaping up to be will hardly make do with 16 GB of internal storage, and the 32 GB one is a full $100 more, taking a page from Apple's book. Of course, you can always connect a flash drive to it, but it's a nuisance nonetheless, which prevents the Nexus 10 from being the perfect Android slate.
Display


When we talk about perfect, the mind inevitably focuses on the display of this new Nexus tablet. Samsung has been teasing us with those 10" 2560x1500 panels since last year, and finally we are seeing them in a finished product. The Koreans didn't give us any hints that
the Exynos 5250 board connected to a WQXGA panel they demoed for us at CES this year
will end up being the poster child of Google's Nexus tablet line. That's probably because even then they didn't know Google will be approaching them to make one.
Google's chief of partner engineering mentioned in an interview that they look around what hardware partners can offer, find something they like, and go with it - in this case, they liked a 10" screen Samsung had that can surpass the new iPad's "Resolutionary" screen in terms of pixel density, and Sammy also had the hardware to push those pixels for a convenient combo deal.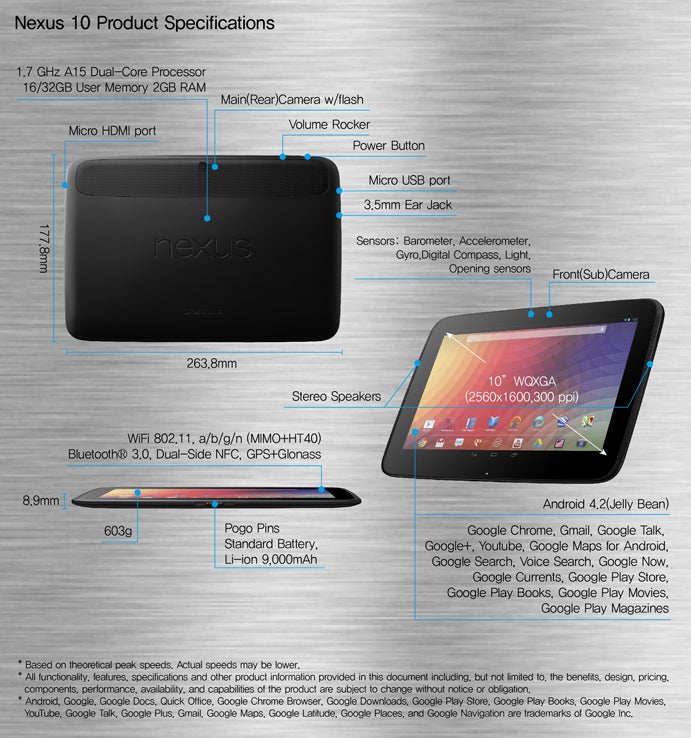 Samsung
showcased two 10" 2560x1600 panels at the FPD expo last year
, one with the
PLS-LCD technology
plus the
IGZO
driver elements
Apple got so fond of with its Sharp investment
, and the other with an RGBW matrix arrangement, which is essentially a PenTile version for LCD screens.
The IGZO screen was still in development then, and Samsung said it didn't have any plans yet what to do with it, whereas the PenTile one was ready to go into mass production this year, but it actually seems that Google wanted the
RGB stripe
type, as two reports quote its reps calling the Nexus 10 screen "True RGB Real Stripe PLS".
Thus we have a true 300ppi pixel density, with three subpixels per pixel, but there might be minor tradeoffs in the RGB matrix version compared to the PenTile 2560x1500 screen. First off, the specs for the stripe matrix Samsung display
quoted at the FPD expo
were 300 nits vs 400 nits of brightness, since the PenTile arrangement is RGBW, with one clear (white) pixel that lets more backlight through, thus lowering power consumption to what you normally get with 1280x800 screen. Besides this lower brightness, the RGB type was quoted to have 500:1 contrast, compared to 900:1 for the PenTile version.
Power consumption was quoted only as 26mW without the backlight on, while the PenTile one was listed as 3.4W at its peak, but with backlight on, yet judging from the huge 9,000 mAh battery Samsung has put in the tablet to push all those pixels, versus the about average for an Android tablet 9 hours of video playback listed, we'd assume the PenTile panel has lower power draw as well.
The RGB stripe display 2560x1600 display of Samsung covered 70% or higher of the standard NTSC color gamut when it was first shown at FPD last year, and we will have to wait for some professional measurements when the Nexus 10 hits to see if this has moved closer to the ideal 100% mark. In short, in terms of resolution and pixel density, this is indeed the most advanced tablet display to date.
Processor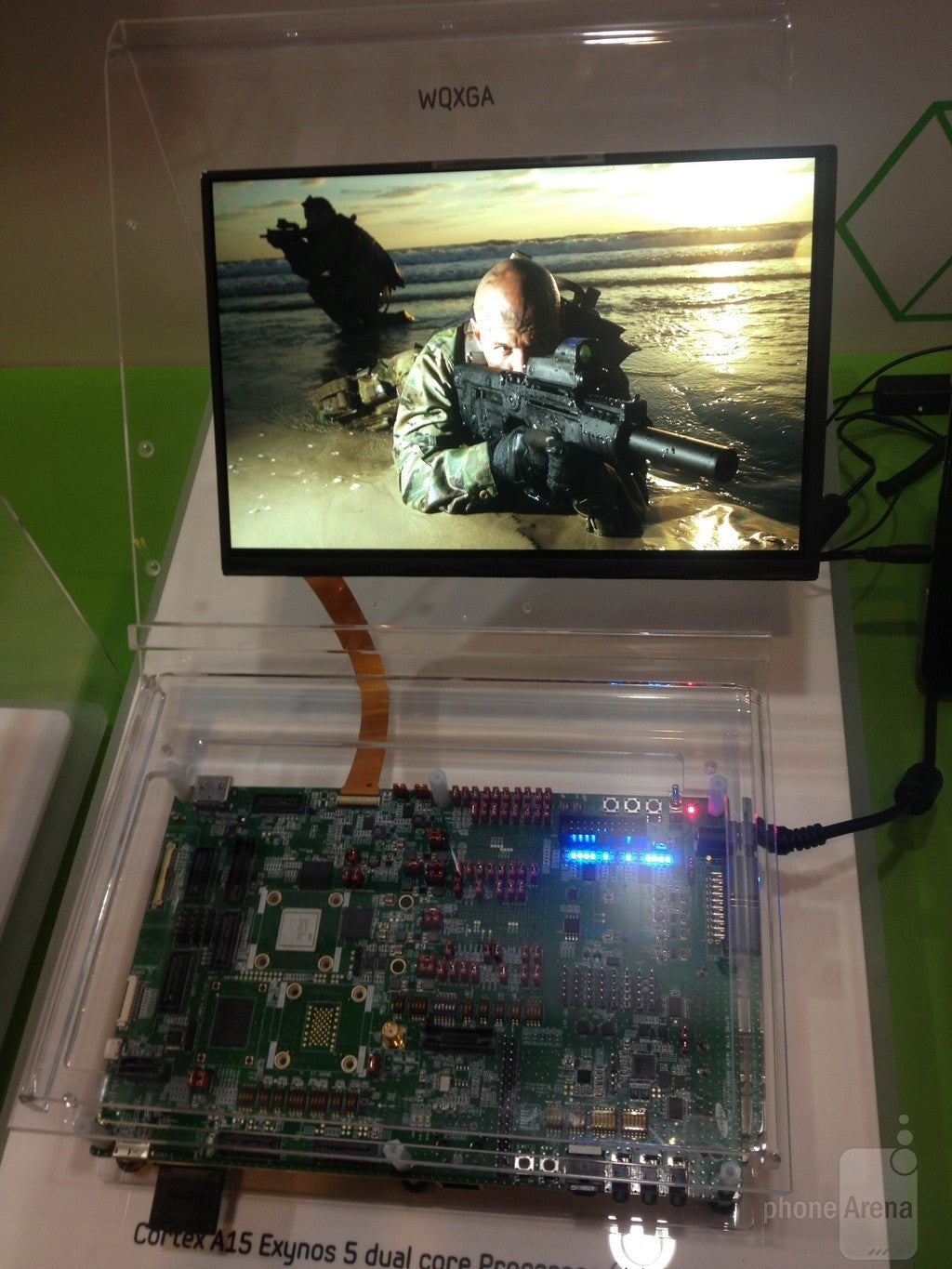 Exynos 5250 board to WQXGA screen
The Nexus 10 is the first tablet to appear with a
Cortex-A15 processor
, which is the next generation of the ARM-based architecture that we have in current phones and tablets. Apple's A6 and Snapdragon's Krait cores might use some instruction sets from Cortex-A15, but the
Samsung Exynos 5250
is the real deal, and its leaked benchmarks come to prove it.
We were pretty excited when
Samsung wanted to show us its development board with the processor
hooked up to a screen like the Nexus 10 one at CES, and now we have it in a retail device that sells for $399, not bad at all. It is still made with the 32nm production process like the Cortex-A9 Exynos 4412 in the Galaxy S III and Note II, so we can't expect it to be much more frugal than it, but what performance can we expect?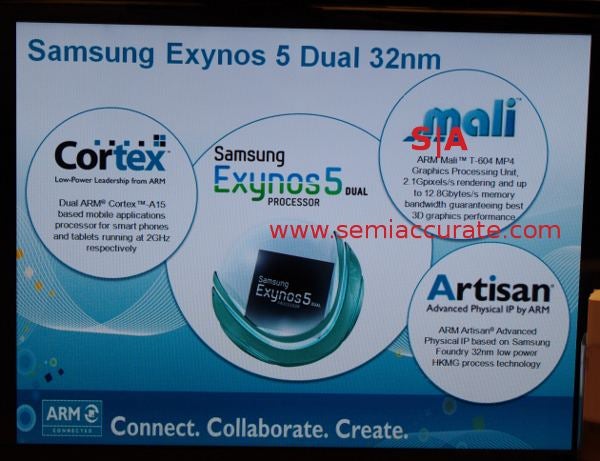 For starters, the Exynos 5250 in the Nexus 10 is paired with the Mali-T604 graphics processor, which is
up to 4x faster than Mali-400 we have in current Samsung flagships
, and renders 2.1 gigapixels per second with 12.8 GBps memory bandwidth, which you can imagine means flawless 3D games rendering and then some.
The Cortex-A15 cores themselves are at 2 GHz up to 2x faster than comparable Cortex-A9 ones. The Nexus 10 processor is clocked at 1.7 GHz, so the difference might not be that big, but this will affect positively the battery life available from the huge 9,000 mAh unit in the tablet. Thus you can imagine that processor-intensive tasks like accelerated browsing with Chrome, or photo and video editing, might surpass anything we've seen so far on a mobile device.
When we add the other niceties, like 2 GB of RAM and the fast MIMO Wi-Fi, we might be willing to forget about the lack of memory card slot. Both Google and Samsung needed a fighter in the 10-inch tablet arena that is dominated by Apple's iPad, and where
all the Windows 8/RT
slates are primed to make inroads. Do you think they delivered a compelling argument now with the Nexus 10?