Google Nexus 10 Review
78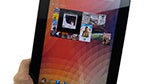 Introduction:
Oh Nexus, it's one of those familiar brand names in the industry that seemingly conjures up cutting edge devices meant to showcase the very best of the best in the Android sphere. This past summer alone, we were introduced to one game changing tablet in the
Google Nexus 7
that redefined what it meant to be a budget friendly device. Stepping its games even further, Google is expanding its presence into the fuller tablet segment, which means that the competition will really need to take notice.
Apple surely surprised many people by introducing two new iPads just in time for the busy holiday season, one being a slightly upgraded fourth-generation 9.7-inch model, but it's Google who seems to be getting the last word. In addition to announcing the fourth incarnation of the
Nexus
branded smartphone, Google also went forward to unveil its brand spanking new 10-inch Nexus tablet – the aptly named
Google Nexus 10
. With Samsung commissioned to manufacture this newest Nexus, combined with some unbelievable hardware specs for a $400 tablet, it's going to be one all-out battle this crucial holiday season.
The package contains:
microUSB cable
Wall charger
Quick Start Guide
Warranty Guide
Design:
Constrained to fit within a budget, the Google Nexus 10's design mirrors what we see out of the Nexus 7 already – meaning, it has a very modest appearance. Sure, it's made by Samsung, but interestingly enough, it doesn't look or feel like a Samsung-made tablet. Call it a sigh of relief, but we're digging the direction of this tablet's design, though, we wouldn't necessarily say it's the most attractive or sturdiest thing we've come across. Yes, it's something that requires two-handed operation most of the time, especially considering it's a handful using with one hand, since the uniform almost 1-inch bezel around the screen makes the tablet look bigger than it should.
However, we like how it maintains one clean appearance, thanks primarily to its gunmetal colored soft touch casing, which exhibits that distinctive rubbery feel in the hand. We're glad to know it's extremely svelte (0.35" thin) and lightweight (21.27 oz) – similar to some of its main rivals.

There are
no capacitive buttons
on this bad boy, of course. Instead, the only items we see on the front panel of the Nexus 10 are the pulsating LED notification light beneath its screen, and the
front-facing 1.3-megapixel camera
above its display, which can shoot video in 720p.
On the
top edge
of the tablet, its dedicated power button and volume control are positioned next to one another. Thankfully, they're raised and exhibit springy responses, but when holding in portrait, we have to remember to move the placement of our hand to the middle area of the tablet to ensure there are no accidental presses.
Along the
left trim
, we spot its 3.5mm headset jack and microUSB port for charging/data connectivity – while
on the right
, the only item there is the microHDMI port. Unlike the Nexus 4, which relies on a relatively unknown Slimport socket for video-out, we're ecstatic to know that Samsung and Google opted to employ a traditional microHDMI port for easier video-out functionality with the Nexus 10. Somewhat of an unfamiliar sighting from everything else, the tablet's proprietary docking pins are located on the tablet's bottom side, which are meant to accommodate whatever future accessories they'll come out with.
Lastly, the 5-megapixel auto-focus camera with LED flash is perched directly along the top-middle section of the
rear
casing – surrounded by its
dotted patterned casing
. Interestingly, there's a notch towards the right side of the patterned surface that enables us to pry it off – revealing spots that are potentially placeholders for SIM cards, or possibly once microSD slots.
Display:
Getting the last laugh before we call it quits for the year, the Nexus 10 shoves everything else we've seen in the past aside, as it gloriously features one sharp looking
10.05-inch True RGB Real Stripe PLS display
. For those wondering, its resolution is actually better than 1080p – it's at a mind blowing
2560 x 1600 resolution
to be specific, which conjures up an amazing pixel density of 300 ppi! No doubt our eyes are livid about looking at this immaculate looking display, since it flaunts details like no other tablet before it. Everything seemingly pops with superior clarity and sharpness that's unmatched at this point!
Color-wise, there's a dab of saturation evident with the display, which no doubt goes nicely with its warmer color tones. Throw in its superb viewing angles and mighty strong brightness output, the Nexus 10's display is easily visible in outdoor conditions with the sun bearing down upon us. So yeah, there's no arguing this is the cream of the crop in terms of tablet displays at this very moment! Needless to say, we have to give some kudos to Google and Samsung for their effort, even more knowing that this is a $400 tablet we're dealing with!
Recommended Stories