Samsung flaunts its powerful but frugal 32nm Exynos line, WQXGA mobile display chewed for breakfast
33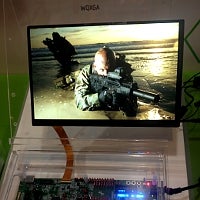 While waiting with bated breath on the rumored
11.6" tablet with WQXGA resolution and 2GHz Exynos processor
from Samsung at the MWC expo, why don't you feast your eyes on what such a combo looks like before it is wrapped up into a tablet chassis.
Samsung Electronics was kind enough to invite us at its
Exynos 5250
presentation, where the company's first multicore
Cortex-A15
processor was chillaxing in the corner, powering an anorexic screen with the monster
2560x1600 pixels
of resolution.
The theme of the presentation was to showcase Samsung's breakthrough achievement of building
mobile system-on-a-chip (SoC) with the 32nm technology
, and the wonders for battery life it brings, as well as some extra features, like wireless video streaming over UWB.
The current
Cortex-A9
dual- or quad-core chips, like
NVIDIA's Tegra 3
in the
Transformer Prime
, are built with the 45nm process, so 32nm is a significant step towards more powerful, yet more frugal devices. With the die shrinkage you can fit more transistors on the same space, increasing performance, or opt for similar performance and smaller footprint, compared to the 45nm silicon.
Samsung has gone for a
combination of both
, as it also showed a quite telling
power consumption graphic
for its upcoming
Exynos 4212
processor. It is built with 32nm, compared to the current 45nm Exynos 4210, found in the Galaxy S II. Both 4-series Exynos chipsets are based on the same ARM Cortex-A9 architecture, so there is no generation bias, as it would have been if compared to the Cortex-A15 Exynos 5-series next to it.
clocked higher
, all the while its graphics processor consumed 46% less energy, despite both ARM Mali-400 GPUs being clocked at 266MHz. The readings are slightly different depending on the task being processed, but they seem to gravitate towards the
40% reduction in power consumption
mark for the 32nm SoC.
In short – yeah, baby, bring on those battery life improvements, coupled with better performance. Now, of course, a chipset's power consumption is just a piece of the puzzle, we also have the screen frugality to consider, the software optimization and so on, but we want to be confident Samsung has stayed on top of its game in those departments as well.
Well, now we are looking towards MWC with bated breath as well. With the high-res Samsung tablet SoC more or less settled on the Exynos 5250, the biggest mystery yet is which 32nm Exynos will Samsung use in the
Galaxy S III
flagship, if it will differ from the 5250.
There are the dual-core 1.5GHz Exynos 4212 with Mali-400 and 2GHz 5250 with Mali-604 GPU we showed you here, but also the quad-core 1.8GHz
4412 with Mali-604
, which seems like a
prime candidate
too, judging from a
leaked slide
.
Not to mention the quad-core Cortex-A15 2GHz Exynos 5450 monstrosity with the
scorching Mali-658 GPU
, which will probably be way over the top for a phone, and sounds more like a tablet-oriented SoC for something like the
upcoming Samsung Windows 8 slates
, but here's to hoping.
Place your bets, ladies and gentlemen, the wheel stops turning some time before June, as Samsung just said in a statement that
the Galaxy S III will be sitting out the MWC 2012 expo
, and be unveiled at a special independent event in the first half of the year.