Samsung demos two 2560x1600 pixels 10" displays, production of one to start next year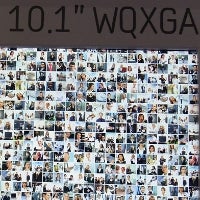 The 10.1" LCD displays with the breathtaking 2560x1600 pixels of resolution have been been showcased by Samsung for the world to see at the FPD International expo in Japan, which ends today.
Samsung has thrown in the new one all of its available trickery to achieve this crazy for a tablet screen ~300ppi
pixel
density. The display is
Plane-to-Line-Switching (PLS) LCD
, which allows for higher brightness and ease to manufacture, compared to IPS-LCDs. It also uses IGZO TFT oxide semiconductor as drivers, similar to Sharp's new method, which
caught Apple's attention for the future generations of the iPhone and iPad
.
Apple is learning the hard way with the iPad 3
. Samsung has commented that it has not cleared up its commercial strategy for the panel yet, but we hope to be able to see it in a tablet at some point, since that has been the purpose for its development.
we already knew about
was shown, and it utilizes
the new PenTile matrix pixel arrangement
, instead of the traditional RGB stripes, in order to fit so many pixels affordably on the little space.
PenTile has allowed the screen to sip the energy equivalence of a 1280x800 pixels LCD 10-incher, which are found in a lot of today's Android tablets, but display way more details, as you can see in the picture above. This one is, thankfully,
ready for commercial production
, and should be hitting the conveyor belts in 2012.
via
Tech-On