Galaxy S8 may sport more efficient display, touch volume keys, and 3-coil wireless charging
23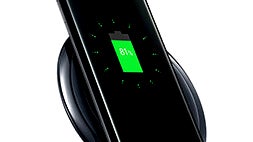 Rumors about the next best thing from Samsung, the
Galaxy S8
, are coming fast and furious today. We just relayed that the phone may be
doing away
with the physical home key, but could introduce a
side button
for direct launch of the alleged
Bixby AI assistant
, and now comes info that the power key and volume buttons could be of the touch variety, along with other interesting tidbits.
We can't really wrap our heads around the latter claim, as the whole point of a physical power key is that it's not easy to inadvertently touch and lock or unlock the handset, but we'll see if that rumor pans out somehow. The other nutty part in the new report is that the S8 will sport two versions, like what we have now with the 5.1"
Galaxy S7
and 5.5"
S7 edge
, but they will be mostly screen at the fronts, with curved display sides.
It's not the first time we are hearing that the S8 will have a
very high screen-to-body ratio
, due to the curved panel, and the incorporation of the home key and finger scanner in the display. However, the source here goes further, and claims that Samsung will plaster 5.7" and 6.2" flexible panels over phones with sizes similar to the S7 and S7 edge. We'll have to see this one to believe it, but, given what Xiaomi did with the
Mi Mix
, it is certainly doable. The Galaxy S8 displays are also tipped to utilize the newest M8 generation of OLED materials, with improved longevity, and up to 30% better power efficiency, which could bode well for enhanced battery life out of the new S8.
Moving along, the spring flagships from Samsung are said to feature a 3-coil wireless charging design, improving the charging range and efficiency further. Given that Samsung's wireless charging hardware for the S7 and S7 edge can top them up for the record two hours, we can't wait to hear how fast will the S8 be charged wirelessly. All in all, after two largely similar glass-and-metal iterations of the Galaxy S series, we might be in for a thorough redesign with the S8, which is believable, given the rumors for
radical chassis changes in the iPhone 8
as well. Oh, next year can't come soon enough.