Finger scanners embedded in the display? Synaptics' under-glass sensor goes into sampling
13
It's on, people. The race for eliminating the finger-scanner-in-home-button paradigm, that is. Synaptics, the maker of all things
3D touch-y
and biometric-y just announced a new 6x6mm Natural ID FS4500 fingerprint sensor that can be used with hefty cover glass on top.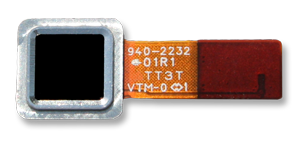 Natural ID FS4500 under-glass finger scanner
That's right, the under-glass solution can function underneath a glass or ceramics layer that is as thick as 300um, which makes it a prime candidate for being placed in the type of new capacitive home keys that don't click, like on the
HTC 10
, or the
one rumored for the iPhone 7
. As per the Natural ID product page, it can "
work underneath cover glass, making it possible to eliminate the home- button cutout. The result? Sleek, edge-to-edge touchscreens with no penetration of moisture or dust
." Nice. The new under-glass sensor features include "
ability to control two 'soft keys' with the fingerprint sensor
," which sounds a bit murky, but could eventually lead to a complete navigation solutions without the need for huge bottom bezels.
In addition, Synaptics is working towards the goal to incorporate the sensor under the smartphone's protective display cover itself, so in the future handsets might be all-screen down to the lower edge, without pesky chins to get in the way of your screen-to-body ratio, like what is speculated that the
iPhone 8 will try to achieve
. One
Korean competitor has already created such a solution
, but Synaptics has the advantage of being the biggest name here, and its under-glass Natural ID FS4500 fingerprint sensor is now sampling with customers, and expected to enter mass production as soon as Q4.