The Galaxy S8 might run on a 10nm Exynos 8895 chip with ARM's latest Mali-G71 GPU
75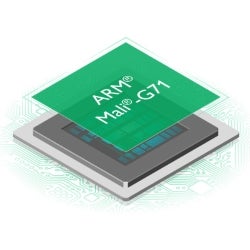 Over in South Korea, a Samsung LSI official tried to sell confidential information regarding the company's 14nm and 10nm chip fabrication process to competitors from China, and got promptly arrested by local police. While the exec is now being sued by Samsung, information from the papers leaked, stating that Samsung's next year
Galaxy S8
flagship smartphone is going to use a 10nm SoC. SamMobile has received additional information on the matter, which may or may not have been sourced from the confidential documents.
Reportedly, the Samsung Galaxy S8 could use a 10nm Exynos 8895 processor, paired with ARM's latest Mali-G71 graphics unit. It is said that the new GPU is nearly twice as powerful as the Mali-T880 unit used in the
Galaxy S7
. It is also alleged to be faster than the GPU in Qualcomm's competing 10nm chipset, the Snapdragon 830, which will be delivered sometime next year. However, we have no credible information on the next Adreno GPU to properly scrutinize this statement.
The Mali-G71 uses a new architecture called Bifrost and is designed as an end-to-end solution for 4K content and VR experiences. It also supports technologies such as Vulkan, OpenGL ES
3.2
, GPU Computer, and Android RenderScript. The unit is principally clocked to 850MHz and provides double the throughput of the Mali-T880 GPU.
With a powerful graphics core like that, Samsung might be looking into equipping the Galaxy S8 with a 4K-resolution screen, improving the experience of VR content and high-resolution videos. The company is yet to formally announce 4K-resolution mobile OLED screens, though. We are pretty sure that we'll learn more about where Samsung is headed with the Galaxy S8 in the months ahead.