WSJ: Galaxy S8 release may be pushed for April, prototypes have AI launch button
25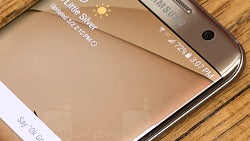 Unsurprisingly, there are more rumors about the
Galaxy S8
's eventual
Bixby virtual assistant
with artificial intelligence, than there are for the phone's hardware prowess. After all, everyone is betting big on AI, and Samsung doesn't want to get left behind the Google Assistantas, Cortanas, Alexas, or Siris of this world.
That is why it
acquired Viv
, and, from the looks of it, will even tailor the chassis hardware to accommodate Bixby better by introducing a dedicated button for launching the digital assistant. Yep, that's right, citing the proverbial "
people familiar with the matter,
" the Wall Street Journal claims that Samsung is sold on the idea to have a physical button on the S8, with the sole purpose of starting the Bixby butler.
This is certainly a good idea for those moments you don't want to shout at your phone in the metro car looking like a douche, but then you'd still have to talk to it in public, so we'll see how this AI push pans out in the end for the user. Unfortunately, the sources that disclosed to the WSJ that Samsung is toying around with a dedicated AI launch buttons on S8 prototypes, also tipped that the phone might arrive later than usual. In the past few years, Samsung used the day before the MWC expo opens in late February or early March, to introduce its seasonal flagship(s), but now that timeframe may be jumped.
The insiders have mentioned that Samsung will be trying to iron out all the eventual kinks of the S8, and may unveil it after the MWC, which starts February 27. The push for pre-release quality testing is so strong now, they claim, that Samsung could even announce the phone as late as April, which would be a full month after the
S7
release this year. Bummer, but given the
Note 7 drama
, Samsung is not taking any chances with the first opportunity to redeem itself after that
recall
fiasco. Until then, the Galaxy S7 and S7 edge would have to do for all Samsung loyalists out there.
Recommended Stories