Best smartphone cameras compared: Google Pixel XL vs iPhone 7 Plus, Samsung Galaxy S7 edge, LG V20
70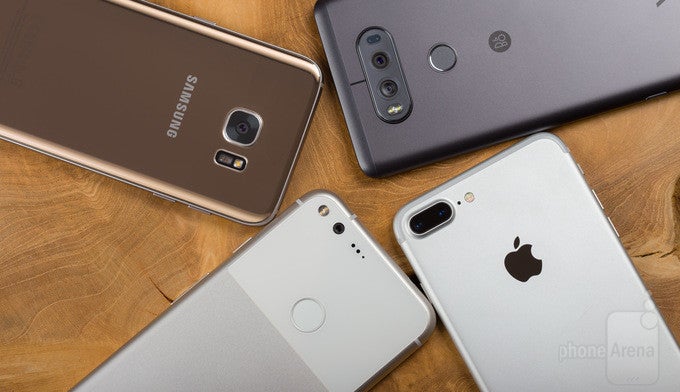 Did you know that in the Australian Outback, temperatures can reach over 110 °F (45 °C) during this time of the year? That's hot enough to melt a soda bottle on the sand while the Mountain Dew inside it turns into steam, green dust, and crusty, caramelized sugar crystals. Okay, maybe it isn't
that
hot, but it still sounds like going out for a stroll in that kind of weather isn't the best idea. Meanwhile, temperatures over at our part of the world have been stuck well below freezing for the past couple of weeks, yet someone still had to go out and take a bunch of photos for the camera comparison below. So much fun, I tell ya!
Anyway, let's get on with it. The phones that we've chosen to compete in this camera comparison are some of the best phones around. Google's
Pixel XL
is one of the candidates for the top spot, but it will be running against a trio of tough opponents, namely the
iPhone 7 Plus
, the
Samsung Galaxy S7 edge
, and the
LG V20
. Here's what all four have to offer in terms of camera specs:
Camera Specs
Google
Pixel XL
iPhone 7
Plus
Galaxy
S7 edge
LG V20
Resolution,
aspect ratio
12.3MP@4:3
4048x3036px
12MP@4:3
4032x3024px
12MP@4:3
4032x3024px
16MP@4:3
4656x3492px
Sensor and
pixel size
1/2.3"
1.55μm
1/3"
1.22μm
1/2.5"
1.4μm
1/2.6"
1.12μm
Aperture
F2.0
F1.8
F1.7
F1.8
Focus and
stabilization
PDAF
Laser AF
No OIS
PDAF
OIS
Dual-pixel AF
Object track
OIS
PDAF, OIS
Object track
Laser AF
Now, you might be wondering what the Google Pixel XL may have to give it an advantage over its rivals. It clearly doesn't pack the most megapixels – that would be the LG V20. It doesn't have the widest aperture either – the S7 edge leads in that respect, which could later give it the upper hand in low-light scenes. No less importantly, Google's handset doesn't even have optical image stabilization – again, a potential drawback in poor lighting conditions. What the Pixel XL
does
have is the largest sensor out of the bunch, and that sensor has the largest pixels. This could translate to clearer, noise-free images no matter the situation. On top of that, its super-fast Auto-HDR mode should be able to capture both light and dark areas in the same shot in utmost clarity. Now let's leave theory aside and look at some actual photos.
Disclaimer: The photos in the galleries have been scaled down to a resolution of about 2MP to make them load faster. Full-resolution images are available at the end of the article.
Scene 1: Old Timers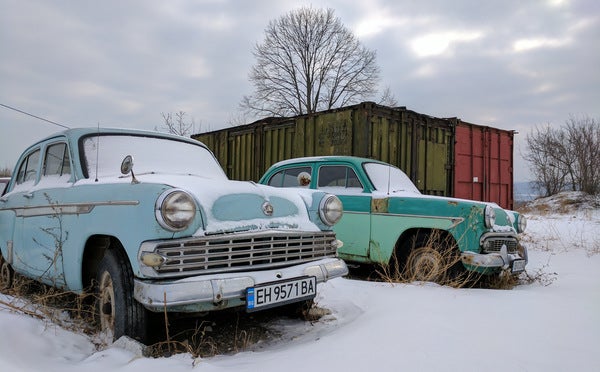 Photo taken with the Google Pixel XL
My guess is that very few of you have seen one of these in real life. You're looking at a Moskvitch 403 – a 4-door saloon car produced in the Soviet Union during the '60s. And the one in the background is a 407, which used a more powerful, 45-horsepower engine. Yeah, I know these two old-timers have seen better days.
Anyway, what we have here is a scene that's quite cool: both literally, with temperatures stuck below freezing on that day, and visually, with the snow on the ground and overcast sky together creating a cold tone. This cold tone is best represented by the Google Pixel XL and the Galaxy S7 edge, although I have to admit that the iPhone has also produced a great-looking photo by adding a tad of warmth and contrast to it. The LG V20's photo could use a bit more exposure to make it more lively, but the camera may have chosen not to do so in order to preserve details in the sky. For the record, the phone was set to use HDR automatically, yet it chose not to use it in this scene.
I must also say that I'm impressed by the amount of detail the Pixel XL has managed to resolve. Take a close look at the melting snow on the car's hood to see for yourself. In that respect, Google's handset comes first, followed closely by the V20.
Scene 1: score
Google Pixel XL
8.5
iPhone 7 Plus
8.0
Galaxy S7 edge
8.0
LG V20
7.5
Scene 2: Ivy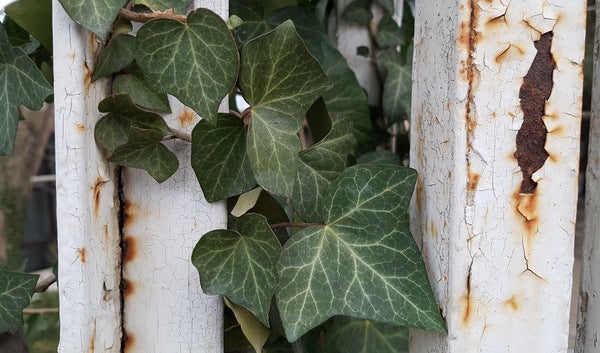 Shot on the Galaxy S7 edge
Hedera helix, more commonly known as English ivy, is a remarkable plant. It stays green all year round, it looks great on the wall of an old brick house, and its extract can be used to treat certain illnesses, such as asthma and bronchitis.
About the photos that we have here, the first thing to stand out is the warmer color tone of the iPhone's image. Sure, it's a good-looking photo, but it is also a bit off from the way things looked to the naked eye. The other three phones deliver a much more realistic representation of the scene.
As far as details go, I'd say that all four phones did a remarkable job. Not a surprise really, as most phones can do close-ups like this one just fine. Only with the LG V20 there are more areas in the photo that seem softer and out of focus, but that is noticeable only when you zoom in very closely.
Scene 2: score
Google Pixel XL
8.0
Galaxy S7 edge
8.0
LG V20
7.5
iPhone 7 Plus
7.5
< Pixel XL
iPhone 7 Plus >
< Galaxy S7 edge
LG V20 >
Scene 3: The Mansion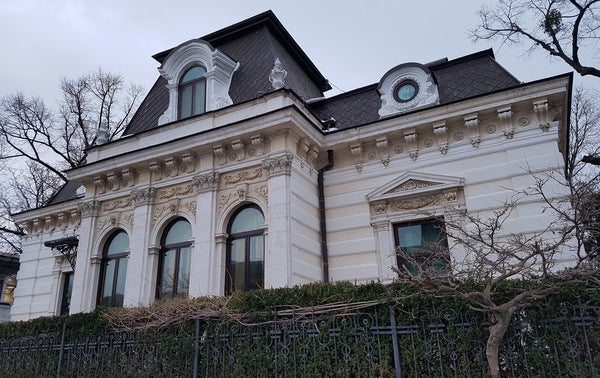 We took this photo with the S7 edge
In the right situation, HDR can make a striking difference to how an image looks. The Galaxy S7 edge chose to enable the mode for this scene, which is why its photo is well exposed in all areas – detail is seen both in the sky and in the shadowy areas near the hedge. Plus, the colors are very realistic. Close behind it is the Pixel XL, which also delivers an accurate-looking image, with plenty of detail and realistic colors. As for the iPhone 7 Plus and LG V20, we were expecting better. Their images are detailed and definitely usable, but lack the accurate colors demonstrated by the Pixel XL and S7 edge.
Scene 3: score
Galaxy S7 edge
8.0
Google Pixel XL
8.0
LG V20
5.5
iPhone 7 Plus
5.5