What's the best iPhone to buy right now? (2017 holiday season)
15
Alright, so the new iPhones are out and holidays are fast approaching. If you've got your mind set on getting an Apple handset for yourself or a loved one, there's probably no better time in the year to do so.
But which one do you buy? With a total of 9 models being up for sale, the selection of iPhones has never been so diverse. It's safe to say you may feel a bit hesitant in your decision. Well, worry not, we are here to offer our expertise and try and provide you with an answer. Let's dive right in!
Cheapest: iPhone SE or iPhone 6s?
iPhone SE
is clearly, without a doubt, the cheapest iPhone you can buy right now. It also has all the hardware internals of the
iPhone 6s
, so you are not missing out on productivity. But keep in mind that it only has a 4-inch display. On one side, that's a positive — the
iPhone SE
is extremely compact and super-easy to wield with one hand. On the other, however, its tiny display is a bit constricting, making it a chore to use for dual-thumb typing — unless the user has tiny hands, that is.
The next proposition is the
iPhone 6s
— it comes at a $100 extra. For that, you get a more comfortable 4.7-inch display and also gain access to 3D Touch, which is a bit more integrated with iOS stock features nowadays and is slowly making its way into games and 3rd party apps. In other words, it's the more future-proof model when it comes to getting all of the essential iOS features.
It's also worth mentioning that both of these handsets have the 3.5 mm headphone jack — something that was omitted with the iPhone 7 going forward.
Our suggestion:
unless you (or the intended user of this phone) don't really, really want a super-compact phone, go for the $449-value iPhone 6s 32 GB. If, however, a tiny phone is desired and budget is flexible, we'd say spend that $449 on a 128 GB iPhone SE.
| Model / Storage | 32 GB | 128 GB |
| --- | --- | --- |
| iPhone SE | $349 | $449 |
| iPhone 6s | $449 | $549 |
The cheapest iPhones — iPhone SE, iPhone 6s, iPhone 6s Plus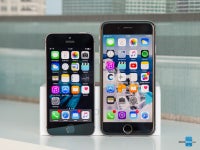 Best value for money:
There's really no better time to buy an
iPhone 7
than now. The 2016 Apple flagship has optical image stabilization added to its camera and a water-resistant encasing. You also get to choose from the Black and
Jet Black
colors, which were only available with last year's iPhone models and will probably not be making another comeback soon. Its hardware is still powerful — it's just a tiny step behind the current model (iPhone 8), though the camera is noticeably inferior in low-light conditions.
Our suggestion:
the $649 iPhone 7 128 GB is easily the best value. You spend $100 more than the base model to get a 96 GB storage increase and let's be fair — that's dirt cheap by Apple pricing standards. Still, if your budget is not flexible enough, you should be able to do fine with the standard 32 GB model. If a phablet and Portrait mode are the two things you want, then the
iPhone 7 Plus
is the most value you can get for your money and the point we made about pricing and storage still holds.
| Model / Storage | 32 GB | 128 GB |
| --- | --- | --- |
| iPhone 7 | $549 | $649 |
| iPhone 7 Plus | $669 | $769 |
iPhone 7 and iPhone 7 Plus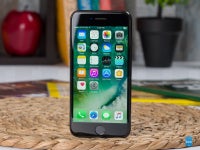 The best iPhone money can buy
Obviously, this category belongs to the
iPhone X
— it finally comes with a modernized design, it's powered by the new A11 Bionic chip, has the upgraded camera, which performs better in low-light conditions than the iPhone 7's snapper, and has optical image stabilization for both the wide-angle and the telephoto lens cameras.
Of course, the best iPhone comes with the mandatory exorbitant price-tag — starting at $999, it's not really a handset everybody will be able to afford. But with so many great choices in Apple's lineup, you don't really have to strive for the top-tier, right?

Conclusion (or "Where is the iPhone 8?")
Now, you might have noticed that the iPhone 8 and 8 Plus are decidedly gone from this pick. That's not to say they are worthless phones. However, between the still-awesome iPhone 7 and the absolute top-tier iPhone X, the iPhone 8 just falls in a very weird place. It's slightly more powerful than the 7, but you really have to want the marginal upgrade and that glass back to spend an extra $150 on them. Do you?
| Model / Storage | 64 GB | 256 GB |
| --- | --- | --- |
| iPhone 8 | $699 | $849 |
| iPhone 8 Plus | $799 | $949 |