100+ new games are coming to Google Stadia in 2021
2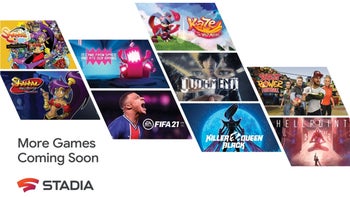 The news of Stadia's demise was greatly exaggerated. Even though
Google
decided to
scrap plans for in-house game development and closed down its studios
, the streaming platform is alive and kicking. In the latest "
Next up on Stadia
" blog update, Google has promised that more than 100 new titles are coming to Stadia in 2021.
"We're thrilled to continue bringing great games from some of the best developers for our players to experience within the Stadia store. Over the next few weeks and months, players can expect to see everything from action-filled RPGs to competitive co-op titles and nimble platformers. That includes Shantae: Half-Genie Hero Ultimate Edition (Feb. 23), Shantae: Risky's Revenge - Director's Cut (Feb. 23), It came from space and ate our brains (Mar. 2), FIFA 21 (Mar. 17), Kaze and the Wild Masks (Mar. 26), Judgment (Apr. 23), Killer Queen Black, Street Power Football, and Hellpoint."

These games represent just a sampling of the more than 100 games that will be added to the Stadia store in 2021.