Best AirPods deals for Black Friday & Cyber Monday 2020
We may earn a commission if you make a purchase from the links on this page.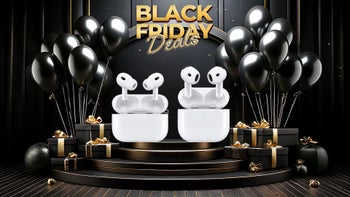 This article will be updated regularly as new Black Friday deals on AirPods and AirPods Pro become available.
Even at the height of a global pandemic,
everybody seems to love true wireless earbuds
, with Apple's AirPods and super-affordable Chinese clones in particular proving popular nowadays pretty much regardless of season, time of year, and socio-economic context.
Still, there is a time and a
place
bunch of places ideal for picking up a pair of
second-gen AirPods
or
AirPods Pro
at an unbeatable discount, and said time is now, as a number of major US retailers and carriers have kicked off some spectacular
Black Friday deals
on, well, Friday, keeping most of them around as we inch closer to November 30, aka Cyber Monday 2020.
AirPods with charging case, Black Friday discounts
Commercially released around a year and a half ago, Apple's most affordable AirPods variant currently in circulation is typically available for $159 a pair. Due to its somewhat advanced age,
increasingly stiff competition
, and unexciting bundled wired charging case, we fully expected that list price to be reduced considerably during the Black Friday 2020 festivities.

While some retailers are offering $30 or $40 off the base AirPods model, Amazon and Walmart take the cake with $50 price cuts, bringing Apple's entry-level earbuds to just $109. Still, there is a decent chance you will be able to get these bad boys for as little as 100 bucks a pair on Cyber Monday.
AirPods with wireless charging case: Black Friday deals
Apple's mid-tier AirPods model is pretty much identical to the cheapest version of the early 2019-released true wireless
earbuds
apart from the obvious addition of
wireless charging
capabilities, making the $40 price hike a pretty hefty fee to pay.

Thankfully, that makes space for larger Cyber Weekend discounts. Amazon and Best Buy are both charging 60 bucks less than usual, essentially bringing the AirPods with wireless charging case below the typical price of a pair of these bad boys bundled with a standard wired charging case. Unfortunately, B&H and Target can't match the generosity of their arch-rivals, at least for the time being.
AirPods Pro Black Friday sales
Both Amazon and Walmart have sold the state-of-the-art noise-cancelling AirPods Pro at a huge $80 discount for a limited time, but alas, both those mind-blowing deals appear to have sold out and there's no word on whether they'll return anytime soon.
That leaves you with a comparatively modest $50 markdown available at Target and B&H, although both retailers (not to mention Best Buy) could look to step up to the plate by the end of this year's "Cyber Weekend" and match Walmart and Amazon's temporary generosity.
Of course, Apple itself is also holding a promotion for Black Friday, but it's not offering any true discounts, just a $25 gift card along with your purchase. There are much better deals for any of the AirPod models, but if for whatever reason you insist on buying one of these puppies from their manufacturers, you at least get a little something (emphasis on the "little") out of it until the promotion ends come Monday.