Samsung Galaxy Note II vs HTC One X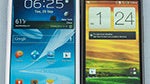 Introduction:
The
Galaxy Note II
is here and it features an even larger 5.5" screen, improved S Pen ergonomics, and a beefed up quad-core processor. It is definitely not a handset for everyone, but if you are used to carry big-screen Android phones, the step up is not nearly as big, like when you are coming from a more compact handset.
If you are just now starting to look into larger screens, there are a number of those to take into account before you jump into the Note II adventure. One of the big-screen Android leaders is the
HTC One X
, which, with its 4.7 inches, is a sight to behold, too, and was the first handset to hit the shelves with a quad-core processor.
Is the Note II the right fit for you, or will an HTC One X be better for your pocket, both literally and figuratively speaking? Read on our comparison to find out...
Design:
There is some truth to the notion that the
Note II
is simply an oversized Galaxy S III in terms of its design heritage. It uses the same polycarbonate plastic, and especially the white versions seem very much alike save for the size.
HTC One X
, however, has a very distinct design, and a beautiful curved polycarbonate unibody, that sits very well in the hand. Speaking of which, most of the time you will be operating a Note II with both hands, whereas one-handed operation is still possible on the One X on occasion.
Display:
5.5" 16:9 screen on the Galaxy Note II
is the best HD Super AMOLED so far from Samsung, but the
4.7-incher on the HTC One X
, being a top-notch LCD screen, has its advantages. First off, it is brighter than what we have on the Note II, and at 312ppi, has a higher
pixel
density, since both phones sport 1280x720 pixels with three (red, white and blue) subpixels for each. The Note II sports low screen reflectance ratio, so it is very visible outside but still the One X also has good reflectance, so it is better outside due to the sheer brightness of its screen.
Both phones sport excellent viewing angles, and vivid, to the point of oversaturated colors in the Note II, yet the white of the One X is closer to the standard than on the Note II. The Super AMOLED display, however, has a much higher contrast, and the video playback is what the Note II will beat any other phone in, because of its sheer screen size.