Samsung Galaxy Note 3 vs Samsung Galaxy Note 2
62

Introduction
Anyone who has already gone through our
Samsung Galaxy Note 3 review
knows that the smartphone ranks among the best ones money can buy. It is an embodiment of high-end technology, and even though it doesn't come cheap, it offers quite a lot of bang for its buck, not to mention that the hardware tucked under its hood makes it quite future-proof. And yes, as you might guess, the
Samsung Galaxy Note 3
is indeed better than its year-old predecessor, namely the
Samsung Galaxy Note II
. But what exactly makes it better and what has its maker improved upon in order to impress us this time around? And most importantly, is the Note II still worth holding on to now that its third iteration is out? Read on to find out.
Design
We can only commend Samsung for treating its phablet to a solid hardware upgrade without that having a negative effect on the device's proportions. The width and height of the Galaxy Note 3 come really close to those of the year-old Note II (151.2 x 79.2 x 8.3 mm for the former vs 151 x 80.5 x 9.4 mm for the latter), with the new model being only slightly taller, yet a hair narrower and noticeably thinner. Moreover, at 168 grams, the Samsung Galaxy Note 3 is 14 grams lighter than the Note II, and is a tad easier to handle as a result.
Of course, one can simply forget about using the Samsung Galaxy Note 3 single-handedly as it is still as challenging to wield as its predecessor. But at the end of the day, that's a common trait for all phablets, so we can't complain, especially when we're compensated with that huge, gorgeous touchscreen. While the Samsung Galaxy Note II and Note 3 fit in larger pockets, they are quite bulky and some users will find them uncomfortable to carry around.
With its body made of glossy plastic, the Samsung Galaxy Note II looks and feels rather ordinary, especially now that we've grown tired of seeing the same design being rehashed over and over again. The Samsung Galaxy Note 3 can't be described as a luxury device either, but it feels better to the touch with its leather-like back plate. Unlike its glossy counterpart, the Note 3 resists fingerprints well and has a lot more grip thanks to its textured surface.
Both the Samsung Galaxy Note 3 and the Samsung Galaxy Note II come with removable back covers, underneath which reside the slots for their SIM and microSD cards. Their batteries are also found there and are user-replaceable.
Physical buttons on both smartphones are arranged in an identical manner, with a physical "Home" key below the screen, accompanied by capacitive "Menu" and "Back" buttons. The power and volume buttons are placed on the right and left sides of these devices. We can gladly say that all buttons are easy to reach and operate. It is also nice that the capacitive keys on the Note 3 can be operated with the S Pen's tip. Speaking of which...
S Pen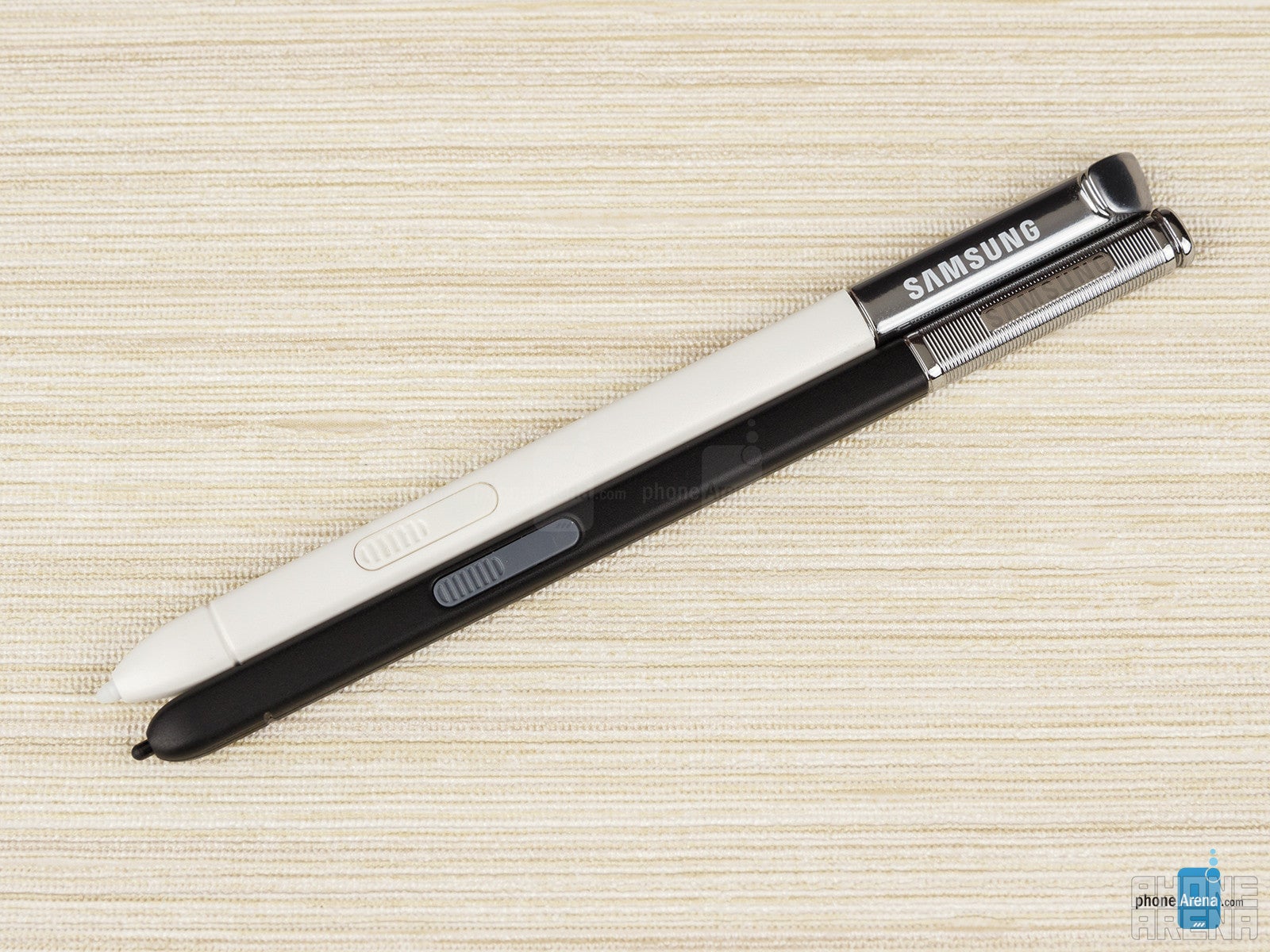 The S Pen is a pressure-sensitive digital stylus included with both the Samsung Galaxy Note 3 and the Galaxy Note II. It is one of the perks you get with any Note device, allowing you to draw on a virtual canvas or to take down hand-written notes, as well as to navigate through the interface and take advantage of the implemented S Pen features. While a recent teardown revealed that the Note 3 comes with a newer model Wacom digitizer (that is the component turning analog S Pen input into digital signals the phone can interpret), we find the S Pen on the Note II pretty much as precise and responsive as the one on its successor.
Display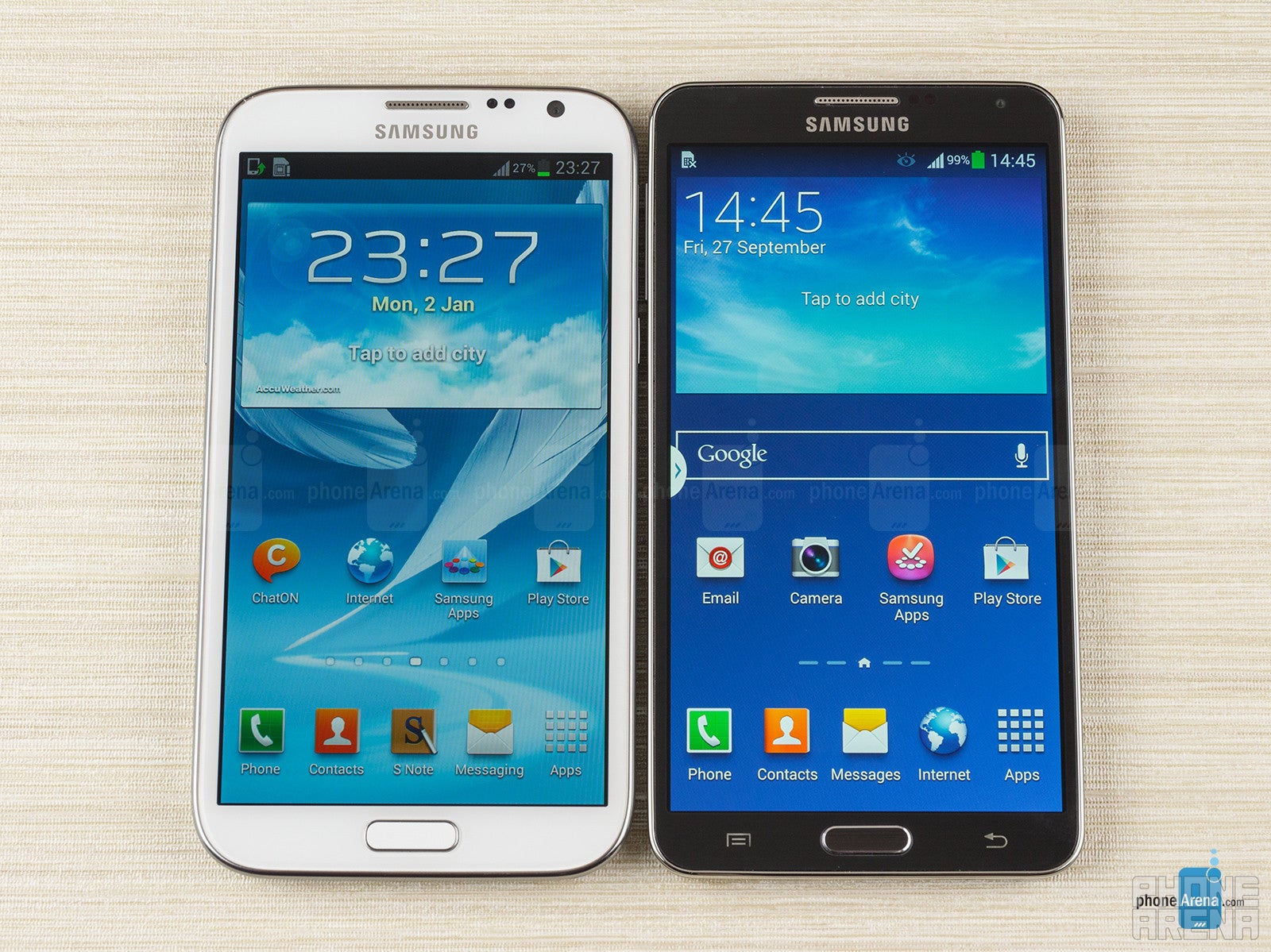 Samsung has outfitted the Galaxy Note 3 with its best Super AMOLED screen to date. The panel, measuring 5.7 inches in diagonal, has a resolution of 1080 by 1920 pixels, as is now the norm for all high-end smartphones. Thanks to this high pixel count (386 ppi), graphics and text are represented clearly, in high detail. Colors are adjusted to appear slightly oversaturated by default – something typical for AMOLED tech – but an option in the display settings allows one to have them set at a much more natural level.
The slightly smaller, 5.5-inch Super AMOLED screen on the Samsung Galaxy Note II sure looked great when we first saw it in person. But with a resolution of 720 by 1280 pixels (resulting in a density of just 265 ppi), it is unable to deliver the same level of smoothness and detail achieved by the Note 3's display. Color representation is, again, a bit exaggerated and somewhat less accurate, but it can be adjusted to a more natural setting via the options menu.
One more thing that sets these two smartphones' screens apart is their brightness output. The Samsung Galaxy Note 3 is relatively easy to use outdoors since its display shines quite brightly, while the Note II looks much dimmer when exposed to the sun's rays. Viewing angles are also better on the Note 3 as there's little color degradation when it is looked at from the side. The display on the Note II, on the other hand, turns blue even at moderate angles – not a deal breaker, but a flaw nonetheless.
Display measurements and quality
Samsung Galaxy Note 3 360-Degrees View
Samsung GALAXY Note II 360-Degrees View
Recommended Stories