Samsung Galaxy Mega 5.8 vs Samsung Galaxy Note II
38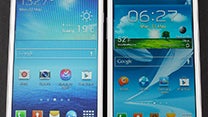 Introduction:
The
Samsung Galaxy Mega 5.8
and the
Samsung Galaxy Note II
have a lot in common, don't they? Both are massive, feature-rich smartphones that are made for multimedia consumption and large-screen entertainment. Both have Android running on them enhanced by Samsung with a dose of minor and major software tricks. But putting their specs sheets side by side shows that the Note II is superior to the Mega 5.8 in a number of ways. Does that translate into a better user experience in real life? Well, that's what we're here to find out, so let's fire up these behemoths and see which one's better!
Design:
All of Samsung's recent smartphones follow the same design principles, which is why the Galaxy Mega 5.8 and the Galaxy Note II look so similar to each other. The bodies of both are made of glossy plastic, with curved corners and a silvery trim around the sides. Given the materials used in their construction, neither of these two smartphones feels like a truly premium device, although they are solid and definitely well made.
The Samsung Galaxy Note II has the advantage of being physically smaller than the Mega 5.8, meaning that it is marginally easier to carry around, be it in a bag or in a large pocket. Neither of them is usable with a single hand, of course, but the Galaxy Note II, being less narrow, is more comfortable to get a hold of. In addition, the physical buttons on the latter are easier to reach.
Display:
It doesn't take a trained eye to notice that the Samsung Galaxy Note II has the better screen. Sure, at 5.5 inches it is slightly smaller than the 5.8-inch panel on the Galaxy Mega, but a difference like this is negligible. What truly makes the Super AMOLED display on the Note II stand out is the higher resolution and pixel density – 720 by 1280 pixels (256ppi) versus 540 by 960 pixels (190ppi) for the Mega and its LCD touchscreen. As a result, everything looks much better on the Samsung Galaxy Note II – from videos, photos and games, to web pages and their paragraphs of text. On top of that, the Samsung Galaxy Mega 5.8 and its screen fall behind in terms of color accuracy and viewing angles. We absolutely must point, however, that the Mega 5.8 is actually more usable under broad daylight than the Note II. The difference isn't tremendous by any means, but it definitely counts as an advantage for the Mega in our book.
Recommended Stories