Camera comparison: Nokia Lumia 925 vs Samsung Galaxy S4, HTC One, iPhone 5, Samsung Galaxy Note II
99+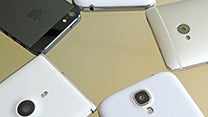 Introduction:
Not many of Nokia''s smartphones are worthy of bearing the PureView badge. The title is given to only the maker''s best cameraphones, among which is the
Nokia Lumia 920
from last year. This particular smartphone, however, wasn''t quite as capable as the competition, and an extensive camera comparison that we did a while ago proved that.
Yet now, the
Nokia Lumia 925
is here to show us, hopefully, that PureView handsets shouldn''t be underestimated. It comes with an upgraded 8.7-megapixel shooter backed up by optical image stabilization and six-element optics, controlled by software algorithms thoroughly refined by Nokia''s camera team. And if that's not enough, the Nokia Lumia 925 can shoot photos at ISO3200, which may come in handy in tricky low-light situations.
So yeah, the Nokia Lumia 925 is supposed to be a great cameraphone, but is that really the case? And is the smartphone's camera as potent as those on the current high-ends? Well, that's what we're here to find out. We''ve brought along a handful of smartphones to compare the 925 against – the 13MP
Samsung Galaxy S4
, the
HTC One
with its 4MP "Ultrapixel" camera, the
iPhone 5
with its 8MP snapper, and the
Samsung Galaxy Note II
packing an 8MP camera. All of these devices are known to be pretty decent cameraphones, so the battle will surely be heated. Oh, and there's also a
Panasonic Lumix GH2
thrown in – a stand-alone, Four Thirds digital camera with its stock 14-42mm lens, serving the purpose of a reference device.
Before we begin our camera comparison, allow us to make a few things clear. All of the photos and videos have been taken with the respective smartphone set to automatic mode, unless stated otherwise. No tap to focus has been used, leaving each phone to decide for itself what it should focus on and which object it should expose best. Also, HDR mode has not been used while taking any of the photo samples you''re about to see.
With that out of the way, let' us get this camera comparison started!
Overall presentation:
Before we dive into details, let us first take a look at some scaled-down photos. All of the images here have been downsized to a width of only 1920px as that's sufficient for most people''s needs. The goal of this is to present the photographs from a typical user''s point of view. That''s how the average Joe would view and use them – posted on a social network or a photo sharing web site, for example. And by the way, a digital photo of this size is perfectly suitable for making 6"" by 4"" hard copies. They all look pretty nice, don''t they? At low resolutions, many of the imperfections associated with smartphone photography, such as digital noise and inadequate detail levels, are barely noticeable. Other factors, however, are still into play.
The Nokia Lumia 925 pleased us with its balanced performance. Its photos have pretty accurate exposure and color representation, but could use a little bit more detail. Even better results are delivered by the Samsung Galaxy S4 and Note II, which manage to pack a great amount of detail in their photos, all the while retaining the color saturation down to a neutral level. The pictures captured with the iPhone 5 have an overall warmer tone, but they still look very pleasing to the eye. Besides, this is the smartphone producing best indoor photos, given enough light, of course. As for the HTC One, its camera gets the job done and has the most neutral color balance, but some scenes aren't exposed sufficiently.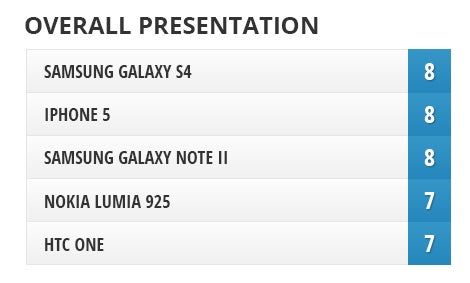 Recommended Stories