Samsung Galaxy S4 vs Samsung Galaxy Note II
60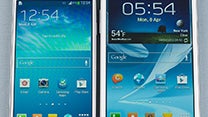 Introduction
Sure, the
Galaxy S4
may be a smartphone, and the
Galaxy Note II
may be more of a phablet, but that doesn't mean that consumers will necessarily make such a destinction. In reality, both handsets look very similar, with one of them having just a slightly bigger screen. With that in mind, the Galaxy S4 and Galaxy Note II find themselves dangerously close to each other, so which one should you choose? The phablet with the S Pen, or the flagship smartphone? Read on to find out!
Design
The designers at Samsung must really love the "Inspired by Nature" form factor they have been using lately, as you can see how all of their latest devices look almost the same. That is exactly the case with the Galaxy S4 and Note II, which are almost identical with the exception that the Note II is bigger. Still, we can note here that the GS4 does seem to be a bit more advanced from engineering standpoint, as it has that extremely thin bezel around the screen, which makes the device impressively narrow and easy to hold, considering its 5" display. It also makes it look more contemporary and cool.
Other than that, both handsets are made of Samsung's favorite glossy plastic, which we quite like. They may not be particularly attractive or premium-feeling, but they are comfortable to hold and use, especially the Galaxy S4, as it isn't such a monster like the Note II.
Display
The Galaxy S4 has a definite advantage in the Display category. Not only is its screen higher-res at 1080 x 1920 pixels, compared to the Note II's 720 x 1280 pixels, but it also treats us to more natural colors and better viewing angles. The screen of the Note II is not bad at all, but it's simply inferior to the GS4 in those aspects. The Galaxy S4 is also a tad brighter, which will help when viewing outdoors. Still, neither of these phones are ideal for outdoor usage, since their screens aren't very bright at all, compared to the good LCDs out there.
What this means is that the only area where the Note II excels as far as the screen is concerned is sheer size. Indeed, it's going to make certain tasks a bit more fun and convienient, but at the end of the day, the Galaxy S4 also has a very big screen, and one of superior quality at that.
Display measurements and quality
Samsung Galaxy S4 360-Degrees View:
Samsung GALAXY Note II 360-Degrees View:
Recommended Stories