Samsung Galaxy Mega 6.3 vs Galaxy Note II
4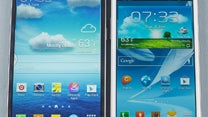 Introduction
Samsung's love affair with big screens may have started with the Note line of phones, but the Mega portfolio is really something else. "Mega" apparently stands for the largest screen you can put in a phone and still call it that, while the Note handsets bet on added functionality like a built-in stylus and unique apps that are making the best use out of it.
We now have the best current representatives of those two big-screen phone families of Samsung – the
Galaxy Note II
and the
Galaxy Mega 6.3
– and are staging a cagematch to determine who's boss...
Design
Note II is not a small handset by any means, but it feels rather compact to handle compared to the giant Mega 6.3. Granted, it is chubbier, and Samsung has done great things with the slim waistline of its largest phone to date, but still when it comes to portability, the Note II wins hands down, and we aren't talking about the negligible weight difference.
Thanks to its nice chassis pattern, that this time transitions to the front as well, and the much better metal-imitating rim around the sides, the Mega 6.3 takes the design category against the cruder plastic of the second Note edition. In terms of functionality, though, the Mega 6.3 has just one larger screen to show for it, whereas the Note II has a useful stylus tucked neatly in a silo on the right.
Other than that the outer appearance of both phones is pretty comparable with their rounded corners, physical home keys, and recognizable side buttons – a design that now screams Samsung Galaxy for whoever looks at the handsets, though it's getting a bit long in the tooth.
Display
Both the Note II and the Mega 6.3 come with displays in 720x1280 HD resolution, but the technologies and pixel densities are rather different. The Note II sports a Super AMOLED HD screen with 265ppi, which has flashy colors and great viewing angles, but is not as bright as the 233ppi LCD panel on the Mega 6.3, which on top of that shows much warmer and natural hues than the Note II.
Recommended Stories