LG Optimus G Pro vs Samsung Galaxy Note II
32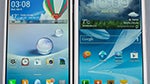 Introduction
It is evident from the design and screen size that the
LG Optimus G Pro
is shooting for
Samsung Galaxy Note II
's market niche, so a heavyweight fight between the two is warranted from the get-go.
The G Pro so far has been announced in two versions – the 5.5" one for Korea we use for the comparison, and a 5" one for Japan's DoCoMo spring lineup. LG also said it will be arriving to North America in Q2, but didn't specify which exactly screen size will make it.
One of the numerous virtues of the Note II is that it houses a stylus as an alternative input method to take better use of the giant display, while the G Pro doesn't have one. Has LG managed to make it sufficiently tasty to fight on equal footage with the versatile Note II? Read on to find out...
Design
Both phones sport 5.5" displays, but the Optimus G Pro is lighter and more compact than Samsung's wide Note II, thanks to the minimum side bezel. LG has gone with a more narrow, elongated chassis, which is easier for one-handed navigation. If it wasn't for the back Android key that LG slapped on the left, and you almost drop the G Pro each time it has to be used with one hand, that is.
Other than the width, the two phones look almost identical, save for the much narrower home key underneath the G Pro display. They both have faux metal side rims, tactile volume rockers on the left and power/lock keys on the right, and both sport plastic removable back covers, which let you swap the battery, or add extra storage. LG blinged the back a bit more with a pattern on the plastic cover, and a large metal ring around the camera lens, and that's that.
Displays
The two 5.5" screens aren't created equal, as the G Pro sports 401ppi density on account of the 1080x1920 pixels of Full HD resolution, whereas the Note II has 720x1280 display with 265ppi. The Full HD resolution in the G Pro looks marginally nicer if you are a screen purist. However, thanks to the large screen size, the Note II also displays fine text (e.g. in the internet browser) well.
The screen technologies are very different, so the IPS-LCD of the G Pro features much more natural, toned down colors than the oversaturated ones reproduced by the Note II, and which ones you like is a matter of taste. The G Pro has a very good contrast rating, which is still no substitute for the deep blacks of the Super AMOLED display, while both technologies sport very good viewing angles.
The Optimus G Pro has a sufficiently bright display for decent outdoor visibility, but the Note II carries the brightest AMOLED Samsung has produced to date, so when we add the low reflectance, things are about equal in the sunlight visibility department.
LG Optimus G Pro 360-Degrees View:
Samsung GALAXY Note II 360-Degrees View: