Apple iPhone X vs LG V30
36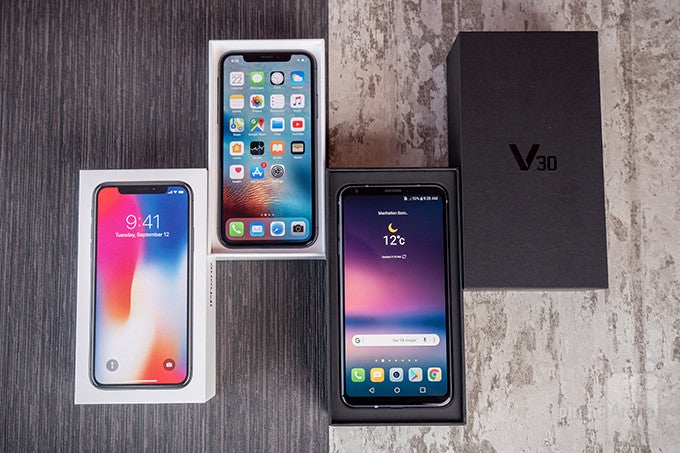 Exciting, appealing, futuristic – these are just some of the words we'd use to describe
Apple's iPhone X
. But so are "expensive" and "imperfect", as those who have read our
iPhone X review
should know. Long story short, the iPhone X is a phone worth being thrilled about, but it doesn't quite tick all the boxes that a $1000 phone should, and many rivals in the high-end space could give it a good run for its money. One of these rivals is the
LG V30
, which is no less rich in features, but comes at a considerably lower price. Let's now dive deeper and see how these two phones compare.
Design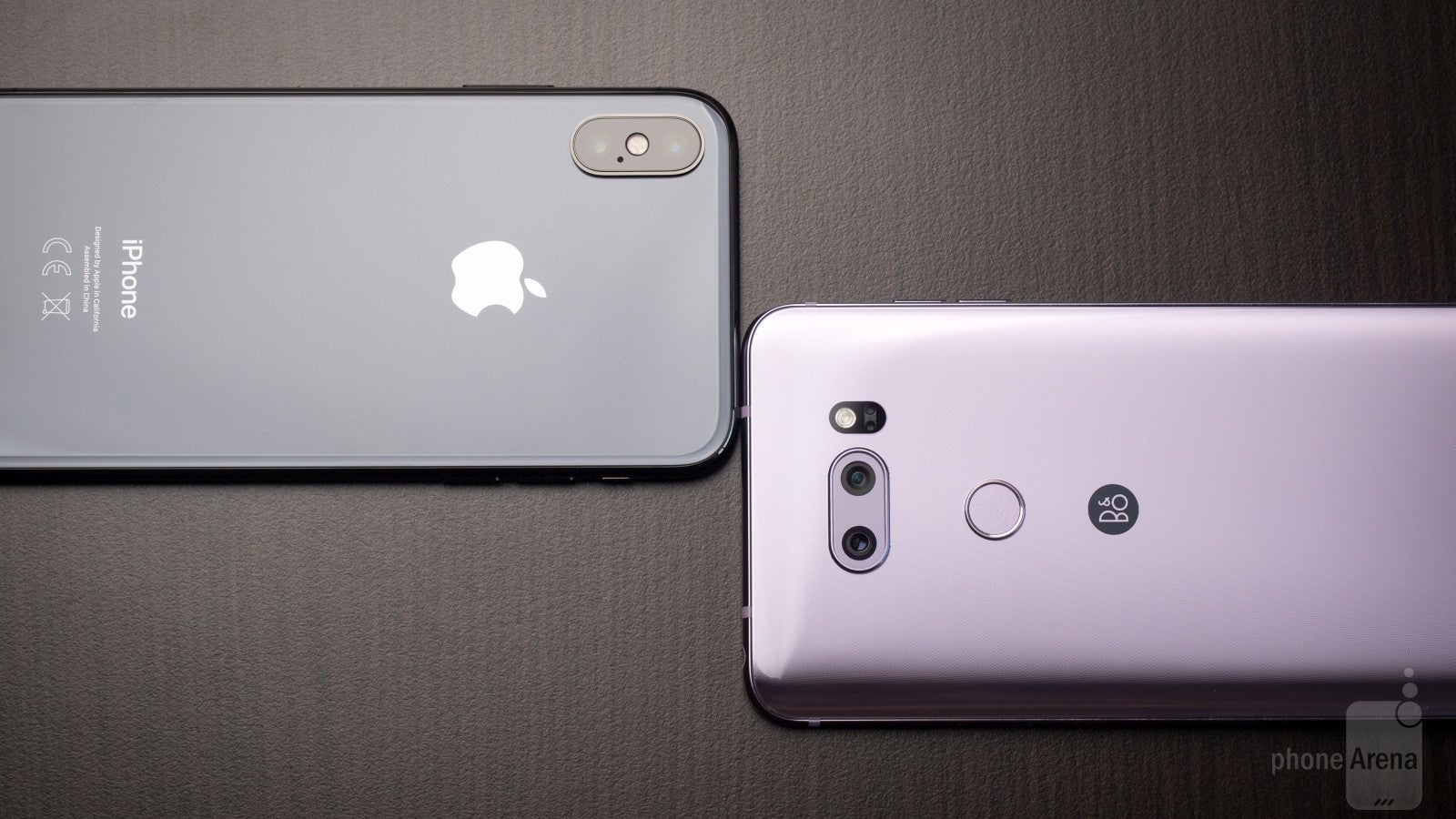 On the surface, the iPhone X and the LG V30 seem similar in many ways. They are both made of glass and metal, they are both designed around "bezel-less", extra-tall displays, and they're both water resistant. But the closer we examine the two, the more differences we encounter. The iPhone X, for instance, uses a stainless steel frame, and while steel is heavier than the aluminum used in the V30, it is also stronger. The V30, on the other hand, has a higher water resistance rating and retains the 3.5mm headphone jack which the iPhone lacks.
Both phones have a certain visual appeal to them – not only thanks to their stylish glass-and-metal construction, but also by the fact that their screens fill nearly all of their front areas. LG's execution looks better, though. The iPhone X's notch eats up screen space and simply takes away from the experience. But we must admit that the iPhone X feels better in the hand. It may be heavier than the V30, but it is also narrower, allowing for a firmer grip and more comfortable single-thumb navigation.
The dedicated mute switch is a nice perk you get only with the iPhone X. What you don't get is a fingerprint scanner. In its place is Face ID, which is Apple's facial recognition system – a facial recognition system that is difficult to fool and works reliably most of the time. Still, a fingerprint scanner is a fast and convenient alternative, and that's exactly what we have on the V30, where a fingerprint scanner is embedded in the power button at the back.
Display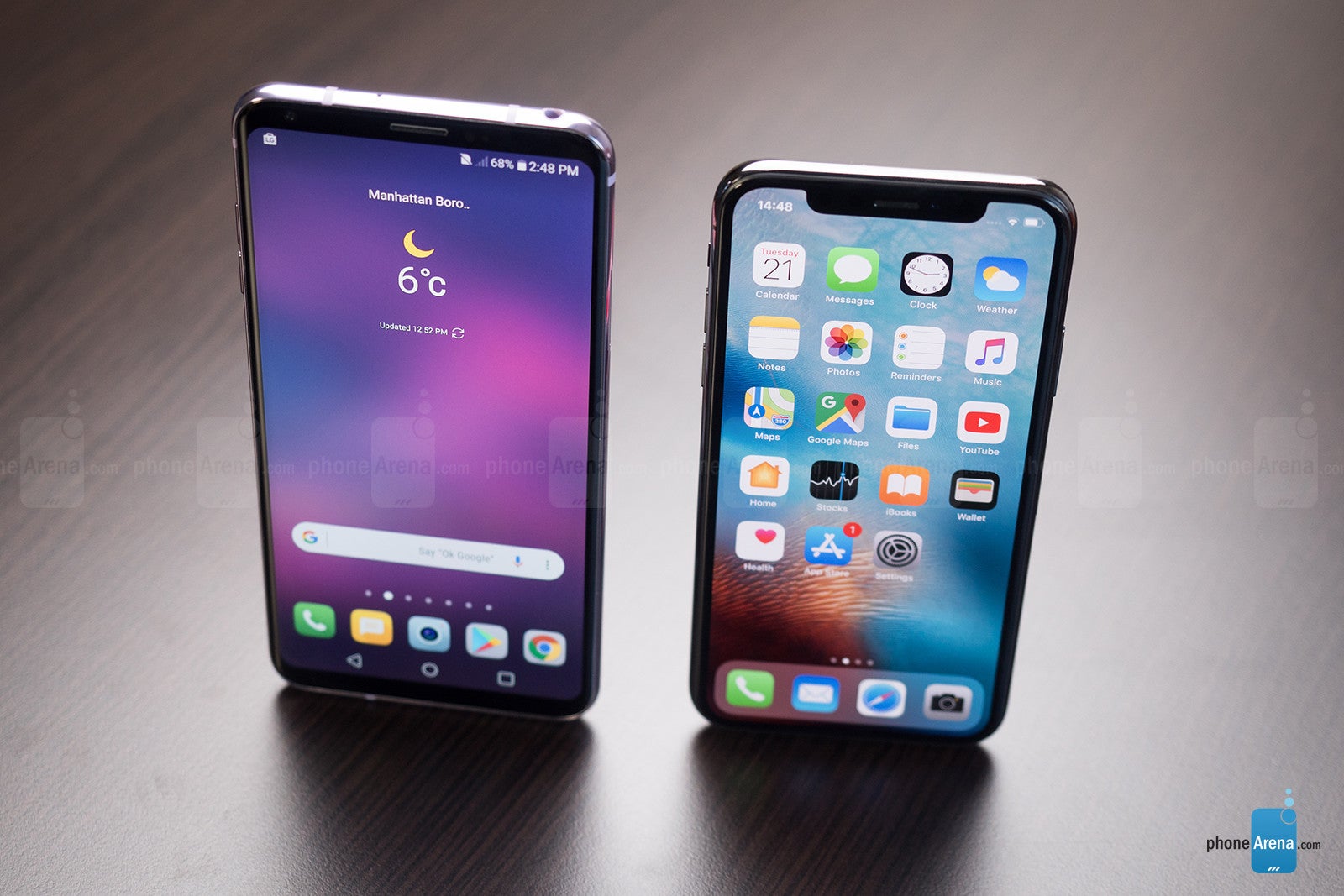 First things first, we must point out that the two displays we're comparing here are based on the very same OLED technology, which is known for its greater contrast compared to traditional LCD panels. The screens are also packed with plenty of pixels: 1125 x 2436 pixels (459 ppi) for the iPhone X and 1440 x 2880 pixels (537 ppi) for the LG V30 is more than enough resolution to produce clear and sharp visuals.
Still, the iPhone X is superior when it comes to color reproduction. Colors are accurate and vivid, but without any of that artificial saturation boost OLED screens are known for. In contrast, the V30 produces colder whites and pumped-up colors. This is a look that some might actually find appealing, but it is unnatural nonetheless. Thankfully, color reproduction can be configured from the settings menu.
Despite its shortcomings, the screen on the LG V30 has a thing or two going for it. For instance, the Always-on Display feature is kind of neat, and the greater area has the potential to fit more content. But most importantly, it doesn't have a notch getting in the user's way.
Display measurements and quality
Software and interface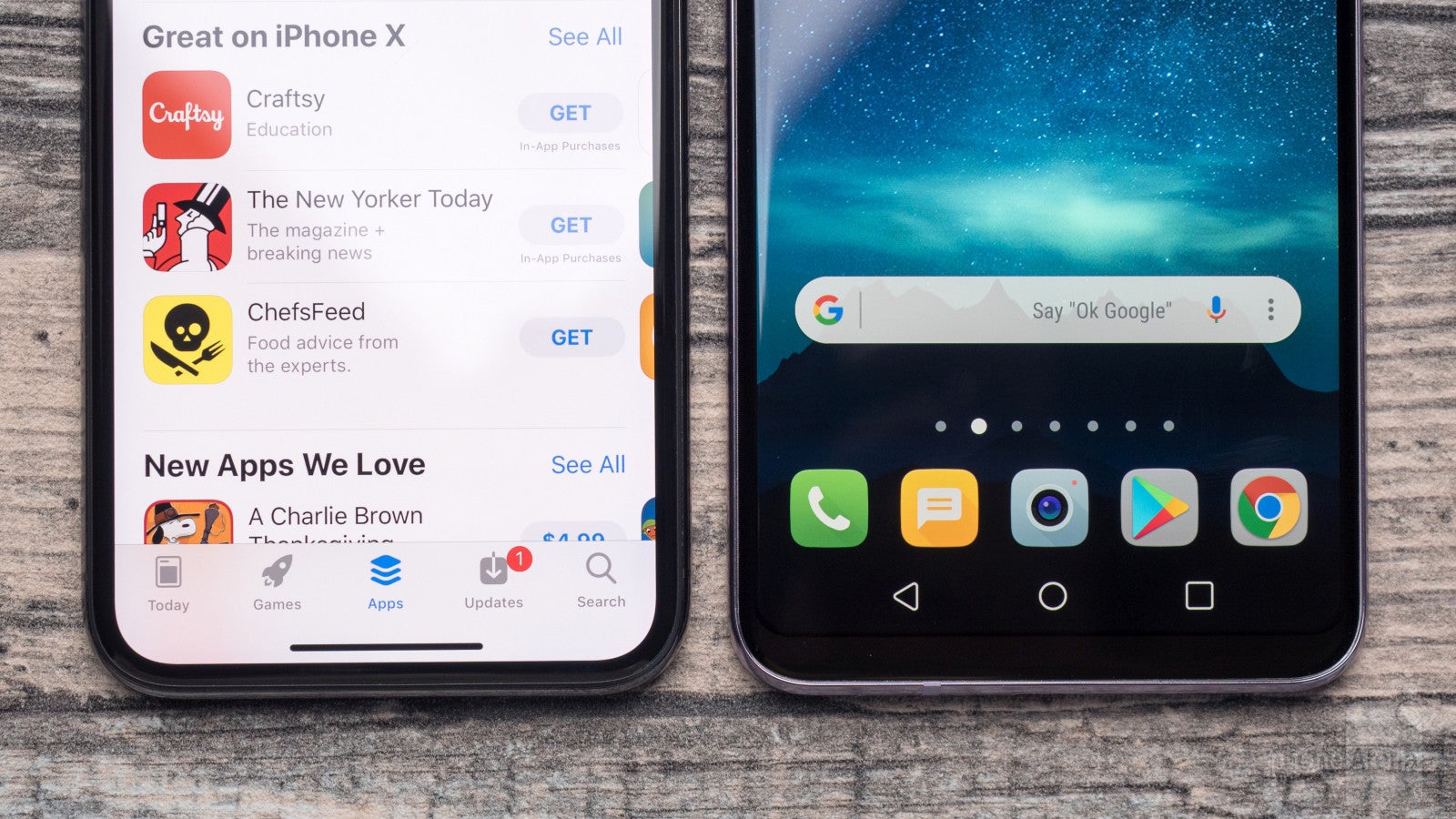 Android vs iOS: it's an ever-going rivalry of mobile platforms, and while labeling one as better than the other would be tricky, we can easily list a number of factors that set them apart. To put it briefly, the theme with the LG V30 is that it is a phone made for power users. LG's software experience, running on top of Android 7.1, is highly customizable and packed with features, most of which would be appreciated primarily by enthusiasts: the Floating Bar and side-by-side multitasking, for instance, or the option to adjust the screen's resolution to save battery.
The iPhone X, on the other hand, running iOS 11.1, has a much shorter list of bells and whistles. But Animoji is definitely on it, and by now we're pretty sure you know what these are. Sure, they're fun, and the face-tracking technology behind them is remarkable, but we feel like most people (read: people who can actually afford an iPhone X) would get tired of them quickly. Animoji aside, iOS 11 remains a fast and rich operating system acclaimed for its visual consistency and for being a gateway to a universe of quality apps and games.
You might have noticed that the iPhone X lacks a home button. There are no on-screen buttons either. To get back to your home screen, you just swipe from the bottom of the screen. New gestures for Reachability and for switching between apps are also implemented. Fear not, as these are mostly easy to get the hang of. Meanwhile, the LG V30 relies on familiar on-screen buttons. These do eat a small fraction of screen space, but can be configured to disappear when not needed. Also, it is neat that their arrangement can be modified, and a handy shortcut for pulling down the notifications panel can be added.
Processor and memory
Here we could have listed the technical specs of these two phones side by side: processor cores, clock frequency, amount of RAM and so on. However, we chose not to, as that wouldn't be giving you the slightest clue as to how these two phones actually perform. In a nutshell, neither the iPhone X, nor the LG V30 feel slow in any way. Both are fast and responsive in real life and deliver performance of roughly the same level, although benchmarks indicate that the iPhone X has a greater potential as far as raw number crunching goes.
On-board storage starts at 64GB for both phones. Unsurprisingly, there is no storage expansion slot on the iPhone X, so if you need extra gigs, you will have to spend the extra cash on a 256GB model. The LG V30 offers a microSD card slot, which is nice having, but one should keep in mind that microSD cards are neither as fast, nor as reliable as on-board storage.
Camera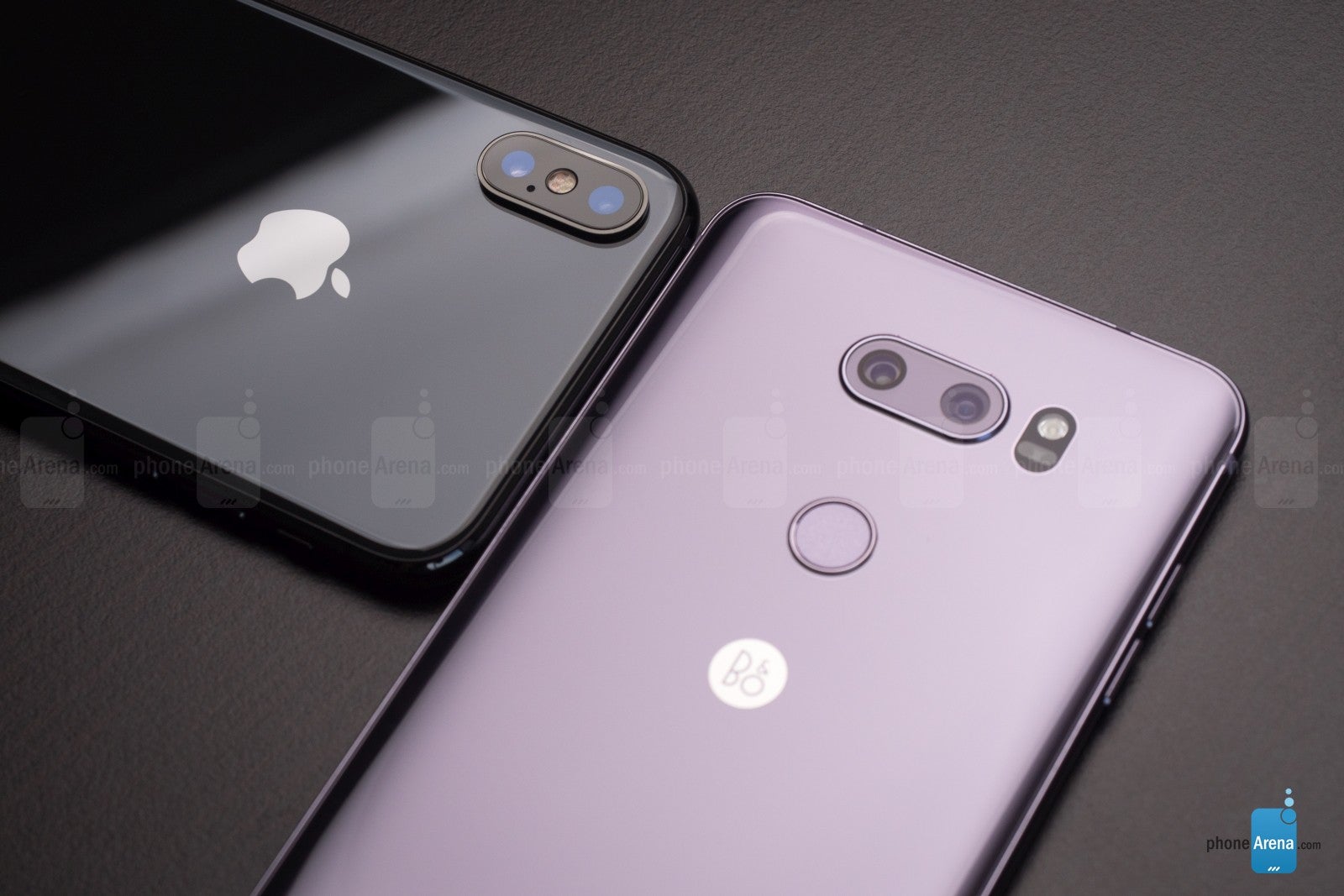 Both phones are playing the dual camera game, but with a totally different strategy. On the iPhone X we find a regular camera paired with a secondary telephoto shooter providing 2X optical zoom, bringing the subject in the frame significantly closer. Also, the arrangement enables Portrait Mode, which adds artistic background blur to images, and Apple's software algorithms let us apply lighting effects to the image, even after it has been taken.
On the LG V30 we have a standard camera as well, but it is coupled with a wide-angle shooter, which fits much more in the frame than any other standard camera would. While image quality and detail suffer, the secondary cam allows you to fit epic sceneries, monuments, or parties without having to step back. In tight spots, this camera proves a valuable asset.
Both of these dual cam setups have their pros and cons and we can't say that one approach is better than the other. It's all a matter of what kind of photographer you are and what kind of situations you find yourself into. But no matter which side you're on, regardless of which phone you pick, you'll be definitely using its primary camera more often. Their secondary cameras just aren't as sensitive to light as the normal ones are.
One thing worth mentioning is that the LG V30 comes with full manual camera settings out of the box. In other words, you can take full control of how images and videos look, which is great news for camera enthusiasts. On the iPhone X you need the help of a third-party app if you require manual adjustments of any kind.
Image quality
We recently featured the iPhone X and the LG V30 in a camera comparison across a number of situations. Both phones did well, especially in daytime and well-lit situations, where the two perform at the same level. But the outcome was in favor of the iPhone, mostly thanks to its consistent low performance and better handling of scenes where HDR mode is required. Low light images from the iPhone are livelier, with better colors and detail, while the V30 tends to leave such images a tad underexposed.
Selfie quality
All in all, both phones take good-looking selfies, but it is different features that make their selfie cameras special. On the iPhone X you can use Portrait Mode and Studio Lighting when taking selfies to achieve a more dramatic or more professional look, but the results are mostly hit and miss. Still, regular selfies turn out great, with faithful colors and more than enough detail.
The LG V30 has a skin softening effect to smooth out imperfection and a lighting slider to make faces brighter, but we kept these set to a minimum level to avoid an unnatural look in our selfies. The selfie cam's top feature, however, is its extra wide lens mode. While it adds some distortion near the edges, it has a very wide field of view that lets you fit the whole party in a single shot. Admittedly, overall image quality is still better from the iPhone, but the V30's wide-angle selfie cam could prove useful when snapping group shots.
Video quality
The LG V30 is advertised as a phone that excels at video capturing. It comes with full manual video controls and advanced modes that experienced videographers could find useful. And indeed, videos out of it look pretty good, but as far as every-day video recording is concerned, the iPhone produces better results with less effort on the user's side. Videos are more detailed, better stabilized, and the 60fps 4K mode produces footage of epic clarity.
Multimedia
One detail that we haven't mentioned yet is that both phones support HDR video, which delivers richer color and contrast. Such content is still in short supply, but can be found on Netflix, Amazon Prime Video, even on YouTube. But as far as general video playback is concerned, the V30 is the more suitable device. It may not have the iPhone X's excellent color calibration, but it has a larger screen where there isn't a notch in the way.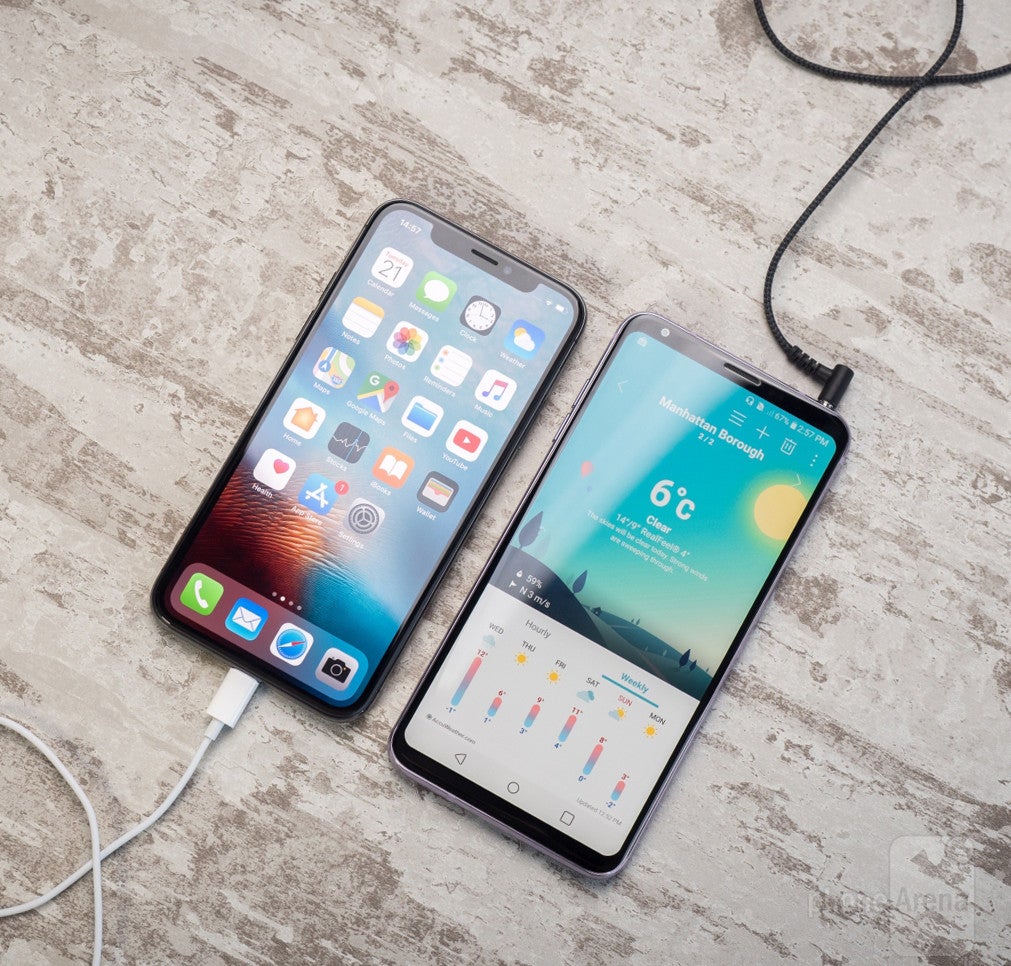 As we mentioned in the beginning, the LG V30 has a headphone jack for those who still prefer conventional, wired headphones. Plus, its Quad DAC has a high-enough output to drive even large, high-impedance earphones. But you don't get a pair of headphones in the box, at least not with the V30 sold in the US. Since the iPhone X has no headphone jack, you can either use the dongle found in the box to connect a pair, or you can just use Apple's own Lightning Earphones that come included. Or you can always go wireless, of course.
When it comes to loudspeaker quality, however, the iPhone X has the upper hand. While the V30 sounds okay with its single bottom-firing speaker, the iPhone's stereo speakers are clearer and with more substantial bass to accentuate any music you may be listening to.
Battery life
How long a phone lasts between charges depends greatly on how it is used and configured. That's why we level the playing field by subjecting phones to our custom battery test, which runs at a constant screen brightness level and simulates real-life usage. All in all, both the iPhone X and the LG V30 scored really well, meeting our expectations for a phone of this class.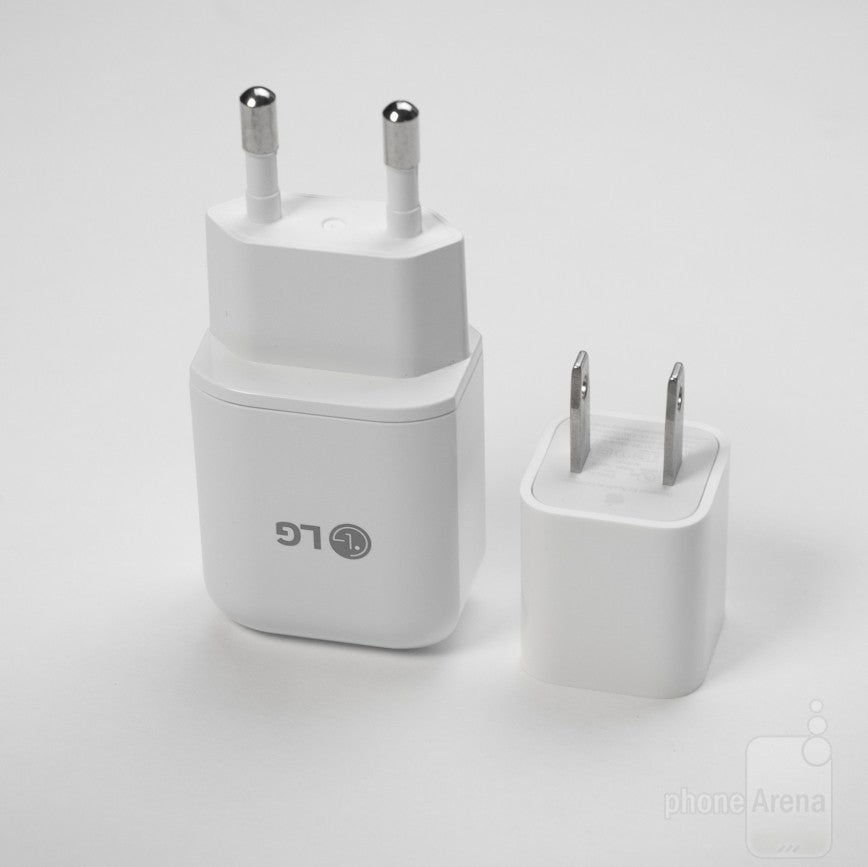 Charging, however, is significantly quicker on the LG V30. The phone is supplied with a rapid charger out of the box, which allows it to charge nearly twice as quickly as the iPhone X. To get faster charging on the iPhone X, you need both a more powerful charger and a special cable, both sold separately.
Wireless charging is available on both phones, assuming you have a Qi wireless charging accessory. Right now, however, only the LG V30 supports fast wireless charging, while the iPhone X charges at a slower rate.
Conclusion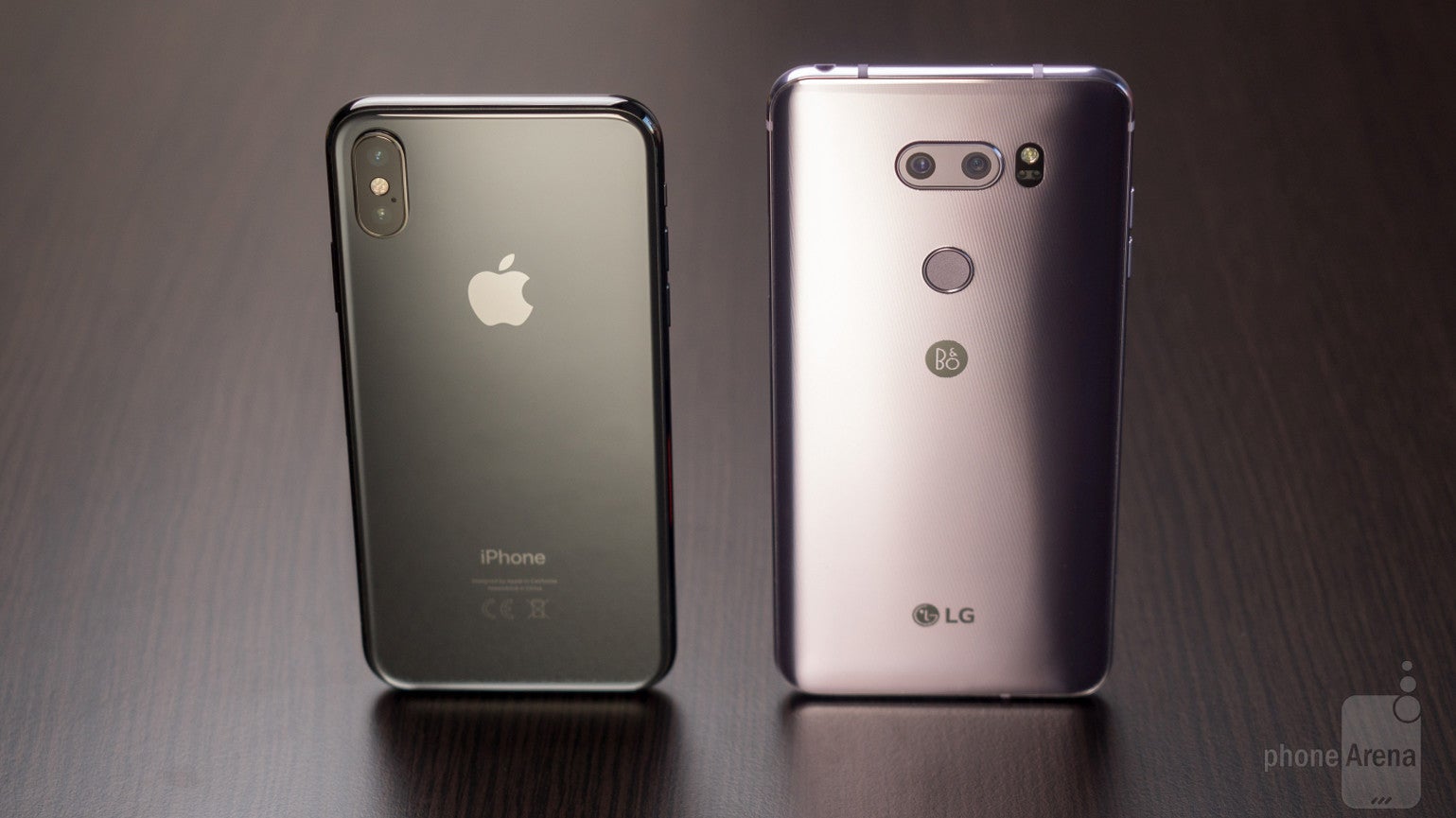 At $1000, the
iPhone X
is one of the most expensive phones around. While the
LG V30
isn't cheap either, it costs $200 less, which is a considerable price gap – enough to get you 2 years of Spotify Premium or a decent budget backup phone like the
Nokia 6
or the fifth-generation
Moto G
.
Yet despite the four-digit figure, the iPhone X has been selling really well, and it is easy to tell why: it is a phone surrounded by hype and excitement, and owning one is like holding a piece of the future – today. For many people, choosing the iPhone X over any other phone would be an emotional decision above all. But the good news is that the iPhone X, while expensive, is also a great phone – fast and good-looking, with excellent cameras, clear-sounding speakers, and, ahem, a top-notch display. If money is no object, that's the phone to go with.
On the other hand, the LG V30 still has a lot going for it. Just like the iPhone X, it is an enthusiast-grade device, but while the iPhone X is targeted at early adopters, the V30 is more suitable for tinkerers and power users. It may not have the iPhone's color-accurate display, but it doesn't have a notch to distract you with. Its cameras may not have Portrait Mode, but its wide-angle lenses could be of use in tricky situations. And while you won't find Animoji on it, you will find a fast charger in the box. In other words, if you value practicality over showmanship, perhaps the V30 is the phone to consider.
Pros
Bright and color-accurate display
Better fit in the hand
Superior cameras take great photos and videos
Loud and clear stereo speakers
Pros
Larger screen without a notch on it
Wide-angle cameras can be useful
Fast charging out of the box
Cheaper, easier to get