Google Pixel XL vs LG V20
15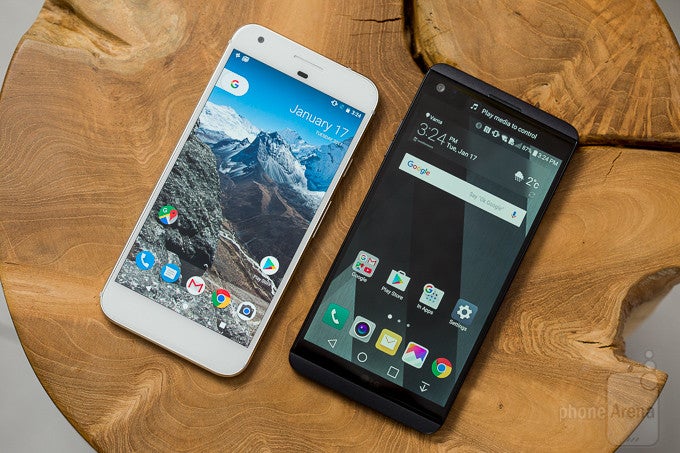 Introduction
Google stirred things up in the cozy Android high-end phone market with its Pixel lineup of phones: for years, things in the Android space have been dictated by the likes of Samsung, LG, HTC and Motorola (...well, mostly Samsung), but this year, we have a truly new player.
The
Pixel
is just that: the first phone by Google, one with the promise of timely updates and a sprinkle of Google magic.
Its
Pixel XL
version is the 5.5-inch, phablet-sized model, a phone for lovers of big screens. One of its biggest rivals in the United States is the
LG V20
, an excellent 5.7" phone that has a ton of tricks up its sleeve: a secondary ticker display, a dual camera system, high quality audio and manual video controls. Let's see what are the pros and cons of the two, and do we have a winner in this one-on-one battle.
Design
The Pixel XL is a comfortable and safe aluminum design that feels better than it looks, while the V20 is oversized and features a utilitarian design.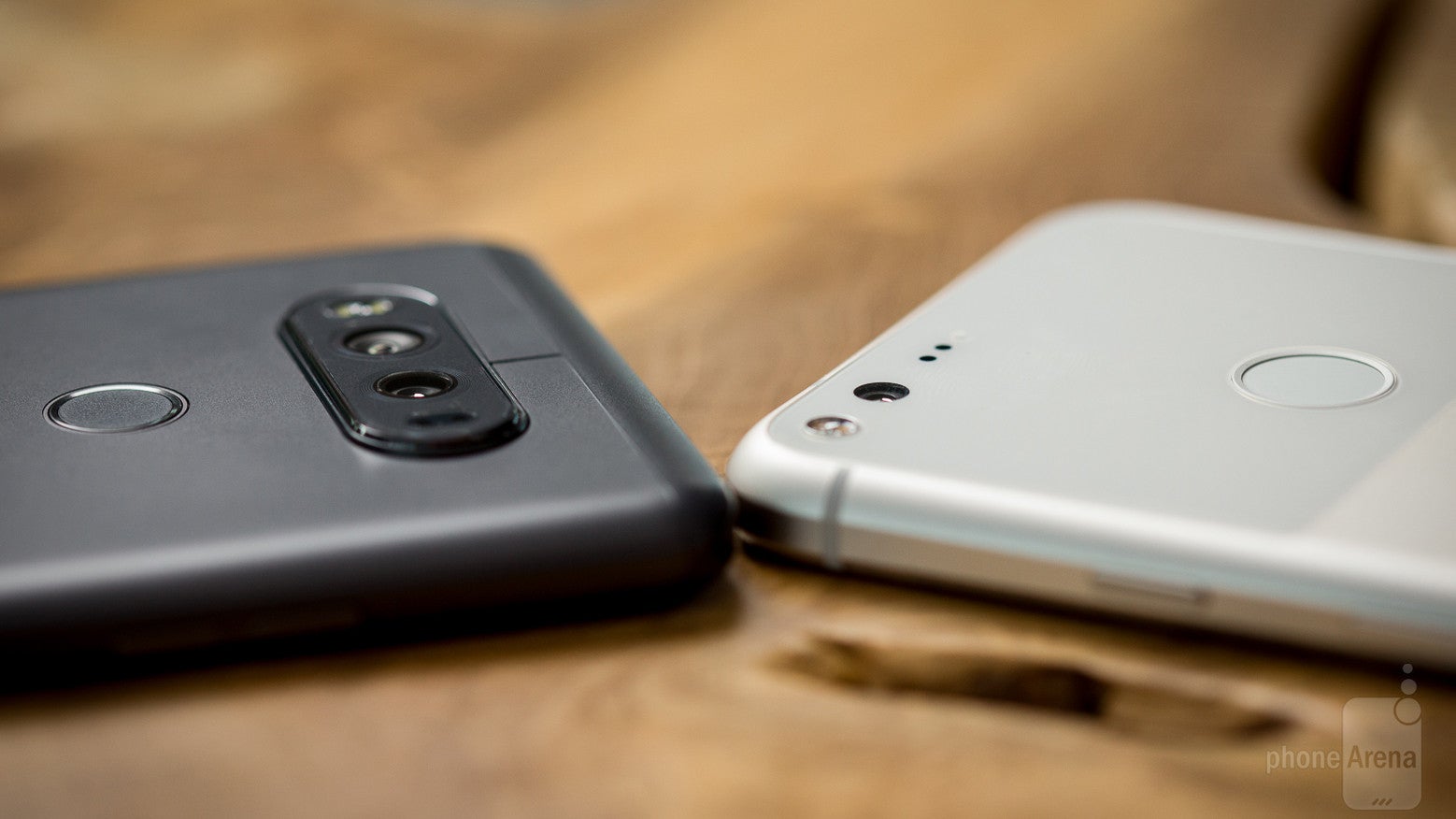 LG has never been a design champion or a trend-setter in any meaningful way. Sure, it has had some nice devices, but it has mostly focused on undercutting others on price and including some interesting and novel features that the others lack. The LG V20 is also not a beauty queen: the device is rather utilitarian and big. Sure, it's got a metal back going for it, but it's not pretty in any way, plus there is also a gigantic and unsightly camera hump at the back, perhaps to hint at its camera-centricity.
The Google Pixel XL, on the other hand, is a surprisingly well-crafted first-gen device. It rocks an aluminum body with a distinct glass accent in the top half. In real-life it feels well balanced and not as thick as on pictures. The slight curve around the edges makes it easier to pick up from a table and fit more comfortably in the palm of your hand.
Size is crucial for such big phones: many people want a big screen, but hate to deal with an oversized device. This is important because neither of these phones is small, but it is the LG V20 that feels oversized. With the secondary display and the large screen, the V20 is noticeably bigger than the Pixel XL and that might be an inconvenience.
Next up, we ought to mention that both phones use on-screen buttons and there are no physical keys up front. The fingerprint scanners are on the back, and on both it works reliably and quickly, but the one on the Pixel seems a bit faster. Both devices also use the reversible USB-C port and both phones come equipped with a good old 3.5mm headset jack.
Wondering about any special water protection? Unfortunately, that is one neat feature present on some modern flagships, but not on these two.
Display
The Pixel XL features an AMOLED screen, while the V20 sports an LCD screen. Both are good, but not great.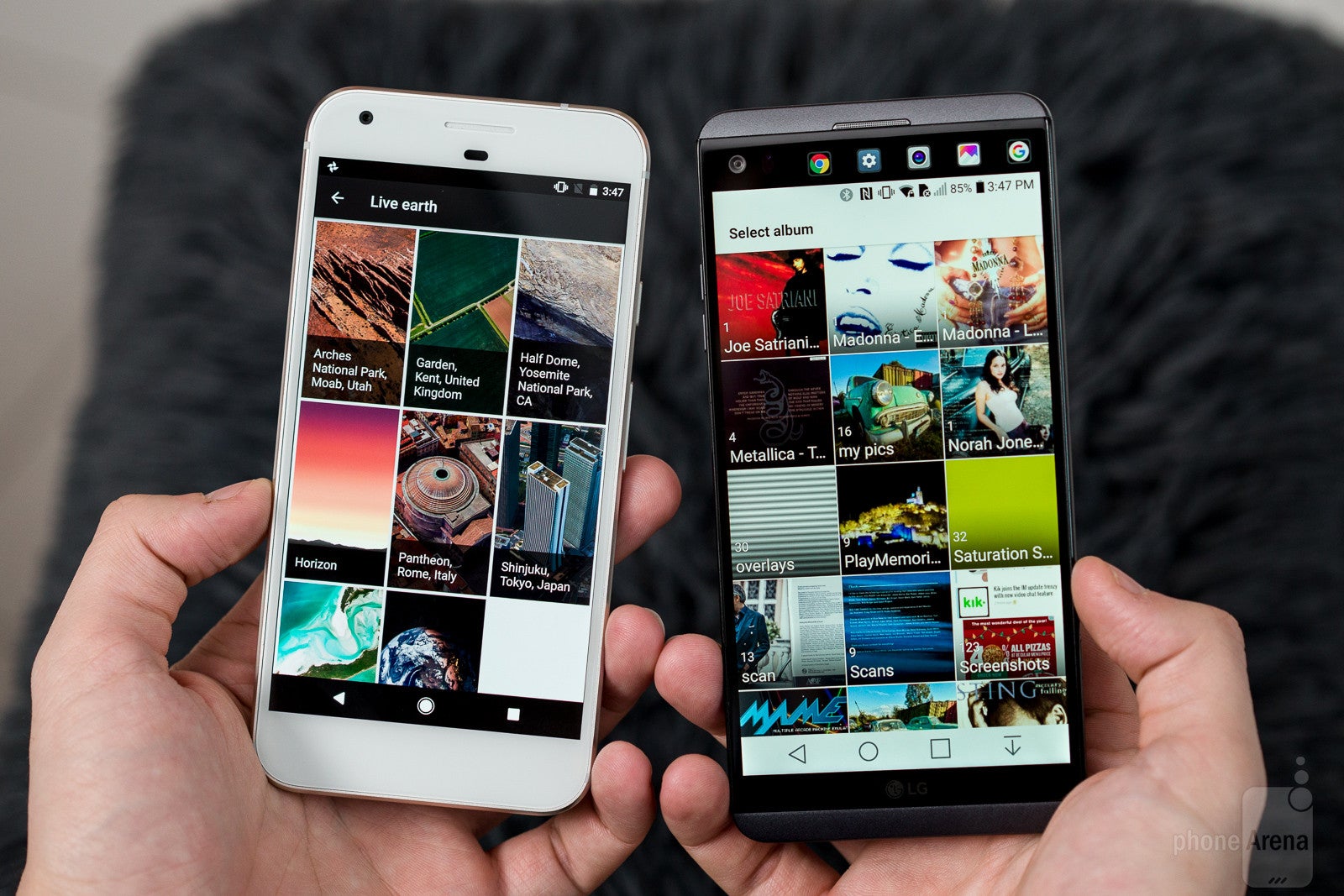 Which screen technology do you prefer: LCD or AMOLED? This seems to be a question that bothers many gearheads these days, as the advantages of AMOLED seem clear: deep blacks, excellent contrast and viewing angles, eye-popping color. But the reality is that LCD screens have been around for a while and they have become pretty darn good as well.
The battle between LCD and AMOLED is obvious in these two: the LG V20 sports an LCD display, while the Pixel opts for an AMOLED screen. The latter also shows what Google thinks is the more promising technology, it's gone for AMOLED.
So what is the actual screen quality on the two? The V20 has a decent, but not great LCD screen: it's a sharp, high-res 5.7-inch 1440 x 2560 display, but it has a somewhat bluish tone and colors that are not well-balanced. We look at the accepted sRGB color standard for photos and videos and the V20 does not fit it well.
The Pixel XL, on its parts, has a 5.5" display that also features a 1440 x 2560-pixel resolution, but it's also a Pentile screen, a clever tech that makes do with less sub-pixels, while the V20 has three sub-pixels - one red, one green and one blue for every pixel. The Pixel XL defaults to a similar, slightly oversaturated look that has eye-popping colors like on the V20, but it also has an sRGB color mode that you can enable in the settings panel.
In terms of brightness, the LG V20 can go high enough outdoors, so it's easy to see what's on the screen, while the Pixel XL has trouble cranking out high-enough luminance, and it's a bit of a pain using it on a bright sunny day. This is one area we hope Google improves in the future.
Display measurements and quality
Recommended Stories