Google Pixel XL vs Apple iPhone 7 Plus
35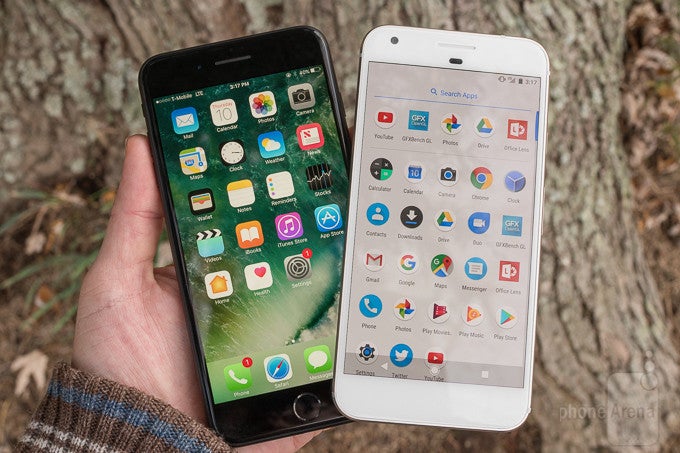 Introduction
Apple's always offered its users a complete hardware-and-software smartphone experience: everybody gets iOS, and everybody gets the iPhone. With Android, that situation's a lot more complicated, with a litany of manufacturers to choose from, and little assurance their phones are running the newest, most-feature-packed software release available. But this year Google's stepping up in a way we haven't really seen before. While Nexus phones offered a pure-Google software experience, this year's new Pixel phones add that same sort of Google leadership to the hardware side of things, with a pair of handsets designed from the ground up to be 100% Google phones.
We've already gone head-to-head with the smaller
iPhone 7
and
Google Pixel
, but for as much as we enjoy a good petite phone, there's a lot to be said for the big screens, big batteries, and all-around larger-than-life experiences of a more massive phablet. Luckily for us, both Apple and Google are ready to deliver with the
iPhone 7 Plus
and
Pixel XL
, respectively.
Do these two phones measure up in quite the same way as their smaller siblings, or does enough change with these bigger models that we'll look at their balance in a different light? Let's find out, with our iPhone 7 Plus and Pixel XL comparison.
Design
Both Google and Apple scale up some familiar looks for their larger handsets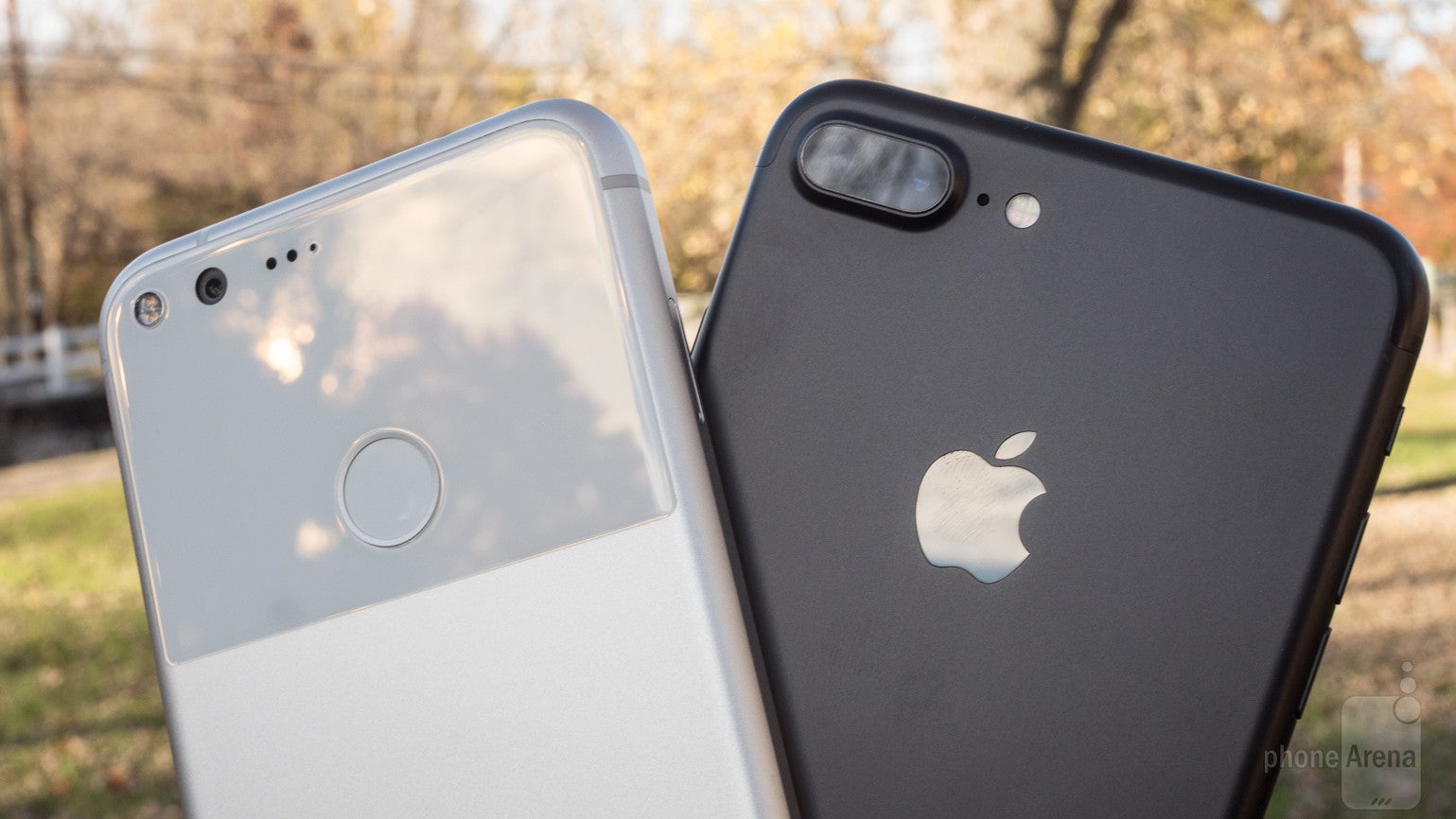 Smartphones may rely upon millions of lines of code, a dizzying array of tiny transistors, and more high-tech components than you can count, but there's little that affects our impressions of a handset more than its design and styling. Looking at both the iPhone 7 Plus and the Pixel XL, it's clear that a lot of thought went into making these handsets look and feel the way they do, all while Google and Apple made some very different decisions about how to put their phones together.
The iPhone 7 Plus is sleek, sturdy, and smooth. The phone scales up the dimensions of the iPhone 7 to accommodate for the Plus model's larger 5.5-inch screen, and while it's slightly thicker than the smaller handset, we're talking a near-indiscernible amount – to the tune of a fraction of a millimeter. But not all of the phone's hardware can squeeze into that slim body, and like the iPhone 7 itself, the Plus has to live with a camera bump, but it's significantly more pronounced on the 7 Plus: it both sticks out further, and takes up more surface area to make room for the phone's dual rear cameras.
While the Pixel XL is a thicker device than the iPhone, Google both manages to keep its thickness consistent from smaller to larger Pixel, as well as avoiding a camera bump altogether. This however, is at the cost of having the profile of the phone get progressively thicker towards the upper end. The handset's design is a bit unusual, taking advantage of multiple materials in a way that's unexpected but also really help the phone stand out in a busy Android market. Like the smaller Pixel, an edge design that shifts from curves, to flat surfaces, to angled bevels helps keep the handset feeling secure in your hand, which is a plus considering the phone's size.
Comparing the two phones against each other, while Apple's is the thinner handset, to the tune of more than a millimeter, Google's manages to be both shorter and narrower, despite the same 5.5-inch screen size.
Display
Big and bright, or big and pixel-dense – which matters more to you?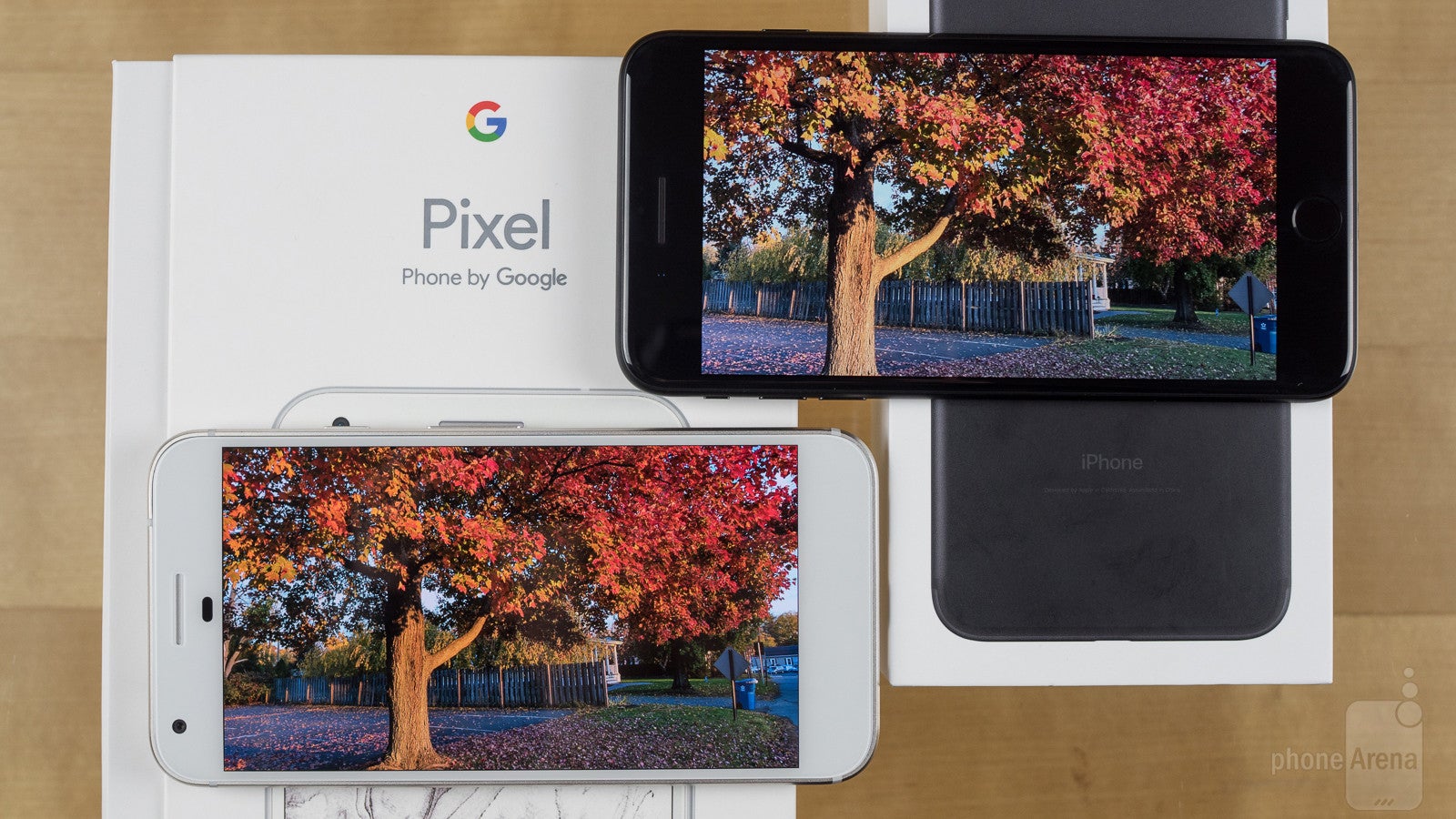 OK, now we're getting down to brass tacks: while the design of the Pixel XL and iPhone 7 Plus may carry over from the smaller versions of those handsets, each of these larger editions introduces a new screen, finally giving us something meaty to compare.
This time we're not looking at two differently sized components, with both the XL and 7 Plus going with 5.5-inch screens. But just as was the case with the smaller phones, Google outdoes Apple in terms of pixel density and resolution, giving it a 5.5-inch, 1440 x 2560 AMOLED panel to the iPhone's 1080 x 1920 screen – the same resolution as the 5-inch Pixel. But while Google may have an edge in sharpness, that doesn't have a big impact on general usability, and the iPhone 7 Plus still looks impressively crisp in handheld usage. Google may be putting those extra pixel to good use when you strap the Pixel XL into a Daydream View headset and start giving VR a spin, but they don't change the day-to-day experience much.
Like we noted with the smaller phones, Apple's screens are noticeably brighter than Google's, helping with outdoor visibility. And though both the Pixel XL and iPhone 7 Plus are both brighter than their siblings, Apple still comes out way in the lead here.
Display measurements and quality