Apple iPhone 7 Plus vs LG V20
16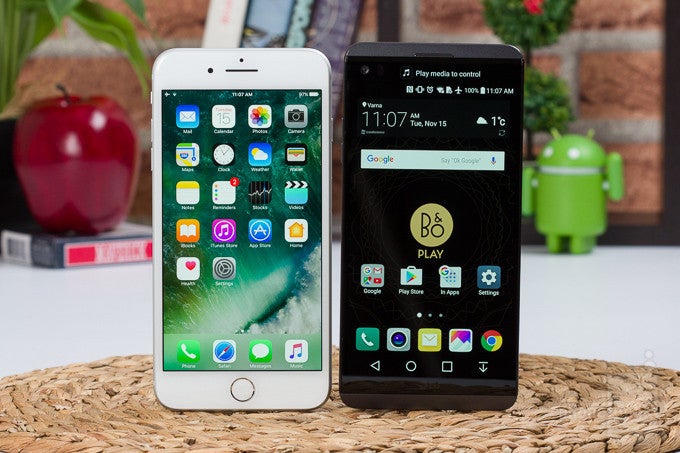 Introduction
In the battle for the best big phone, the
Apple iPhone 7 Plus
is one device that you cannot overlook.
Apple's iPhone is not only the single best-selling phone out there, it also features one of the most powerful chips ever on a phone, has for a long while been a trend-setter for mobile photography, and – apart from the now dead Nexus series – seems to be the only phone that gets latest updates to its platform quickly and reliably.
This year, we see some Android manufacturers stepping up their game when it comes to software currency as well: the
LG V20
is a big, 5.7-inch phone that in many ways rivals the
iPhone 7 Plus
, and – notably – it even comes with the latest version of Android, 7.0 Nougat, right out of the gate.
Both featuring dual rear shooters, the two phones have high aspirations as cameras, as well as creativity and productivity machines. But it's the little differences and nuances that really make each one of them stand out: the
V20
with its hi-res audio aspirations and secondary screen will appeal to a certain niche of power users, while the
7 Plus
has a more mainstream appeal. Let's dive in the details to learn the whole story about these two.
Design
The iPhone 7 Plus features the more streamlined, elegant design, but it's also a heavy phone with huge bezels. The LG V20 is built like a tank, but lacks in elegance and is not water-proof.
Both the Apple
iPhone 7
Plus and LG V20 are made of metal, but while the iPhone 7 Plus has a holistic metal construction, the V20 has a large metal back cover with plastic strips on the top and the bottom. And while both feel solidly put together, the iPhone is the one with the more refined design with less seams and more elegant curves, while the V20 feels more like separate pieces put together rather than one inherent whole.
When speaking about big phones, or phablets, there are some with more manageable sizes and some truly gigantic ones. While the iPhone 7 Plus is one of the largest 5.5-inch phones out there, the LG V20 goes with an even larger, 5.7-inch display and ends up having an even bigger physical footprint than the iPhone. It's taller, slightly wider and a hair thicker, slight differences that when considered all together are noticeable. Despite its smaller size, though, the iPhone is the heavier of these two rather weighty phones, and this heft is definitely an inconvenience if you walk with your phone in your pocket a lot.
On the iPhone 7 Plus side, you have the familiar iPhone design with two important changes. The home key is no longer a physical button: nope, it does not physically travel and that clicking sensation you get when pressing it comes from the Taptic Engine, the vibration motor inside the iPhone. Is the feeling the same as pressing an actual physical key? Not really. Can you get used to it, though? We know we did easily enough to not consider it a problem, but not an improvement either. Then, there is the no-3.5mm jack situation: put simply, if you use the 3.5mm jack a lot, you're clearly going to miss it, and the fact that there is a 3.5mm adapter in the box with the iPhone is a work-around, but not a remedy.
There is one key new feature on the iPhone 7 Plus that is nowhere to be found on the LG V20: water-resistance. The 7 Plus is IP67-certified, meaning that it can be submerged in water up to 1 meter (3.3 feet) deep for as long as 30 minutes without sustaining any damage. The feature is there to protect the phone in case you accidentally drop it in water or leave it out in the rain for a short while, but it's not officially meant as an excuse for you to film under water and take it on your surfing trips.
Display
The 5.5" iPhone screen features better looking colors and is easier to see outdoors under the bright sunlight.
While many phone makers are jumping ship to AMOLED screens with their deep blacks and contrast, the iPhone 7 Plus and V20 both opt for IPS LCD displays. A 5.5-inch one with a resolution of 1080 x 1920 pixels on the iPhone, and a 5.7-inch one with a resolution of 1440 x 2560 pixels on the V20.
While technically the V20 is the sharper one, in real life it's hard to see much of a sharpness difference. There is no visible pixelization on either of these two.
There is one small, but important thing that makes the two different, though: the LG V20 is equipped with a tiny secondary display right above the main panel that shows you the time and date, your recent notifications, quick shortcuts to apps, and it can be customized to do several other things. It's a cool little addition that acts in two ways: first, it gives you a quick glimpse at important information without requiring you to turn the phone on, and second, it consumes just around 1% of battery every two hours, so it's not too power hungry. However, it's not a game-changer in any way, just a small touch that seems to do more good than bad.
What really matters is how pictures look on the main screen. The V20 has eye-popping colors that look flashy, but also – artificial. The iPhone 7 Plus, on the other hand, aims to look way more realistic, with natural color representation.
Both phones also can get very bright: the iPhone 7 Plus, however, shines brighter with a peak luminance of 672 nits against 537 nits on the V20. In reality, we found that the added brightness was important for better outdoor visibility, but what mattered more is how the screen on the iPhone dealt with reflections: they are much less visible than on the V20, and at the end of the day this makes the iPhone much more comfortable for use in challenging conditions such as outdoors on a sunny day.
At night, the V20 can drop to a minimal brightness level of 5 nits, which is OK for nighttime viewing. The iPhone 7 drops to even more forgiving 2 nits. Luckily, both phones have the useful Night Shift (iPhone) / Comfort View (LG) option that filters out blue light at night. This changes the colors on your screen to help your brain relax and prepare to sleep, something that blue light can prevent from happening.
Display measurements and quality