Best Walmart Black Friday deals 2022: expectations
6
We may earn a commission if you make a purchase from the links on this page.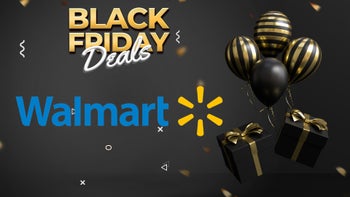 Black Friday 2022 is now coming closer. The shopping event is one of the most important ones of the year, and the generous deals allow everyone to find their most desired tech products for the cheapest possible price.

As you may probably know, the big sale event will be held, as usual, in November, but it's never too early to start preparing and planning. In this article, we will help you do just that in terms of Black Friday deals at Walmart. Here, we explore the past deals we saw and make experience-based predictions of what to expect when the time comes. Often, Walmart Black Friday deals are quite generous across the entire portfolio the retailer has.
You may also find
interesting
:
If you're inpatient, you might wanna check out those articles with deals live right now:
Walmart Black Friday iPhone deals: expectations
Walmart usually has quite good offers on iPhones. However, here the discounts last year were in terms of e-Gift cards primarily, especially on newer models. For example, the big retailer was offering a $300 e-Gift card with the purchase of an iPhone 13.

This year, Black Friday will be in November the
iPhone 14 series
will be out by then. You can safely expect some Black Friday discount on the iPhone 14.
On the other hand, older generations of iPhones (pre-paid models), such as, for example, the iPhone 11 and the iPhone XR were also available with big Black Friday discounts on the retailer.
To look at some specifics, the iPhone 11 was $200 off, while the iPhone XR got a more modest $50 discount during the sale event.

Walmart Black Friday Samsung phone deals: expectations

Last year, Walmart also offered Gift card with the purchase of some of the most premium phones by Samsung for Black Friday. The best Black Friday deal on Samsung Galaxy at Walmart was the $500 e-Gift card with the purchase of the beautiful clamshell foldable Galaxy Z Flip 3.

This way, you could buy the clamshell foldable and then get $500 to use in another purchase online at Walmart.

On the other hand, we had some pre-paid models by Samsung also discounted, but those were more on the budget-friendly side. For example, we are talking here about the Galaxy A42 and the Galaxy A32, and both phones were retailing at just $99 for Black Friday.

So, it is safe to expect budget models like the Galaxy A53 to get more discounts on Black Friday at Walmart than premium phones.

Walmart Black Friday deals on Pixel, OnePlus, Motorola phones: what to expect
The cool thing is that a lot of Walmart Black Friday deals last year were focused on more budget phones or mid-rangers. So, if you want to get a budget-friendly phone, your chance of getting a good Black Friday deal at Walmart on it is high.


For example, models from the mid-range OnePlus Nord series, as well as some Motorola phones, were discounted up to 50%. That's awesome discount, if you ask us!
Walmart Black Friday tablet deals: what to expect

Okay, if you're focused on getting a tablet instead a phone for Black Friday, worry not. Last year, Walmart had generous discounts on a couple of Samsung Galaxy Tabs. Yes, we are talking here about the powerful and 2021 flagship tablets the Tab S7 and the Tab S7+. Those two mighty Samsung tablets got discounted by $150.

That being said, the possibility to see the Galaxy Tab S8 Ultra or the Galaxy Tab S8 Plus (this year's flagship Galaxy Tabs) discounted during the sale event is quite high, we might say.

However, on the Apple front, you might want to look at another retailer for Black Friday discounts. There were no iPads discounted at Walmart for the event.

More Black Friday content on tablets you might want to check out:
Walmart Black Friday smartwatch deals: what to expect
Walmart is definitely your place if you're planning to buy a smartwatch this Black Friday. Last year, there were many models of smartwatches generous discounted at Walmart.
Let's look at some specifics. In the Apple department, the entry-level Apple Watch Series 3 was discounted by $50, and it was retailing at Walmart at $349. The Apple Watch Series 6, on the other hand, got even a steeper discount and was $90 off. This offer was one of the best Black Friday offers we saw on the Apple Watch 6, by the way.
If you don't want an Apple smartwatch, Walmart had many other options for you. A lot of Fitbit smartwatches were graced by generous Black Friday discounts at the retailer. One thing that stood out was the Fitbit Charge 4 (an awesome fitness tracker) that was at its lowest price ever at Walmart during Black Friday.

More deals on smartwatches for Black Friday were available here:
Walmart Black Friday headphones deals
Audiophiles, Black Friday 2022 looks promising to be a feast for you when the time comes. Judging by discounts we saw in previous years, many earbuds and headphones will get Black Friday deals at Walmart.

Let's talk some specifics, shall we? First off, there were many models by Samsung that saw generous discounts during the event last year. We are talking about up to 47% discount on Samsung's Galaxy Buds Plus, Galaxy Buds 2, and Galaxy Buds Pro!

Apple's AirPods Pro were also discounted by $38, which is a lot given the facts that generous discounts on Apple products are usually quite hard to find.

On top of that, headphone models by Beats by Dre and Bose were also discounted. Basically, what we mean to say is that the choice of headphones and earbuds on discount was enormous during last year's Black Friday, and we believe the same will unfold this year.
For the impatient, here are some deals on headphones and earbuds live at Walmart right now:

Other Black Friday content:
Despite the fact that there are still a couple of months before Black Friday comes, many products get discounts on retailers and carriers often. Check these out in case you don't want to miss a good deal on your favorite tech product: