T-Mobile/Sprint merger is now formally endorsed by nine states, opposed by many more
6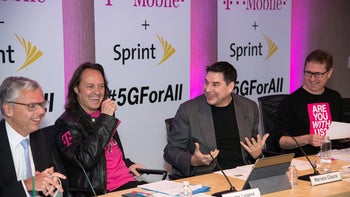 Pretty much everything that
T-Mobile announced with great fanfare last week
, from providing free 5G access to every first responder across the country for no less than 10 years to free service altogether for 10 million households, hinges on the creation of a "supercharged Un-carrier." But even though Magenta has recently obtained legal and regulatory approvals from both the
Department of Justice
and
Federal Communications Commission
, one big hurdle still stands in the way of a Sprint merger.
Meanwhile, several other state AGs that didn't initially pick a side have decided to express their formal support for the divisive carrier union, thus increasing the pressure on others to fold and accept the inevitable.
The latest name added to a list
that only included
six states back in August
is Arkansas, which joins Colorado,
Florida
, Kansas, Louisiana, Nebraska, Ohio, Oklahoma, and South Dakota in a settlement coordinated by the Justice Department's Antitrust Division.
Under the terms of this agreement, Sprint's entire prepaid business will need to be divested to Dish to ensure fair competition in the wireless service space through the birth of a new fourth-largest mobile network operator also due to gain "certain spectrum assets", at least 20,000 cell sites, hundreds of retail locations, as well as "robust access to the T-Mobile network for a period of seven years while Dish builds out its own 5G network" in exchange for
around $5 billion in total
.
The DOJ's Antitrust Division believes the competition Dish will be able to provide once this massive transition is completed, as well as a combined T-Mobile and Sprint, will deliver "increased value to residents of Arkansas and consumers nationwide."
Clearly, Arkansas AG Leslie Rutledge agrees with that view, and so do eight other top law enforcement officers nationwide, but that still leaves more states opposed to the deal than supporting it. And T-Mobile either needs everyone on board or to win the trial set to begin on December 9. We'll see what happens, but you should definitely not hold your breath for a definitive conclusion to this saga anytime soon.