Oregon becomes the 15th state suing to block T-Mobile from combining with Sprint
9
With the FCC and U.S. Department of Justice (DOJ) both giving a green light to the $25.6 billion T-Mobile-Sprint merger, there is just one matter holding things up. Back in June, the attorneys general from nine states and Washington D.C.
filed a suit seeking to block the deal
. Since then, the number of plaintiffs has continued to grow and
Reuters reports
that Oregon's attorney general is the latest to join the fray. That brings the total number of states involved in the suit to 15 (not including the Washington D.C. attorney general, of course).
T-Mobile says that it doesn't plan on closing the merger while the suit remains open, and with more states getting involved the chances of reaching a settlement grow slimmer. The plaintiffs argue that combining T-Mobile and Sprint is anti-competitive and will cost residents of their states more than $4.5 billion every year. The trial won't begin until December 9th after a U.S. District Court in Manhattan granted the states the additional time they requested to work on the case.
T-Mobile wants to get its hands on Sprint hoard of mid-range spectrum

Analysts at New Street Research said last week that
Sprint and Dish Network have much more to lose if the merger is blocked
than T-Mobile does. That's because the latter remains the fastest growing wireless provider in the states; the company just reported another 710,000 net postpaid smartphone additions for the three months from April through June. Sprint lost 128,000 connections in the same category during the same three month period, and even though it has a deep-pocketed parent in Japan's SoftBank, Daddy is no longer interested in shelling out cash for its wayward child.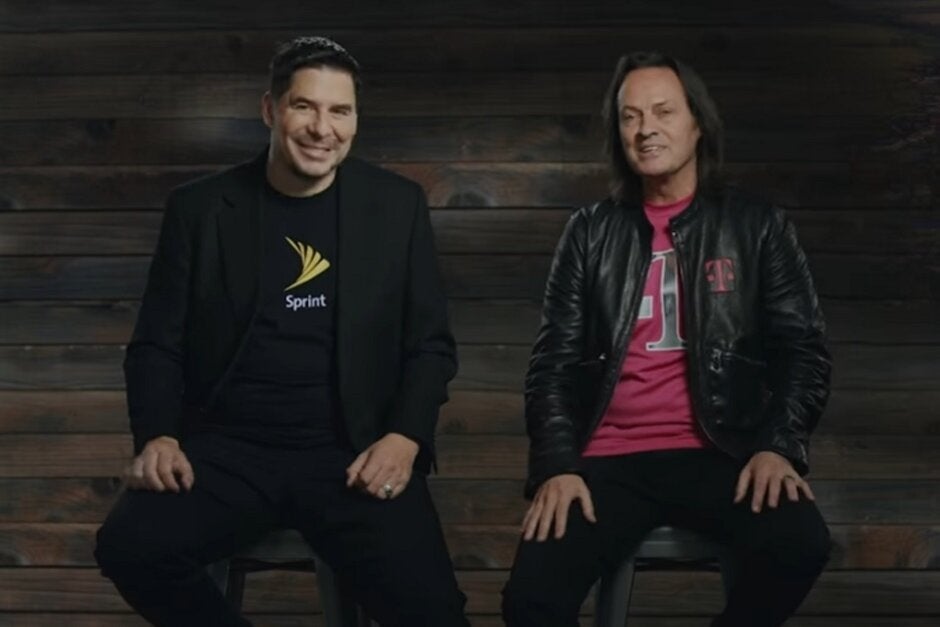 Sprint Chairman Marcelo Claure and T-Mobile CEO John Legere can't wait to close on their merger
Dish has just committed billions of dollars to buy Virgin Mobile, Boost Mobile, Sprint's branded prepaid business and some 800MHz spectrum with the goal of turning it into the "fourth nationwide facilities-based network competitor." It also will have to spend billions to build out a nationwide 5G network, open retail stores across the country, and market the new service. Without Dish's agreement to build a new wireless operator from the pieces it is obtaining from Sprint, the DOJ would not have agreed to allow T-Mobile and Sprint to merge.
"Oregon's addition to our lawsuit keeps our momentum going, and ensures that there isn't a single region of this country that doesn't oppose this anticompetitive megamerger."-Letitia James, Attorney General, New York
"If left unchallenged, the current plan will result in reduced access to affordable wireless service in Oregon — and higher prices. Neither is acceptable."-Ellen Rosenblum, Attorney General, Oregon
Even though T-Mobile is indeed doing quite well on its own, the carrier wants Sprint's hoard of mid-band spectrum to place between its low-band 600MHz and high-band mmWave airwaves. The characteristics of low, mid and high band spectrum all meld together to make it easier to create a coast-to-coast 5G network in the U.S. But T-Mobile is also looking at the possibility that the court will rule against the deal and is reportedly asking the FCC to auction off some mid-range spectrum in the 3.7GHz to 4.2GHz range.
While the plaintiffs call the T-Mobile-Sprint merger anti-competitive, T-Mobile has agreed to keep prices frozen for the first three years following the merger. In addition, it would seem that a fast-growing T-Mobile-Sprint would be more of a competitive challenge to Verizon and AT&T than keeping the status quo.