Nine states and Washington D.C. file suit to block T-Mobile-Sprint merger
10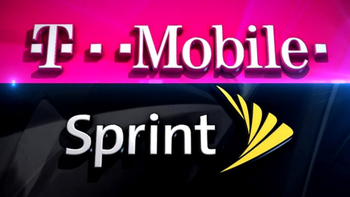 It has been one step forward, two steps back for the $26.5 billion T-Mobile-Sprint merger. Last month,
FCC Chairman Ajit Pai recommended that the deal be approved
, but the Department of Justice has yet to make a decision. Amid rumors that the DOJ wants T-Mobile and Sprint to help set up a new competitor in return for approval, Pai allegedly met with DOJ antitrust chief Makan Delrahim on Friday to try to persuade him to approve the deal.
And now,
according to Bloomberg
, state attorneys general from nine states and the District of Columbia (all Democrats) filed a lawsuit in New York today seeking to block the transaction. Despite promises from T-Mobile that it will freeze its pricing for three years after the deal closes, the plaintiffs say that the merger will hurt competition in the wireless industry and raise prices by at least $4.5 billion a year.
Yes, merging T-Mobile and Sprint into one company will reduce the number of major U.S. carriers by 25% But a stronger T-Mobile-Sprint would most likely provide more competition to AT&T and Verizon, keeping the two top U.S. carriers more honest with their pricing. And if the deal closes, T-Mobile and Sprint have promised the FCC that it will sell off Sprint's Boost Mobile pre-paid unit.
With Amazon reportedly interested in Boost
, that company's deep pockets might allow it to use Boost to help create a new nationwide postpaid wireless provider. T-Mobile and Sprint could be forced to divest some of their spectrum, and Amazon could be a buyer.
"When it comes to corporate power, bigger isn't always better. This is exactly the sort of consumer-harming, job-killing mega-merger our antitrust laws were designed to prevent."-Letitia James, New York Attorney General
"Although T-Mobile and Sprint may be promising faster, better, and cheaper service with this merger, the evidence weighs against it. This merger would hurt the most vulnerable Californians and result in a compressed market with fewer choices and higher prices."-Xavier Becerra, Attorney General, California
Investors are skeptical that the deal will close

While the FCC is concerned with the technical aspects of the merger, the DOJ and the state attorneys general are more worried about how the deal will lessen competition and lead to higher pricing. The states say that if the merger is approved, T-Mobile-Sprint would have a larger market share among retail consumers than Verizon and AT&T. In some markets, the combined company would control more than 50% of the wireless business.

Bloomberg also points out that investors (which theoretically could include some insiders) are not confident that the deal will close. If the deal is approved, each Sprint stockholder will receive .10256 T-Mobile share for each share of Sprint owned. So with T-Mobile (TMUS) currently trading at $75.35, Sprint's stock (S) should be closer to $7.73 than the current $6.58 if investors were 100% confident that the deal is going to go through. That spread between the value of the deal and Sprint's share price, $1.15, is nearly twice what it was at its lowest point last month. But like everything about this deal, the data is not so cut and dried; in late April the spread was well over $2.00 indicating a high degree of skepticism about the deal getting approved.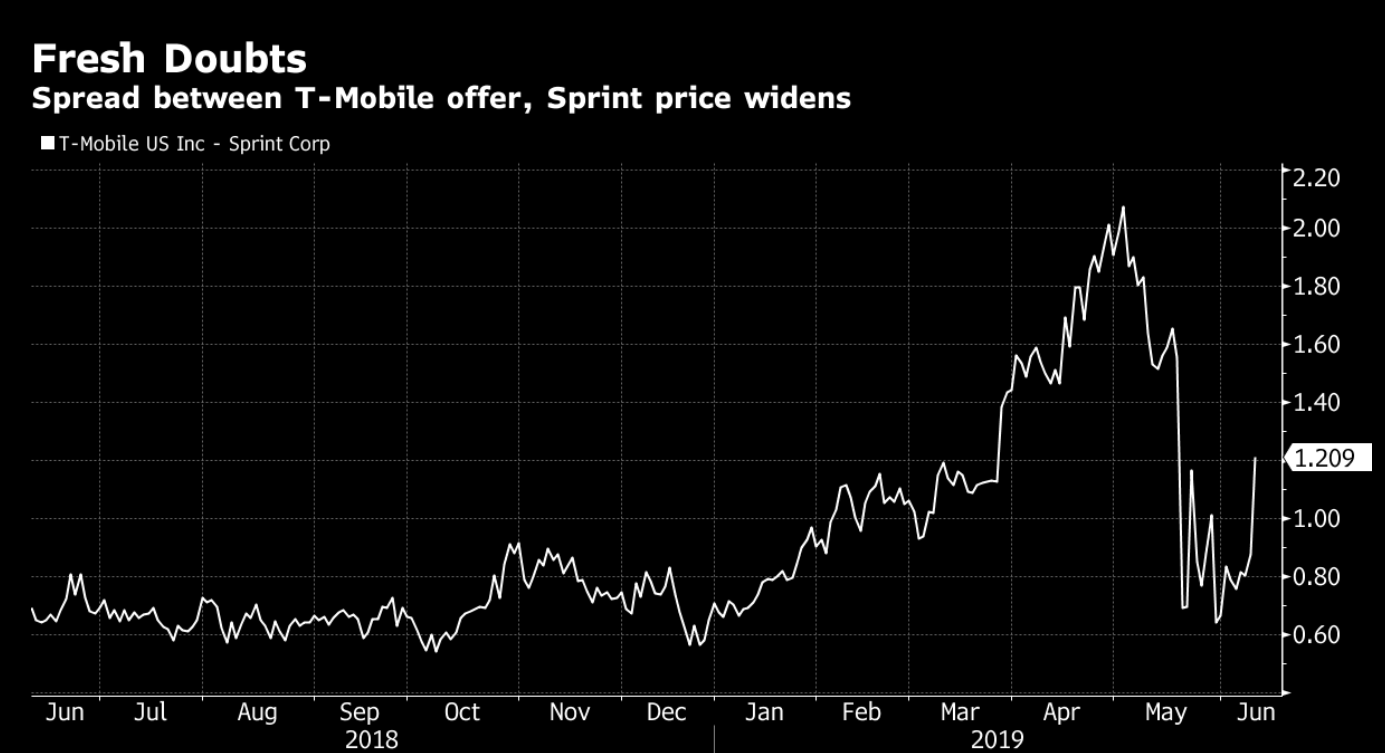 The widening spread between the value of the deal and Sprint's stock price means that investors are dubious that the deal will close
Just a few days ago,
T-Mobile CEO John Legere released a video
in which he explained how many of the things that "the haters" are saying about the T-Mobile-Sprint merger mirror what they were saying about T-Mobile's purchase of MetroPCS back in 2012-2013. For example, the so-called experts said that T-Mobile buying MetroPCS would lead to job losses and the disappearance of the Metro name. Instead, the executive says that the transaction led to the creation of "tens of thousands of new jobs" and that Metro has increased its customer count from 8.9 million to 19 million since the deal closed.