Samsung's Bixby 3.0 is already in the pipeline, aiming for a foldable smartphone debut
5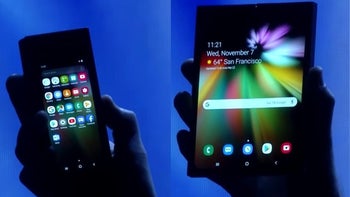 Formally unveiled alongside the Galaxy S8 and S8+ smartphones back in March 2017, Samsung's answer for Alexa, Google Assistant, Siri, and Cortana hasn't exactly evolved at an impressive pace.
With
Bixby Capsules
, aka Alexa Skills rivals developed by third parties, it's finally looking like Samsung could catch up with the competition... eventually. The company is further accelerating its AI development efforts with the next Bixby generation, which, believe it or not, may see daylight in just a few months.
Specifically,
The Investor reports
, Samsung's
first foldable smartphone
should feature "the new Bixby currently in the pipeline", as confirmed by none other than Chung Eui-suk, an Executive Vice President at the world's largest handset-making company that also manages its AI division.

According to Chung, the AI technology in general has merely "taken baby steps" so far, while showing incredible potential to "evolve dramatically over the next 10 years as the Android operating system has done for the past decade."

To make sure it won't miss out on this golden opportunity to revolutionize the industry, Samsung plans to install Bixby in all its products by 2020. We're obviously not talking just smartphones, smartwatches, or tablets, but also TVs, refrigerators, microwaves, and so on. In total, Samsung makes a whopping 500 million electronic products a year, so you can imagine equipping all of those going forward with artificial intelligence is not going to be easy... or cheap.
The company wants to invest no less than $22 billion in AI development over the next two years alone, so perhaps it wouldn't be such a bad idea to stop mocking Bixby right about now. The
Galaxy F
with Bixby 3.0 (both names not yet settled) could surprise us in a number of ways, bringing Samsung one step closer to absolute tech world domination. Or at least out of that
funk confirmed by mobile division president Koh Dong-Jin
.