Samsung's Bixby is about to get much smarter
8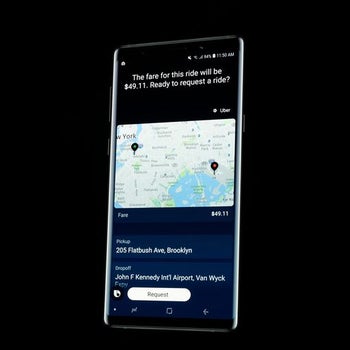 Aside from announcing the Galaxy Note 9, the anticipated Galaxy Watch, and finally, teasing the Galaxy Home smart speaker, Samsung also demoed the second iteration of its Bixby smart assistant. Bixby 2.0 is said to be much better at natural language processing than its predecessor, as well as being much superior at intelligently guessing what the use should need at any moment. Pro-activeness seems to be the leitmotif of Samsung's updated smart assistant.
Demoed during the Samsung Unpacked event were Bixby's newly-scored smarts, which will enable the user to hold longer sustained conversations with the AI. What's more, the enhanced Bixby will be able to provide contextually-relevant answers. Should you ask Bixby what concerts are taking place in Brooklyn around Labor Day weekend, the assistant will be smart enough to understand you if you follow up with another time period, without altering the rest of the context. This is extremely similar to what the Google Assistant is capable of.
Another demoed example were restaurant reservations, a mundane part of our lives. If you ask Bixby to reserve you a table at a restaurant, the assistant will take your previous reservations into account and only suggest relevant joints. It would also look into your reservations history and suggest to book a table for as many people as you've previously used to.
Samsung is really escalating the arms race, which has it facing against the likes of Apple's Siri, Google's Assistant, and Amazon's Alexa. Neither of these would bring swords to the gunfight, meaning that Samsung will really have to step up its game if it wants to stand a fighting chance.