A flexible device unlike Samsung and Huawei's foldable phones is also coming to MWC 2019
UPDATE
: We've just received Nubia's invitation for the February 25 "Flex your life" product launch at the Mobile World Congress, which prominently features the "alpha" symbol. That confirms this is indeed the device the company plans to show off in Barcelona ahead of a commercial European launch that seems closer and closer.
With exactly two weeks to go until the official start of MWC 2019,
the list of high-profile exhibitors
at the world's largest expo for the mobile industry continues to grow, making our mission to cover every single important gadget set to be unveiled or showcased in Barcelona increasingly difficult. But we're surely not complaining, especially with so many forward-thinking flexible products in the pipeline.
The latest company to essentially confirm an exciting announcement in
a similar vein to Samsung
and
Huawei's foldable phones
is Nubia. Not exactly a household name on the global mobile tech scene, this is a brand that ZTE wholly owned until a couple of years ago. While the two are still associated, Nubia has begun doing its own thing recently, which includes
affordable gaming handsets
and unique products like the dual screen, dual fingerprint sensor-sporting
Nubia X
.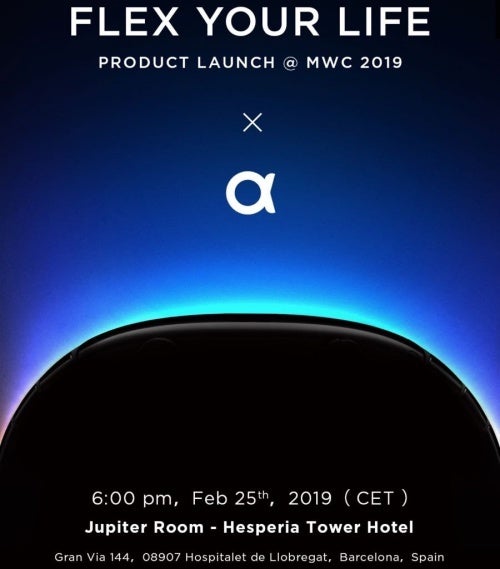 But the
Nubia Alpha
is even... quirkier,
making its official debut back in August
at the IFA trade show in Berlin with an OLED screen that wraps around the user's wrist. We're expecting this eccentric cross between a phone and a smartwatch to get a second showing and perhaps some concrete availability information at the Mobile World Congress later this month, as teased by the company's
event poster on Weibo
.
Nubia says on Chinese social media that "the future is here", which indicates the Alpha may finally be ready for primetime. You will probably be able to "flex your life" in select Asian and European markets (otherwise, it wouldn't make sense to exhibit the product in front of another European audience), but a US release feels highly unlikely. After seeing an advanced Nubia Alpha prototype in the flesh last fall, we can't say we regret that too much, although perhaps the company has been busy refining the promising but flawed design. After all, the initial launch target was 2018.
Either way, it will be interesting to see how this other approach to gadgets with flexible screens shapes up. Nubia is certainly courageous to try something different than the likes of
Samsung
,
Huawei
, or
Xiaomi
, which in itself warrants our attention and your curiosity.
Then again, the practical aspect of an undoubtedly cool-looking flexible device that's definitely too small to replace your standard phone and somewhat cumbersome as a wearable remains unclear.