Google's Pixel 3 phones don't seem to play nice with third-party fast wireless chargers
14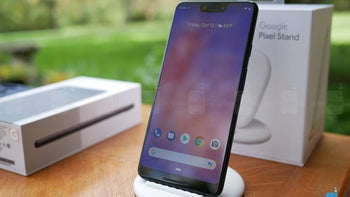 Technically, Google's
Pixel 3 and Pixel 3 XL
smartphones are compatible with both 18 W fast wired chargers and 10 W wireless accessories like the search giant's own
Pixel Stand
.
But as if there wasn't
enough controversy
surrounding
the two new stock Android phones
, one early Pixel 3 XL adopter seems to have made yet another distressing discovery after pairing his expensive "notchy" handset with a not-so-pricey Anker PowerWave Fast Wireless Charger Stand.

Although the stand advertises 7.5 W capabilities for Apple's 2017 and 2018 iPhones, as well as 10 W wireless charging support for Samsung flagships including the Galaxy S9, Note 8, and even S8, its speeds appear limited to a modest 5 W on the Pixel 3 XL for some reason.
A relatively reliable software test confirmed Redditor
jerseymonkey
's fears, showing a massive difference in charging efficiency between the Anker PowerWave and Google's Pixel Stand.

That's probably not Anker's fault, though, and it may not be a singular occurrence, as the computer and mobile peripheral manufacturer did a little digging of itself, learning both the Pixel 3 and 3 XL set a "limitation for third-party charging accessories." Yup, any and all third-party charging accessories. Basically, everything besides the Pixel Stand.

It sounds like Google really wants you to buy that terribly overpriced Assistant-supporting wireless charger, stopping at nothing to put third-party products at a major disadvantage.
As always
, the company is trying to label what's obviously a very user-unfriendly move as something of a feature, claiming Pixel 3 phones can wirelessly charge at full 10-watt speeds on the Pixel Stand because a "secure handshake" is established. That's a weak excuse, and Google knows it.
Recommended Stories