Google Pixel Stand is a smart but expensive wireless charger for the Pixel 3 and 3 XL
6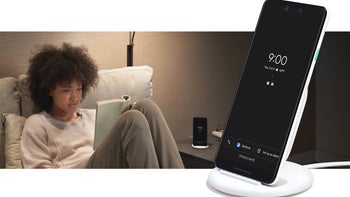 The Google Pixel 3 and Pixel 3 XL are the first members of the lineup to support wireless charging. Placing them on any Qi-certified wireless charger will magically make those battery juices flow, sparing you from the need to deal with wires and adapters. Google, however, has something that's even better.
At its annual Made By Google event, the company announced the Pixel Stand – a Qi wireless charger designed for the new Pixel 3 and Pixel 3 XL smartphones. It supports rapid wireless charging at rates of up to 10 watts, whether the phone is in portrait or landscape orientation. It comes bundled with its own power adapter and a fairly long, USB-C power cable. But what truly makes this $79 accessory worth your attention is it's integration with Google's latest phones.
When a Google Pixel 3 or 3 XL is docked on the Pixel Stand, its lock screen UI changes to be clearer to see even from a distance. You can interact with the phone using voice commands or on-screen suggestions. In the morning, the display gradually lights up as your alarm is about to go off, for a more gentle start of your day. It makes for a good companion when listening to music through the phone's front-facing speakers. And when your Pixel 3 is idle, its screen displays a slideshow of your best images from Google Photos.
At this time we're unsure if the Pixel 3 and 3 XL will function in this fashion if placed on a Qi wireless charger other than the Pixel Stand.
The Pixel Stand wireless charger can be pre-ordered now on Google's online store. And if the $79 price tag seems a bit steep, here's our selection of the
best wireless chargers
we've tested.
Recommended Stories