Galaxy Z Flip 5 and Z Fold 5 storage variants revealed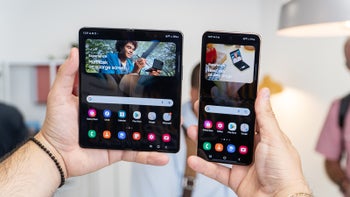 The excitement from the
Galaxy S23
series can still be felt in the air, but the world of mobile tech does not stop for any device, no matter how spectacular it is or isn't. Samsung's next big launch for the year, the upcoming
Galaxy Z Flip 5
and
Galaxy Z Fold 5
are not that far away, and more rumors about the foldable duo have been circling in the last few months.
The latest piece of information to leak online is the storage options that the Z Flip 5 and Z Fold 5 will come with, and none of what we get to find out from this leak is any surprise, unfortunately. Just like with their predecessors, the larger, tablet-like Z Fold 5 will come in 256GB, 512GB, and 1TB storage options, while buyers will be able to choose between 128GB, 256GB, or 512GB for the Z Flip 5. (
via SamMobile
)
The difference this time is that all storage options will come with UFS 4.0 chips, with the one exception being the 128GB models, which will remain UFS 3.1 as they have for the last few years. We can't say we are surprised by Samsung's choice to leave the 128GB option available, as one of the Z Flip's main objectives is to be the gateway for more potential adopters of the foldable form factor. The cheaper that is to do, the more people would feel it's worth the try.
Thankfully,
Samsung
is quite generous with its offers around product launches (and not only), so there might be a nice pre-order deal that would make upgrading to a higher storage model free. The company made this possible with the Galaxy S23 series before it launched, so there is no reason why it can't do it with the Galaxy Z Flip 5 and Z Fold 5.
It is unclear, however, whether the prices for the upcoming Galaxy foldables would remain the same as last year's, or be hiked up due to the chip shortage issues that are currently plaguing the tech world. We will let you know as more information comes to light.