Best Google Pixel Cyber Monday deals
We may earn a commission if you make a purchase from the links on this page.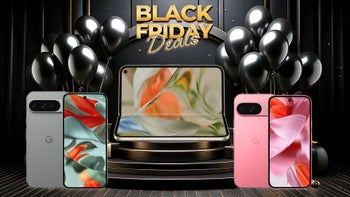 If you're here, you're probably looking for some good deals. Unfortunately, Black Friday and Cyber Monday are now over. Fortunately, there will be other shopping events next year, the first major one is
Amazon Prime Day 2021
. No exact date for it yet, but it should be in the summer, so still a while away. But when it comes, you better believe we'll have all the best deals ready for you, so keep an eye open!
Black Friday 2020
is already history but the Cyber Monday shopping madness has just begun. Deals are everywhere and you don't need to worry about going around stores and waiting in line.
Walmart's Cyber Monday deals
are live. So are the
Amazon Cyber Monday sales
. A bunch of
Best Buy Cyber Monday discounts
are up for grabs too, as are the
holiday deals at Target
.
Make sure you take a look at our
Cyber Monday Phone deals
, but in this particular article we're concentrating on the best
Google
Pixel
deals available on Cyber Monday 2020. Here we go!
Google Pixel 5 Cyber Monday deals
You can check out Best Buy because it offers the Pixel 5 with a
$50 price cut
when you activate it on a major carrier. Follow the link below to get your
Pixel 5
now. Oh! And if you pick Sprint, which merged with T-Mobile earlier this year, as your new carrier at Best Buy, you can get the Pixel 5 for
$599
- that's
$100
off!
In addition to this, you can can find Google's much-loved Pixel 5 on Verizon and take
up to $550 off
its $699 price with a suitable trade-in and a new line. An alternative is to pick up the Pixel 5 for
$29.16/month
with a two-year contract. You can get a further $250 off when you switch carriers.
There's the AT&T option as well. At the carrier, the Pixel 5 is available for an impressive
$15/mo
(for 30 months) with a new line or an upgrade. That'll score you the Pixel 5 for
$450
, $274.99 down from the listed price of $724.99.
Google Pixel 4a and Pixel 4a 5G Cyber Monday discounts
The standard
Pixel 4a
model is one of the best mid-range smartphones on the market. It's currently in stock at Amazon, although you can get it cheaper from
Best Buy.
The retailer offers its usual $50 discount and in this case it's one of the best options on an already very affordable phone. Considering the typical retail price of $349,
$50 off
starts to look like a substantial saving.
You could also pick up the smartphone, which has one of the best cameras on the market, at
Verizon
with an unlimited plan on a new line and recieve $380 in bill credits, which means you could technically pick up the
Pixel 4a for free
.
AT&T
doesn't stock the basic Pixel 4a but it does have the more impressive
Pixel 4a (5G)
variant for just
$10/mo
(for 30 months) with a new line, so you end up paying
$300
(the retail price is $524). And if you have an old phone to trade in, the carrier will hand you the phone for as little as $150 ($5/mo for 30 months).
Best Buy
also offers the phone at a
$50 discount with activation
and
Verizon
grants a
$250 discount
on its exclusive
mmWave version
with an eligible trade-in. You can also get it for as low as $120 (
$5/mo
for 24 months) with an eligible Unlimited plan and a new line.
Deals on Pixel 4, Pixel 3, and Pixel 3a for Cyber Monday
The previous-gen Google
Pixel 4
and
Pixel 4 XL
officially start at $799 and $899, respectively, but you can get much better deals at Amazon. To be more exact, you can
save couple of hundreds
on both flagships. You can save even more if you opt for a renewed model. Most retailers have limited stock of the Pixel 4 and Pixel 4 XL, so don't wait too long if you want to score one of these great devices.
If you want a Pixel but can't afford a newer model, perhaps the
Pixel 3
could be of interest. There's a really good deal on Amazon that sees the phone on sale for less than $300.
You can also check out the Google
Pixel 3a
and
Pixel 3a XL
. These two smartphones are still some of the best in terms of mid-range smartphones, and they excell in the camera department.