Apple wants iPhone XR buyers to say 'I have the best too', according to Phil Schiller
31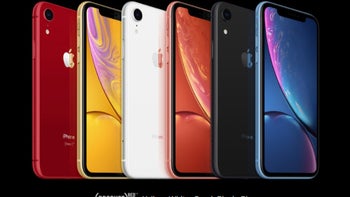 CEO Tim Cook and CDO (Chief Design Officer) Jony Ive are undoubtedly Apple's best-known executives, but Phil Schiller, the company's Senior Vice President of Worldwide Marketing, follows closely behind, prominently and regularly taking the stage at public presentations and product announcement events.
Just like
Cook
and
Ive
, Schiller doesn't do interviews very often, discussing the hot new
iPhone XR
in pretty extensive detail during such a rare occurrence recently. Speaking to Chris Velazco with Engadget, the Apple SVP started off by confirming what we essentially already knew.

Nope, the iPhone XR name doesn't really mean anything, and neither does the iPhone XS. For Schiller personally, the letters "R" and "S" are instantly associated with sports cars that are "really extra special", but that was not the company's rationale behind its latest cryptic branding decisions. Obviously, R doesn't stand for "Regular" or any other label bandied about lately.

That's also because Apple is convinced iPhone XR buyers will hold this device and think to themselves "I have the best too", despite the choices the company has had to make to bring the price down.
Those include a lower-res screen than the iPhone XS, but Schiller thinks users won't be able to tell the difference unless "you press your face up right against the glass." Numbers like the resolution of Apple's "retina" displays have become "fairly arbitrary", in Schiller's view, meaning nothing for consumers, which however begs an obvious question. Why not make the
iPhone XS
lower-res too and also lower its price point?
At the end of the day, the main goal with the iPhone XR is to get the "really wonderful" technology and experience of the
iPhone X
to "as many people as possible."
Most analysts
and
industry pundits
seem to believe that's a perfectly attainable objective. By the way, if you're still wondering why the
iPhone XR is "late" to market
, Schiller doesn't care to elaborate on the background of that particular decision. "This is when it's ready", or in other words, it is what it is.