Apple iPhone XR will sell 50% more units than the iPhone 8 sold last year says analyst
47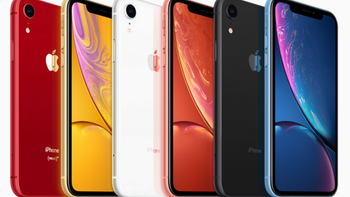 This coming Friday, the
Apple iPhone XR
will be launched. According to Robert Cihra, who toils as an analyst for Guggenheim Securities, the release of the most affordable 2018 iPhone will have a negative effect on one of the most important metrics watched by analysts who follow Apple. That is the average selling price (ASP) of the iPhone. Last year, Apple rode the high priced
iPhone X
to an ASP well above $700 from 2016's $651.
But Cihra says that this ASP growth won't happen again for fiscal 2019 because of the $749 starting price of the iPhone XR. In analyst-speak, the device is what they call "ASP dilutive." The low price of the phone combined with just the right mix of features is expected to take sales away from the higher priced
iPhone XS
and
iPhone XS Max
. But Cihra adds that the iPhone XR just might attract business from those looking to upgrade from their older
iPhone 6
,
iPhone 6s
and
iPhone 7
models. He sees the LCD-screened device outpacing last year's
iPhone 8
sales by 50%.
In fact, the analyst expects that in the current quarter, the iPhone XR will make up 40% of iPhone sales, rising to 50% for the fiscal second quarter ending in March. He says that the most expensive unit, the iPhone XS Max, will continue to outsell the iPhone XS by a 3-1 margin.
The analyst is looking for Apple to report sales of 47 million handsets for its fiscal fourth quarter, which ended at the end of last month. That would be a 1% gain year-over-year. For the holiday quarter, he expects Apple to ring up 80 million iPhones for a 3% gain over last year's fiscal Q1. ASP should be up 24% year-over-year for the September quarter, dropping back to 6% for the current quarter. He also says that the Apple Watch, paced by the new Series 4, will be part of Apple's fastest growing "Other Products" category with 38% growth in fiscal 2018 and a further 24% in fiscal 2019.

As for the Apple iPad, Cihra expects that for Apple's fiscal fourth quarter that ended in September, year-over-year shipments rose 1%. Services revenue is estimated to have risen 14% to $9.7 billion during the same three month period.